"King of the Wonder Beasts"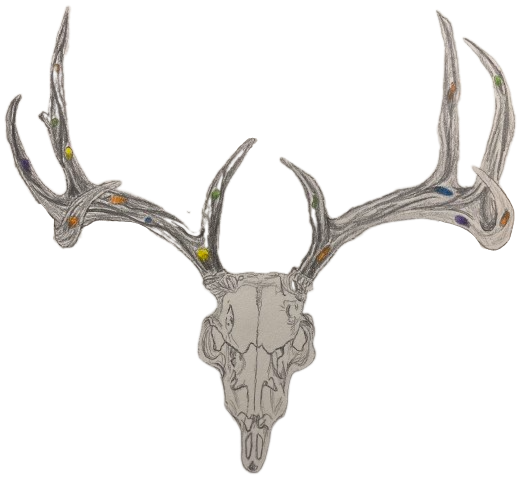 The King of the Luminescent Forest was once a man who was a mighty explorer. During one of his journeys, he came upon a deer with an exposed skull. They quickly became friends after their encounter. Then, one ill-fated day arrived, and a band of soldiers confronted them and killed the deer. Now being hunted for being with the deer of death, the king immediately became a monster that eagerly waited for his time of vengeance.
The Empty King stared at the blue lights in his den as he created new monsters and chimeras with humans and animals, then animals with animals. He had done this for years, slowly and steadily demolishing down his humanity. Nothing he could do would fix his situation nor fill the void in his heart. He made two-headed snakes, spider elks, frogs with antlers on their heads with white fur, and so many more creatures. Then, an armored chimera stormed into the room.  
"What is it, Hedel?" The Empty King spoke enveloped by darkness, where a white light was the only apparent source of luminescence in the room. "The soldiers have found our location; it seems that four generals of separate armies are marching towards us. They are hunting us; they will slay us," Hedel said as a serious warning. The Empty King emerged from the darkness, displaying how his body consisted of black goo along with hundreds of hands and legs. These legs were of different types of animals. A big, black shroud of goo; a head with a big white eye. He had large, deformed antlers with different colored orbs in some of the holes of his antlers. 
Then, he formed a deer skull from the shroud and flew extremely fast outside of his den, past the room where his soldiers were fighting–they did this all the time to see who was the strongest, for bragging rights and a boost of pride. Stepping outside his den, he roared for his soldiers. Feeling the sharpness of fear, they rushed themselves out the den with swords, bows, and arrows. Some came with nothing, as they were Wonder Beast. He then stared into the forest, prepared and ready, for he had to hunt. 
Four people in heavily-armored suits on their white armored horses approached. They rode in front of their armies, for the day would determine whether beast or man would emerge victorious. A battle was about to commence; a one-sided battle of power and control. "What should we do to this beast? After all, he is the new king of Wonder Beasts," said General Bethlag. "He defied the King's will, as he rules the forest and the land. A disgusting amalgamation of what nature should not evolve to be. We will slay the beast and go back to our homes and families, as the king will be proud–proud of the sons of war that he created," said Ozu. They then decided to travel on foot and got their weapons ready. However, they stopped at a field of grass, flowers, and corpses. "My brothers…my brothers! What has he done to you? Your souls and blood have been tainted with that devil's blood. You mere beast! You must pay with your-" 
"You do not know such a devil that could do what I could do now," said a voice that boomed and echoed throughout the forest. There emerged the Empty King, the glowing orbs in his antler openings and skull of a deer, and a black, goopy body. Without hesitation, Ozu screamed, "You devil! Everyone pull out your weapons. Blessed by the king, we will slay the Empty King and bathe in glory. May we pray that all of us get through this alive, as we celebrate together as an army soon!" The Empty King looked at his army and said, "Sit and watch as these hunters become nothing but prey to a hunter like me." 
The Empty King charged towards the army, grabbing some soldiers and opening his twisted mouth, his eye sockets turned yellow. Thunder shot from the sky, electrocuting hundreds and hundreds of people and as he drew his first blood. His hands from his shroud became boney, and different body parts emerged from him as he continued the endless slaughter of life. All the soldiers were terrified. Some ran, while others died. 
However, there were others who fought tooth and nail with the Empty King. They managed to hit and pierce the flesh of this travesty, but it amounted to nothing. The four generals fought valiantly, but the Empty King would have the last laugh, as each one was slaughtered. When the generals died, the soldiers charged in vengeance. They charged at him with no plan nor power. The soldiers from the other side looked in awe, seeing their king show them his strength. He had proved to them his worth, but proved them more as he fought alone, protecting the only thing close to a family he had. 
A soldier named Lux Infecta was on his knees during the horrid battle; the beast beat the ground as he screamed. Lux looked on with his heavy breathing, black goo on his armor and face, and a dreadful feeling of death and despair. He was gagging, disgusted at the battle, at what he had seen. The Light closed his eyes and entered the darkness. Deeper, and deeper. Then, he heard silence, his eyes opened to see the endless corpses in front of him. The King floated towards the light, as he asked, mortified, "Why am I still alive?" Then the beast gave him a haunting speech. 
"I am humanity's travesty, the one who dares the world to hunt. The snake who lures in others to kill. I am vengeance for the friend that those soldiers so brutally killed all those years ago. For you, hate is my fuel. I let you live to dawn my horrific and bloody tale as the king of these beasts in this beautiful forest, to the world and your family, for fear is my meat. For, I am your fear, the fear of my vengeance. Now, you bow here, on the tainted plain of my forest. Nothing can defeat me, not even praying can, either. I look forward into seeing what greater foes will hunt me, for the hunters will become the hunted when they enter my domain. Now, go tell the world that the King of the Wonder Beasts will rule this world, and that this world will become darker. This is my revenge for the world!" 
The King flew back with his army, and all walked away from Lux. He picked up his sword and walked back with horror engulfing his soul, for even the most noble of people can be broken down upon hearing the words of a monster.