Varsity Football Team Recognized for Raising over $3,000 for Camp Anchor
The varsity football team was recognized for its fundraising efforts in support of Camp Anchor at the November Board of Education (BOE) meeting, which was held in the LHS cafeteria on Nov. 9, 2022.
Superintendent Dr. Melissa Burak turned the attention to the team, which recently played its annual benefit game to raise money for a charity of choice. This year, the team played on behalf of Camp Anchor, a nonprofit organization that serves children and adults with special needs within the Town of Hempstead. Best known for its summer camp program, Camp Anchor helps thousands of children and young adults by providing them with new experiences and forging deep bonds among volunteers, staff members, and campers. 
At the meeting, varsity football coach David Yaker shared the process of deciding to fundraise for Camp Anchor: "When we were thinking of things to raise money for, I thought of a senior on our team: Nick Pugliese. I knew that he had a brother who has Cerebral Palsy, so I approached him and his family to raise money on his behalf. When we sat and thought about what we can raise the money for, his family came up with the idea of raising money for Camp Anchor." Yaker continued, "Here at Lynbrook, we have a long-standing history of students who volunteer or attend Camp Anchor and teachers who work at Camp Anchor, so we ran with that."
"I felt very honored that my brother Antonio was thought of. He was so excited about it, and it meant a lot to me that Lynbrook football made it so special for him," said senior Nick Pugliese. "Camp Anchor is an extremely special place. The campers have the most amazing time. I have been able to see unbelievable things, like seeing Antonio surf, and I am so grateful that this camp exists for him to have these experiences," he added.
The team designed uniforms specially for the game, and an apparel fundraiser was held by Lynbrook Swag to raise money. The game was held on Oct. 22, and the stands were filled with members of the Lynbrook community and people involved with Camp Anchor. Pugliese's brother, Antonio, was made honorary team captain for the day, and Camp Anchor attendees were invited to walk on the field prior to the game. The players lined up so the campers could high five each one as part of their triumphant run onto the field. "It was an emotional game for me. As a senior, it being our last home football game and being able to be on the field with my brother is something I will never forget. I felt very honored to be a part of it and even more honored to support Camp Anchor," Pugliese said. 
The Owls emerged victorious, not only with a win on the scoreboard, but with the accomplishment of raising $3,200 for Camp Anchor. "We all really embraced it," Yaker said at the meeting. "It was a really exciting day and a really exciting moment for the football team."
The boys wore their Camp Anchor jerseys to the meeting and presented a check to a Camp Anchor representative in attendance. "Thank you to the whole team and coach for doing this; it always makes us proud when our kids think about others before themselves," Burak expressed at the meeting. 
With the support of the Lynbrook community, a sizable profit was raised for an organization that has benefited thousands of people within the Town of Hempstead, many of whom live in Lynbrook. The benefit game tradition will continue, as it provides the team a chance to give back to those less fortunate than themselves, and gives many a memorable and impactful end to the football season.
About the Contributor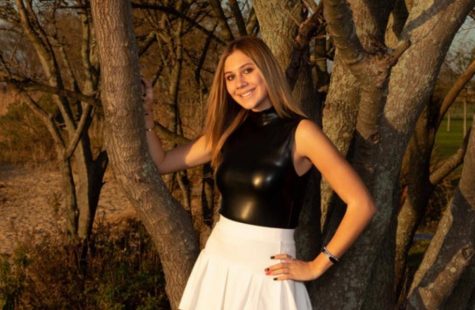 Alexis Raynor, Managing Editor
Hi! My name is Alexis Raynor, and I am a member of the Class of 2024 and a managing editor for Horizon. I love to dance and hang out with my friends. I...