Tanglewood Preserve Holds Annual Spooky Fest Celebration
Each October, the Center for Science Teaching and Learning (CSTL), a nonprofit organization headquartered at Tanglewood Preserve in Rockville Centre, holds its famed Spooky Fest. The event, which includes a guided walk through the enchanted woods, a spooky walk through the haunted woods, an arts and crafts station, face painting, fortune telling, and a live DJ, aims to spread Halloween spirit among older and younger children alike. 
Spooky Fest, which is staffed by hundreds of teenage volunteers, experienced a large turnout this year. Volunteers were able to choose between several different roles, one of the most popular being a "spooky guide." Here, guides dressed in scary costumes lurked amidst the forest surrounding the preserve, waiting to frighten any passersby. 
Another popular volunteer role is that of the "enchanted forest guide," where guides dress up in child-friendly costumes and lead guests through a less-spooky area of the woods. Senior Jaiden Moreno, who has volunteered at Spooky Fest for two years, noted how this is his favorite position. "It's fun to dress up in a costume, and I like getting to guide children and hand out candy," he said. In addition to these two roles, volunteers could collect tickets at the entrance table, help children assemble a Halloween-themed art project, paint children's faces, tell fortunes, and more.
Due to the hard work of these volunteers, Spooky Fest ran smoothly this year and was able to put a smile—or look of horror—on many guests' faces. CJ Lake, a CSTL employee who has helped to manage Spooky Fest for 14 years, noted how this is his favorite part of the event: "Once it's put together and people start coming, they all have such a great time." Despite the fact that "it's a lot of hard work" to set everything up, seeing the guests enjoy themselves, according to Lake, makes everything worthwhile. 
Tickets for the event cost between $20 and $25, and all the money raised goes towards supporting the preserve. "[The money] helps support our rescue animals that we have here," explained CSTL's director, Ray Ann Havasy, in an interview with News 12. "We have a collection of about 40 animals, most of which were even given up by their owners or were permanently injured, and we provide a home for them," she explained.
The preserve is open all year round and holds a variety of different programs, including school field trips, birthday parties, its own nursery school, night hikes, summer camp programs, and more. These all serve as a tool to, according to CSTL's website (www.cstl.org), "encourage science learning and literacy in everyone, children as well as adults." Lake expanded upon the importance of the nonprofit's mission: "Everything fundamentally comes down to a certain type of science." Thus, this year, Spooky Fest was able to serve as a tool to foster a love for Halloween—and science—among many.
About the Contributor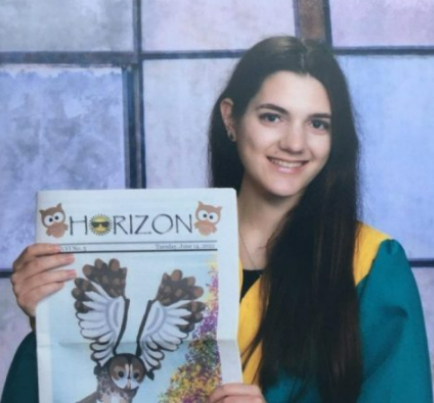 Kate Chiulli, Print Editor-in-Chief
I am a member of the Class of 2023 as well as one of the editors-in-chief of the print edition of Horizon. I enjoy reading, playing the violin, and using...