Official Harry Potter Store Opening in NYC: A First Look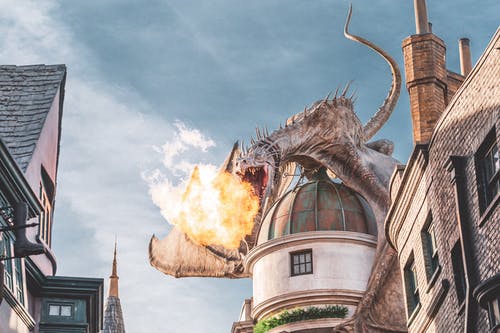 It is your third year at Hogwarts School of Witchcraft and Wizardry, and you finally get to go to Hogsmeade! While goofing off at Zonko's Joke Shop and drinking freshly brewed butterbeer at The Three Broomsticks is tempting, you have your eyes glued to one shop in particular: Honeydukes. The famous candy store that everyone talks about at school will finally be accessible to you, and the idea of buying a sack of Cauldron Cakes, Fizzing Whizzbees, and Chocolate Frogs is enticing. 
Just as Honeydukes enraptured third-year Hogwarts students, Potterheads will rejoice at the news of the largest Harry Potter store in the world opening in New York's Flatiron District, according to TimeOut magazine (timeout.com). The store is set to open on June 3, 2021, at 935 Broadway, adjacent to the Flatiron Building, and the store will boast three floors and 21,000 square feet of space packed with Harry Potter and Fantastic Beasts merchandise. From wands to candy (Honeydukes better watch out!), the store is expected to have a variety of merchandise that is sure to amaze.
Upon first entering the store, shoppers will be greeted by a 220-pound model of Dumbledore's most trusted pet: Fawkes the Phoenix, which was crafted meticulously by the hands of prop makers for several months, as posted on TimeOut magazine's website. A flabbergasting model of the griffin will also make an appearance in the main atrium, similar to the one guarding Dumbledore's office. According to Entertainment Weekly's website (ew.com), the store will feature 15 different themed areas within. These areas will encompass many interactive experiences, such as a table where you can test out your newly purchased wand and a virtual reality experience that fans will be able to "fly" in. 
Props from the movies will also make appearances in the shop. An interview was posted on Entertainment Weekly on Apr. 20, 2021, interviewing Karl Durrant, vice president and general manager of Warner Brothers. Due to a collaborative effort made with the Harry Potter filmmakers, beloved wands belonging to Harry, Hermoine, Ron, and Dumbledore will make an appearance. "We have the original Golden Snitch, Harry's broomstick, Tom Riddle's diary with a basilisk's fang in the middle of it, and many other items" stated Durrant. 
Speaking of wands, one of the areas within the store is a wand shop where fans can pick out their favorite magical wands from more than 50 character wands and props inspired from the Wizarding World, according to TimeOut. There will also be a "Personalization Area," a section of the store where shoppers can browse merchandise tailored to their Hogwarts house and get certain items embroidered or engraved with their name, such as a Hogwarts robe.
Many other details will be added to the store that are sure to delight fans: through the power of photo ops, fans can step inside an iconic London phone box and pretend they are being transported to the Ministry of Magic or be shrunken down into Hagrid's boots, as stated on TimeOut's website. Additionally, the House of MinaLima, a graphic design duo that has worked previously on the Harry Potter and Fantastic Beasts films, will be setting up shop inside of the store. Prints of Wizarding World-inspired graphic art will be on sale when the store opens.
Many students responded positively to this news. Freshman Madeleine Malinka had this to say about the new store: "I think a Harry Potter store opening is super exciting! I can't wait to shop there!" She added, "It looks like they have included just about all aspects of the series, so you can shop for products from your favorite parts. It also seems super genuine, which is awesome and can make shoppers feel like they're really a part of the magic. Definitely something to look forward to as the Covid situation improves!"
Freshman Alexis Raynor was also ecstatic about the news; she commented, "I think that the store opening is incredible. It pays tribute to the iconic Harry Potter franchise and gives all fans ways to celebrate their favorite books/movies. The pictures released of the store look amazing and almost look identical to how they were shown the movies. I couldn't be more excited for the grand opening!" 
A teacher who wishes to remain anonymous expressed thoughts as excited as those of students. After marveling at Diagon Alley in Orlando's Universal Studios, she anticipates that her visit to the new store with her children will be nearly as memorable. "After reading about this store that's about to open, I've already imagined what [my family and I are] going to experience, and I bet it's not even close to what we'll really see," she said. "It is going to be an extraordinary experience, which I can't wait to take my kids to see. I'm excited to see props from the actual movie and feel like I'm in that 'Wizarding World.'"
While the majority of the items are to be purchased in-store exclusively, as stated on Entertainment Weekly's website, a select few items are currently available on HarryPotterShop.com. However, I recommend saving your Galleons for the in-person experience as I am sure you will get more bang for your buck experience-wise!
About the Contributor
Olivia Lanteri, Print Editor-in-Chief
Hey you! Thanks for checking out my profile. I am a member of the Class of 2024 and a storyteller at heart. I love to spend time with my family and friends,...