Broadway's Future: When Will the Show Go On?
With the pandemic shutting down all musical events last March, it is safe to say that the Broadway industry has been hit hard in the past year. Thousands of talented actors, crew members, directors, and technicians have lost their jobs, whether it be permanently or temporarily. Broadway has also had many reopening plans that have been cancelled repeatedly.
As of now, Broadway is scheduled to return to normal in the fall, and with vaccines being distributed all over the US, people are hopeful that the bright lights and immersive storytelling will return. Even with this newfound optimism, the question still remains: Will people even want to go back to an indoor theater soon? Of course, in order to open back up, safety measures will have to be implemented; however, is it safe for people to be indoors with a contact-heavy production that requires a lot of talking and singing? Will mask-wearing affect the performance? How will this work, and what shows will be coming back? So far, all of this is unknown. 
It is too early to know any details about the reopening of Broadway, but there will be regulations set to make sure people are safe. As long as audiences are smaller than usual and socially distanced and masks and requiring negative Covid tests are set into place, it might be possible. It seems that after a long time of being out of service, Broadway will finally be back in business, but with major changes. These changes might affect one's Broadway-going experience to an extent, but musical theater lovers will take anything they can get at this point. The consensus among students at LHS is that Broadway coming back is one of the first steps towards normalcy, and that people would love to see it happen sooner rather than later.
Junior Lexi Capitali shared that the mandates will not bother her. All she wants to do is go back to her happy place; she is beyond ready for Broadway to return. Capitali shared her excitement: "I'm going to be the first person in line. I was going to see three shows, and then they shut down. I'm all about going and will take whatever precautions are needed if it means I can see a Broadway show." Freshman Grace Loiselle agreed with this sentiment: "I would love to go back to a Broadway show! As long as I know they are taking every precaution possible, I'm more than happy to get back to the experience!" Juliet Wrzesniewski, another freshman, explained that she would "feel safe because with such a big area" and thinks "they would take a lot of major safety precautions, especially if they want to stay open."
Overall, the theatre industry and its fans have lost a lot this past year, and it is giving them hope that things are starting to return to normal. There is nothing like the electric, entrancing feeling of entering a Broadway theater and hearing the bustling noises of crowds, merchandise stands, and excited audience members getting ready to see a wonderful show. Listening to music on a cell phone is just not the same as seeing a favorite story performed live by talented actors and actresses. Although things would be different and likely would not change for some time after the reopening, it is still progress, right? And positive progress is always a reason to smile. 
About the Contributor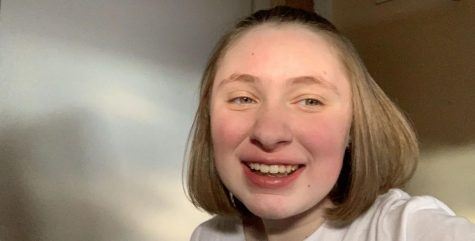 Kerry Cullen, Managing Editor
I am a member of the Class of 2024 as well as a managing editor for Horizon. I like to write, read, sing, and act. One fun fact about me is that I love...