Covenant School Shooting Shakes Heart of the Nation
Three nine-year-old students and three faculty members of The Covenant School in Nashville, Tennessee, were tragically killed by a 28-year-old shooter on Monday, March 27. The Nashville community remains heartbroken as it tries to cope with the losses. According to an article published on CNN's website (CNN.com) about the shooting, this "attack was the deadliest U.S. school shooting in nearly a year, and the 19th shooting at a school or university so far in 2023 that left at least one person wounded."  
The perpetrator of this crime was 28-year-old Audrey Hale. According to NBC News's website (NBCNews.com), Hale, who identified as transgender, was a 2022 graduate of the Nossi College of Art and Design based in Nashville. Described as "a talented artist and a good student" in a statement by the school, there was little reason to believe Hale could be the cause of such a tragedy. However, after being fatally shot by police officers Rex Englebert and Michael Collazo, investigations began about Hale's life before the shooting.  
As explained in the CNN article, Metro Nashville Police Chief John Drake described how Hale "was under care for an emotional disorder and had legally bought seven firearms that were hidden at home." Detailed maps of the school were also found at Hale's residency, confirming that this attack was premeditated.
Additionally, a childhood friend of Hale's received a message from Hale that read, "I'm planning to die today…I've left more than enough evidence behind. But something bad is about to happen."  
Hale's parents conversed with police officers after the shooting. "The parents felt (Hale) should not own weapons," Drake explained, as quoted by CNN. Even so, Hale left home at around 9:30 that morning carrying a suspicious red bag. Security cameras from the school show Hale driving to the school around 9:53 a.m. Seventeen minutes later, Hale broke through the glass doors of the school with a gun. At 10:13, a 911 call was made. Security footage inside the school shows Hale stalking the halls and looking into multiple classrooms.
By 10:24, police arrived on the scene and were engaged with the shooter. Three minutes later, Hale was shot and killed by officers. "We would never wait to make entry and to go in and to stop a threat, especially when it deals with our children," Drake expressed during a press conference.  
Although the response time to the school was short, the damage done was irreversible. "Our community is heartbroken," The Covenant School expressed in a statement. "We are grieving tremendous loss and are in shock coming out of the terror that shattered our school and church. We are focused on loving our students, our families, our faculty and staff and beginning the process of healing." 

The students killed in the shooting were all nine years old. As described in her obituary, Evelyn Dieckhaus, one of the students, was a positive "light" in her family, had an "infectious laugh," and had a wonderful relationship with her sister.
Hallie Scruggs, daughter of Covenant Presbyterian Church Pastor Chad Scruggs, was described by her aunt as "always on the go" and having had a "love for life."  
And William Kinney was described on a GoFundMe page started up in his honor by family friends as "unfailingly kind, gentle when the situation called for it, quick to laugh, and always inclusive of others."
Faculty members killed in the tragedy were 61-year-old janitor Mike Hill, 61-year-old substitute teacher Cynthia Peak, and 60-year-old head of the school Katherine Koonce. Koonce was good friends with Christian singer Steven Curtis Chapman, who spoke highly of Koonce's character: "She was, you know those people that you encounter if you're fortunate enough… they see into your soul and they see something that most people miss and just pass by," he described to Anderson Cooper from CNN. 
Peak was closely connected to Tennessee first lady Maria Lee. The two had planned to see each other for dinner at Lee's home that evening. In another CNN article, Lee's husband, Governor Bill Lee, remarked that "Maria woke up this morning without one of her best friends." Peak, Maria Lee, and Koonce had all previously worked together and were friends for decades, according to Bill. "What is meant for evil can be turned for good," he said in the CNN article. "May we grieve in the days ahead, but not without hope. May we also act with wisdom, discernment, and grace. And may we love, especially those who have lost." 
Hill was father to seven children and had fourteen grandchildren, all of which are now grieving his absence after the shooting. His daughter, Brittany Hill, made a Facebook post in his honor after the shooting, saying "I have watched school shootings happen over the years and never thought I would lose a loved one over a person trying to solve a temporary problem with a permanent solution."  
After the shooting, body camera footage was released of the officers tracking down Hale in the school after receiving the 911 call. Additionally, in a proclamation, President Biden ordered all U.S. flags to be flown at half-mast in honor of those lives lost as "a mark of respect for the victims of the senseless acts of violence."
According to a CNN analysis of data from the Centers for Disease Control and Prevention (CDC), firearms are now the leading cause of death for children and adolescents for the second consecutive year. "We owe these families more than our prayers. We owe them action," Biden expressed, responding to the shooting, as quoted by CNN. Indeed, time will tell whether enough preventive measures will be taken to ensure that a tragedy like this becomes improbable.
About the Contributor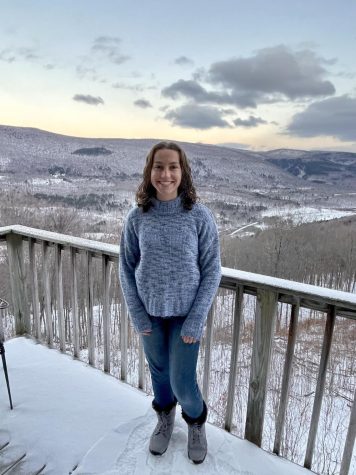 Alyssa Inserra, Driftstone Editor-in-Chief
I am a member of the Class of 2023 and the Driftstone editor-in-chief. Along with creative writing, I enjoy spending time with family and friends, getting...