Holiday Baking: Vegan Gingerbread Loaf with Glaze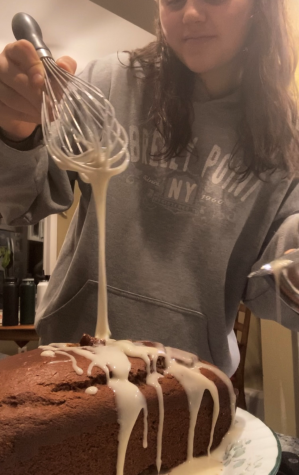 Makes eight servings 
Ingredients: 
Loaf:
1 and ¼ cup water

⅓ cup molasses

2 cups all-purpose flour

½ cup organic light brown sugar, packed

1 teaspoon baking soda

½ teaspoon baking powder

2 teaspoons ginger

1 teaspoon cinnamon

½ teaspoon nutmeg

¼ teaspoon cloves

⅓ cup canola oil

1 tablespoon apple cider vinegar

1 teaspoon vanilla extract
Glaze:
1 and ¼ cup powdered sugar 

3-4 tablespoons cranberry juice

½ teaspoon vanilla extract
Instructions:
Preheat the oven to 350 degrees Fahrenheit. Lightly spray an 8×4 loaf pan with non-stick cooking spray. Set aside.

Heat the water until it's hot to touch, like the temperature of bathwater. Stir in the molasses and mix until uniform. Stir in the canola oil, apple cider vinegar, and vanilla. 

In a medium mixing bowl, combine the dry ingredients: all-purpose flour, light brown sugar, baking soda, baking powder, and spices. 

Slowly stir the wet ingredients into the dry ingredients. Mix with a wooden spoon until just combined, being careful not to overmix.

Add your batter to the greased loaf pan. Bake for 40-45 minutes or until a toothpick comes out clean. 

Remove loaf from the oven and let cool in the loaf pan for five minutes before turning out onto a cooling rack. 

To make the glaze: In a small mixing bowl, add one tablespoon of cranberry juice at a time to the powdered sugar. Add the vanilla extract. Stir until a cohesive glaze forms. If the glaze is too thin: add more powdered sugar, one tablespoon at a time. Too thick? Add cranberry juice, one teaspoon at a time.

Let the gingerbread loaf cool completely before decorating with the glaze and slicing. Enjoy!

Keeps for three-four days in the fridge. Enjoy warmed.
Recipe Credit – Cozy Peach Kitchen (https://cozypeachkitchen.com/vegan-gingerbread-loaf/)  
About the Contributor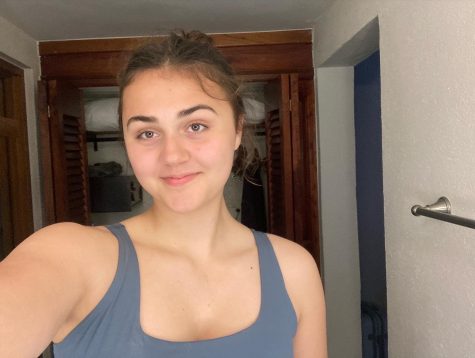 Amelia Doyle, Contributor
Hello! My name is Amelia Doyle. I am a member of the class of 2024. I play on the varsity volleyball team and the girls' varsity flag football team. I...