Athlete Spotlight: Tyla Vuotto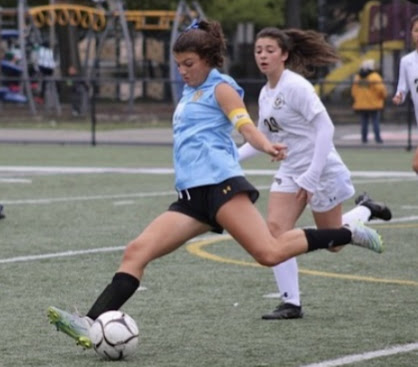 Senior Tyla Vuotto has been a varsity soccer starter since her freshman year and has been an asset to the team ever since. She has been playing soccer her entire life and is currently playing club soccer for the East Meadow Soccer Club. Vuotto has been a captain of the team for the past two years. In addition, she was named in the 2022 Top 100 girls soccer players on Long Island and is currently second in leading points ( 23 goals and 5 assists) in Nassau County for this season. 
Vuotto has committed to play NCAA Division III soccer at SUNY Cortland in the fall of 2023. "Being committed to play at SUNY Cortland next year is super exciting," she said.   
When asked about her time on the team, Vuotto said, "Achieving my accomplishments over the past four years has been so amazing… Being a captain these past two years has taught me so much about leadership and responsibility." She continued, "I've created so many friendships, and I have had some of my best memories both on and off the field. I will not only miss playing with my current teammates, but I will also miss hanging out with them outside of soccer." She said her favorite memory on the team was scoring her first varsity goal during her freshman year. 
Varsity Head Coach Michael Palumbo said coaching Tyla for the past four years has been a pleasure. "Tyla leads with kindness and respect. She takes the time to explain drills in practice and leads by example on the field during games. She has been one of the hardest working players on the field!" He expressed that it will be hard to rebuild without Tyla next year: "Her aggressive, exceptional play has led us to the playoffs each year over the last four years. I wish her the best of luck next year when she continues to play soccer."
Junior Katie Sharkey,  the team's co-captain with Vuotto, agreed with Palumbo. She has been playing with Vuotto since middle school, and said of her: "Ever since [middle school], she has shown team-leading characteristics. There will be big shoes to fill next year." She continued, "I do not think anyone can really replace her, with her skill and great personality. It was an honor to be co-captain with her. I learned a lot about leading a team from her." 
Junior Lucia Palumbo said, "Tyla always plays her best and is a great player to follow in her footsteps because she has done so well as a soccer player. She is a leader and always does what's best for the team." Frankie Palumbo, also a junior, added, "She is kind and makes sure everyone is okay. She always helps the team stay as a whole on the field. I'm going to miss Tyla so much; she made me feel so welcomed when I came up to varsity and always motivates me to try harder." 
The team is certainly going to miss Vuotto. Lucia Palumbo commented, "Without her, the girls will try our hardest and play as well as we can. She will be cheering us on and hopefully come back to watch some of our games to see how well we will be doing!" Frankie concluded, "I am so happy for her to continue soccer at Cortland and wish her the best of luck!"
About the Writer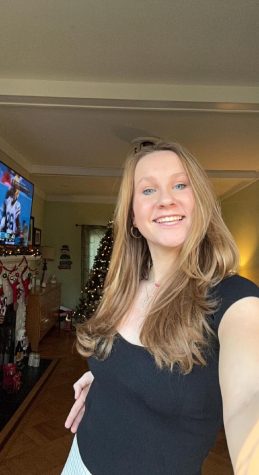 Katy Gottlieb, Editor
Hi, my name is Katy Gottlieb, and I am a member of the Class of 2025. I am currently the A&E section editor for Horizon and I am also a part of the...