Athlete Spotlight: Ryan Shapiro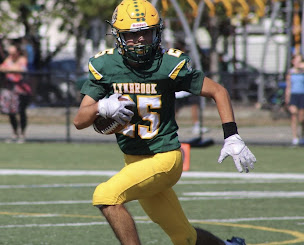 "When Batman comes out of the cave, Gotham is always on lockdown," reads the post on the Lynbrook football Instagram (@lbkfootball) congratulating Ryan Shapiro on being the first "Owls Player of the Week." The senior defensive back and wide receiver was given the nickname "Batman" due to his stealthy performance in the home opener of the 2022 season: He snagged one interception, one forced fumble, one fumble recovery, and eight tackles. Beyond that game, Shapiro has been recognized by his teammates and coaches for an impressive performance this season. 
Shapiro, who also plays varsity basketball and lacrosse, says his love for football grew because of his older brother. He began playing for the East Rockaway Raiders in third grade, where he learned the fundamentals. "I have played ever since then, and it has become such a key part of my life so far," he said. Shapiro has had many supporters throughout his life but claims his biggest support system has been his family. "They are there for me every step of the way and provide me with the best advice, suggestions, equipment, and so much more for me to succeed in life and athletics."
Shapiro has made a great deal of incredible memories from playing Lynbrook football. In his years of playing football, his greatest memory was the outcome of the second game of the 2021-22 season when Lynbrook emerged victorious over Manhasset on their Homecoming. "Winning that game was such a great feeling because they were ranked higher than us in the conference standings. Nobody thought that we were going to win. That game increased the overall team chemistry, which plays a big part in football," Shapiro noted. 
While athletic performance is a key component of playing a sport, his coaches remark that sportsmanship and a good attitude are what make Shapiro such a standout on the team. His former coach and AP US History teacher, Stephen Locicero, and current coach, English teacher David Yaker, can attest to this. "Shapiro is a wonderful athlete and an even better person! He is a true team player who every coach would love to have on their team," Locicero said. Yaker agreed: "He is a swiss army knife for us. He can literally do it all. We can put him anywhere on the field and he knows what to do." Yaker continued, "He is undersized, but he uses his intelligence to always put himself in the best spot to make plays. And that is just it: he makes plays. He never has an excuse or a reason why he can't; he always finds a way to get it done. He plays offense, defense, and special teams and is a true team player." Shapiro said, "A team player is someone on the team who is always looking out for their teammates and will assist them in any way possible. They will do anything to help the team no matter how uncomfortable or conflicting the situation might be. Being a true team player is vital to playing football because it improves the team chemistry in so many ways."
Shapiro is also admired by his teammates for his strong work ethic and dedication to the team. Senior varsity football players Thomas Byrne and Matthew Loiselle whole-heartedly agree. "Shap is a very smart and athletic player; he is always in the right spot at the right time on the field and is very coachable," Byrne said. "You always know Shapiro is coming to play in practice; the kid is relentless," Loiselle added. 
Coaches and teammates can agree that the team benefits immensely from his leadership both on and off the field. Shapiro continues to be a role model for his current teammates and younger players while living up to his nickname: "He looks like a normal guy, but once he puts on that uniform, he transforms into a superhero, always there to save the day," Yaker concluded.
About the Contributor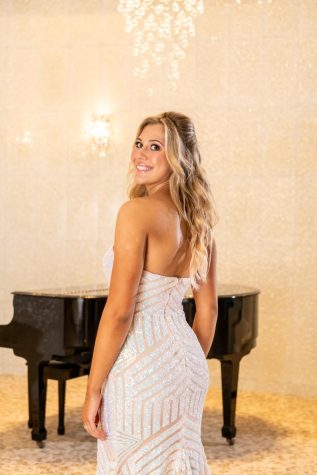 Alexis Raynor, Print Editor-in-Chief
Hi! My name is Alexis Raynor, and I am a member of the Class of 2024 and a managing editor for Horizon. I love to dance and hang out with my friends. I...