The "Gilded Glamour" Gala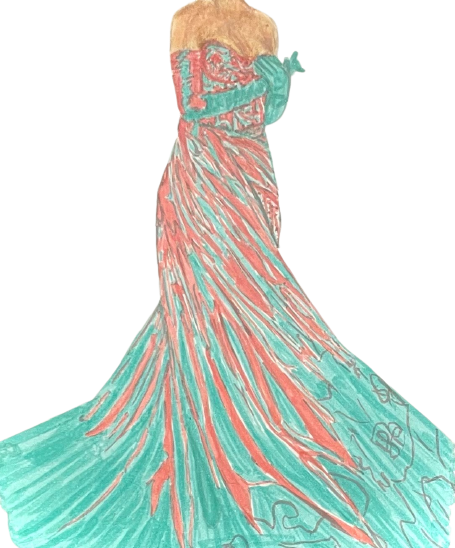 Each year, A-list celebrities and designers come together to produce an awe-inspiring spectacle of fashion: the Met Gala. For those who may not know, the Met Gala is a highly anticipated event run by Anna Wintour, the chief editor of the Vogue magazine. It is a fundraiser for the Metropolitan Museum of Art and takes place annually on the first Monday in May. 
Brands and designers purchase tables for anywhere between two and three hundred thousand dollars each and must have their guest lists approved by Anna Wintour herself. Furthermore, Wintour releases a theme which all attendees are expected to follow, often doing so in extremely extravagant and intricate ways. This event is a necessity for the museum, as it is where a large portion of its funding comes from, but has become one of the biggest fashion events each year since its beginning in 1948.
In 2020, due to the pandemic, the Met Gala could not occur. To make up for this loss, it was decided that two dinners would be hosted in 2022. Although they both fell under an umbrella theme of "In America: An Anthology of Fashion," this past gala had a specific theme–"Gilded Glamour"–which refers to the American Gilded Age, taking place right after the Civil War and lasting until 1900. It is called the Gilded Age as there was a large disparity in wealth between the northern and southern parts of the United States. The people of the North with their industrial ventures lived lives of extravagance and opulence. In the South, however, which was more focused on agriculture, this economic boom was not felt.
While the theme is referencing a specific period, there are many different styles and ideas that could be used to represent it, one option being the wealthy's intricate looks, which many expected. Looks following this aesthetic would possess elements including, but not limited to, corsets, velvet, eccentric sleeves, and feathered headdresses. Sophomore Olivia Pollicino found her favorite look within this category: "My favorite was Blake Lively [because] she was really on theme, and I liked how she surprised everyone with her patina reveal."
Lively, one of this year's honorary gala chairs, arrived in a floor-length copper gown with gloves to match. As she walked up the steps and into the event, a team removed her copper gloves and unraveled a bow detail at her hip to reveal a sea green dress representing her love of New York City and the Statue of Liberty. Lively was not the only one to arrive in the eccentric styles of the Gilded Age, however; Ben Platt, Billie Eilish, and Taylor Hill did as well.
Although it was expected that, under the "Gilded Glamour" theme, all the attendees would arrive in fashions like that of Lively, this is not what happened. Some of the guests chose to focus on the umbrella theme, arriving in outfits produced by American designers or of a modern American style. One of these celebrities was Normani. "She is honestly serving everything," commented sophomore Kayla Paxinos. "Although it does not necessarily match the 'Gilded Glamour' theme, it is a look worthy of the Met Gala and was designed by Christian Siriano, an American designer, aligning it with the broader theme." Other celebrities donning outfits designed by American designers were Ciara in Michael Kors, Sydney Sweeney in Tory Burch, and Oscar Isaac in Thom Browne.
Others, like Riz Ahmed, walked the steps in luxury brand workwear. Ahmed, sporting a 4SDESIGNS work set, Cartier jewelry, and vintage work boots, sought to adhere to the theme while simultaneously challenging it. "The message behind this look is extremely bold and powerful," stated junior Tyler Herlihy. Ahmed's look was put out as a love letter to the immigrants who made the opulence of the Gilded Age possible; he wanted to shine a spotlight on them. Herlihy also felt that it was "very interesting how he was able to elevate a look like this, using luxury branded pieces, to be suitable for the Met Gala."
This year's Met Gala was one for the books. Whether one thought the attendees were on theme or not is moot, as the beauty of many of the looks presented is undeniable. The Met Gala is one of the most revered fashion events of the year, and the anticipation and excitement for next year has already begun.