Artist Spotlight: Aleeza Khurram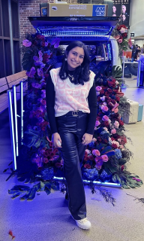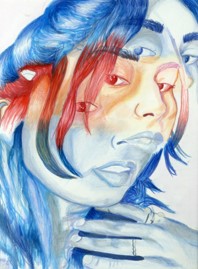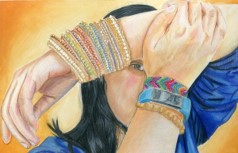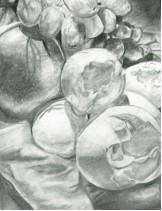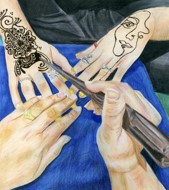 Aleeza Khurram is a junior with a deep affinity and talent for art. Her artistic ventures began with the many artistic activities a child often does: scribbling with crayons on paper, looking through coloring books, and more. "Since I was young, I always showed an interest in art, from filling up any coloring book I could find to using up all my dad's computer paper to draw on. Art has always been a fun activity for me to do," Khurram explained. 
Khurram is primarily inspired by her mother, who has also created a multitude of artistic pieces. "I would always try and take a peek at some of her art from her high school portfolio and try some of the styles and methods of artwork that she would do," she shared. Khurram is also quite inspired by Vincent Van Gogh; his swirling and colorful painting style is something she finds riveting. Khurram shared that her favorite painting of Van Gogh's is Café Terrace at Night, a painting that represents Van Gogh's typical style with bright colors and a nightly ambiance.  
Music also particularly influences Khurram's art because of how multifaceted it is. "There can be so many ideas that can stem from different types of music that someone can listen to too," she explained.  Khurram also enjoys science and math, as not only do they particularly influence her art, but she hopes to pursue a future career in the medical field. 
When creating artwork, Khurram prefers to use colored pencils; however, she has "been experimenting with many mediums that would allow me to convey color the best in my artwork." Over the years, her artistic practices and tastes have also changed. "I have gained a lot more experience, [and] I have learned to try and "loosen up" my artwork instead of trying to copy a reference exactly and worrying about small details," she mused. "For a time, I would be fixated on working on small, sometimes unimportant details and making my artwork look extremely realistic, but now I find that it is better to look at the bigger picture and take a step back from the artwork in order to take it in." 
Khurram's parents have been extremely instrumental in encouraging her artistic ventures, particularly with helping her take reference photos. Her teachers at LHS have also pushed and aided her in broadening her artistic horizons. "What makes Aleeza such a strong artist is her understanding of the artistic process. Aleeza plans for her work well by taking references, creating studies and composition sketches," said Michael Kunz, AP Art teacher. "Aleeza is an amazing artist. It has been a pleasure to have her in AP Art this year."