Best New T.V. Shows to Binge Over Spring Break
Spring Break is here. Whether one is sitting on a plane or relaxing on the couch, here are the best binge-worthy shows and movies to watch during this much-needed free time.
Bridgerton Season 2
Since the debut of this Emmy-nominated drama, fans have anxiously awaited a second season, which dropped on Netflix on Mar. 25. Bridgerton, based on the book series written by Julia Quinn, follows the eight siblings of the Bridgerton family during England's Regency era and their journey to find love. 
"Bridgerton is one of my favorite Netflix shows, and I was so excited for this new season," said freshman Devyn Tuosto. "The new episodes are so breathtaking, and I love the new romances." 
Produced by Shonda Rhimes and narrated by Julie Andrews, the show's first season reached number-one in 76 countries on Netflix, according to Entertainment Weekly (ew.com). The second season is not far behind and has already made it to the top of the charts in the US.
Olivia Rodrigo's Driving Home 2 U
Olivia Rodrigo's debut studio album, Sour, was released last May and received more success than the artist could have imagined. Shortly after its release, the album broke the global Spotify record for biggest opening week for a female artist. Rodrigo's three singles, which preceded Sour, made her the first artist ever to debut their first three singles in the top-10 on Billboard's Hot 100 list. 
Rodrigo's success certainly did not stop there, and on Mar. 25, Disney Plus released Driving Home 2 U, a documentary focusing on the songs from her hit album. The film shares moments and memories while writing her songs and creating her album and features guests such as Jacob Collier, Blu DeTiger, and Towa Bird.
"After watching this documentary, I learned so much more about Olivia Rodrigo and her road to success," said freshman Caitlin Liu. "I loved seeing all the behind the scenes on Sour, which is one of my favorite albums." 
Apollo 10 ½: A Space Age Childhood 
Outer space lovers will love this brand-new animated family film written, directed, and produced by Richard Linklater and starring Jack Black, Glen Powell, and Zachary Levi. The film is set in 1969 during the Apollo 11 moon landing and is narrated by a now-adult Stanley who takes us back to that era, when he was 10 years old. The film was released on Netflix on Apr. 1 and has received impressive reviews. The film brought a breakthrough in US history to life, and in a family-friendly way. 
Winning Time: The Rise of the Laker's Dynasty 
 Produced by Don't Look Up's Adam McKay and co-created by Max Borenstien and Jimmy Hecht, this 10-episode series tells the story of the Los Angeles Lakers and their rise to success during their "Showtime" dynasty. Winning Time: The Rise of the Laker's Dynasty dramatically explores both the professional and personal lives of the 1980 LA Lakers. The show stars John C. Reilly as Jerry Buss and Quincy Isaiah as Magic Johnson. It airs every Sunday at 9 pm on HBO Max and leaves viewers desperate to see the next episode.
The Adam Project 
This popular sci-fi adventure film stars Ryan Reynolds as a time-traveling pilot who adventures with his younger self and father to come to terms with his troubled past and save the future. The Adam Project dropped on Netflix on Mar. 11 and instantly reached the number-one spot in the US. As well as its impressive cast, the film is directed by Academy-Award nominee Shawn Levy, who has previously directed popular movies such as Free Guy, Real Steel, and The Internship. 
"I've watched many Ryan Reynolds movies, and this one is one of my favorites," said freshman Eric Neofytidis. "I loved the storyline of the movie. It lived up to all the hype surrounding it."
Deep Water
Fans of the popular Netflix series You will love this brand-new psychological thriller starring Ana de Armas, Ben Affleck, and Jacob Elordi. The film, which was released on Mar. 18 on Hulu, brings viewers inside the marriage of a couple who seems perfect on the outside but truly have fallen out of love and play dangerous mind games with each other. Watch this film to find out the truth behind this couple and the people who get caught up with them.
The Dropout 
This dramatic limited series began streaming on Hulu on Mar. 3, and its final episode was released on Apr. 7. The series is based on a podcast by the same name by Rebecca Jarvis and focuses on the founder of Theranos, Elizabeth Holmes. Holmes, a college dropout, began her own revolutionary technology company. The company was suspected of being a scam and Holmes was indicted with multiple charges with her leading role. This true crime story is truly a thriller and fans of the show were encapsulated by its suspense.
About the Contributor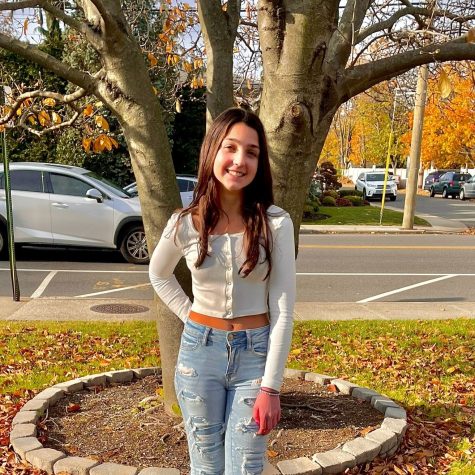 Emily Franklin, Editor
My name is Emily Franklin, and I am a member of the Class of 2025 and an editor for Horizon. I am part of the Key Club, Birthday Wishes Club, and Mathletes....