Must-See Marvel
Doctor Strange in the Multiverse of Madness 
In this most anticipated film, Benedict Cumberbatch will be returning to his role as Doctor Stephen Strange in theaters on May 6. This upcoming Phase 4 movie takes place after Spider-Man: No Way Home and season one of Loki. The film is directed by Sam Raimi, whose previous works include the Evil Dead series, as well as the Spider-Man trilogy. After Strange assists in making everyone forget who Peter Parker is, he returns to his research of the role of the Time Stone, which leads to him casting a spell opening a door to the multiverse. For reference, the multiverse is exactly what it sounds like: a combination of multiple universes and dimensions. This pathway to the multiverse travels both ways, meaning that creatures from alternate universes can pass through, creatures that include an evil version of Strange himself. He recruits the help of Wanda Maximoff, or Scarlet Witch (played by Elizabeth Olsen), to fight these creatures and restore balance and harmony back to the multiverse. 
For fans of peril, this film will include a great deal of traditional comic-style fighting. In fact, according to Cineworld (cineworld.co.uk), this Doctor Strange sequel is "the first proper horror movie in the MCU." 
Senior Jess Healey anticipates that this movie will have a very interesting plot. "It also looks like it has a lot of horror, which is a new thing for Marvel," Healey said. 
Senior Sophia Sullivan agrees. "This film is going to take Marvel on a little bit of a darker route, and I think that would be really cool," she commented.
Other prominent names in the film include Rachel McAdams, who is often most recognized for her role as Regina George in Mean Girls. Junior Sean Kravitsky said this movie "seems popular" and out of all the upcoming MCU films, he is most excited to see this one. 
Thor: Love and Thunder 
As the fourth movie in the Thor series, this film will include many returning actors, such as the leading man Chris Hemsworth who will play Thor, Natalie Portman as Jane Foster, Tessa Thompson as Valkyrie, and Chris Pratt as Star-Lord. Even DC Comics fans will enjoy this new Thor movie, as the villain, Gorr the God Butcher, will be played by none other than Christian Bale, one of the many former Batmen. 
When the film hits cinemas on July 8, fans will see Foster assume the roles and duties of Thor, as he has joined the Guardians on their journey across the galaxy, and Valkyrie will be searching for a queen to rule alongside her as the ruler of New Asgard. Taika Waititi will be returning as the film's director from Thor: Ragnarok. 
Black Panther: Wakanda Forever
Black Panther's release four years ago broke records: it was the first superhero movie nominated for a Best Picture Oscar, it won three Academy Awards, and it remains the fifth highest-grossing movie in U.S. box office history. The sequel has a tough act to follow, especially with the loss of the film's leading man Chadwick Boseman, who passed away in 2020. As a result, this film will focus on other supporting roles, such as Shuri played by Letitia Wright, Nakia played by Lupita Nyong'o, Okoye played by Danai Gurira, Ramonda played by Angela Bassett, M'Baku played by Winston Duke, and Everett K. Ross played by Martin Freeman. 
On Nov. 11, viewers will be faced with new characters and heroes, like Ironheart and Riri Williams, played by Dominique Thorne, and Michaela Coel will be joining the cast. Although her role in this film is unknown, the actress can be seen in films such as I May Destroy You. Ryan Coogler, Joe Robert Cole, Kevin Feige, Ludwig Göransson, Hannah Beachler, and Ruth E. Carter have been working behind the scenes, directing the film, writing the script, producing, composing the music, and costume and production design. 
The Marvels
Originally titled Captain Marvel 2, the sequel to the first Captain Marvel movie is set to release on Feb. 17, 2023. Oscar-winning actress Brie Larson will resume her role as Captain Marvel/Carol Danvers, where she recalls her human life as Pilot Danvers. The film takes place in 1995, so viewers will see a young, CGI-enhanced Nick Fury played by Samuel L. Jackson. Nia DaCosta is directing the movie, and more characters will be joining the cast. Teyonah Parris will be seen as Monica Rambeau, who appeared in WandaVision, and Iman Vellani will be playing Ms. Marvel. The two characters with Marvel in their names, Captain Marvel and Ms. Marvel, may allude to why the film's final title is The Marvels. 
Guardians of the Galaxy Vol. 3
Get ready for a new mixtape! The third movie in the Guardians of the Galaxy saga is projected to hit theaters on May 5, 2023, and is directed and written by James Gunn. Due to the ending of Avengers: Endgame, in which Thor joined the Guardians on their journey into space, there is speculation of character and storyline overlap. 
Ant-Man and The Wasp: Quantum Mania 
Based on the title of the film, Scott Lang (played by Paul Rudd) and Hope van Dyne (played by Evangeline Lilly) will both be returning as title characters. Additionally, there is more to learn and find out about the Quantum Realm. Returning characters also include Hank Pym (played by Michael Douglas) and Janet van Dyne (played by Michelle Pfeiffer). Jonathan Majors will be making his first MCU appearance as Kang the Conqueror. Peyton Reed is returning as director, and the film's release date is expected for July 28, 2023.
About the Contributor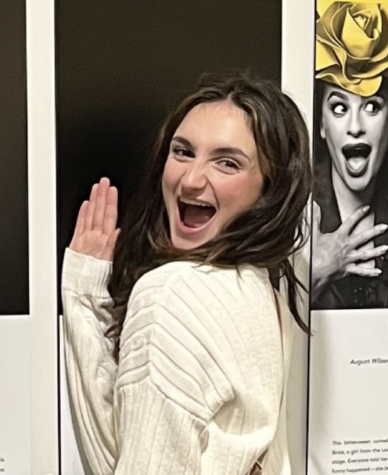 Gianna Longo, Editor
Hey there! My name's Gianna, and I'm a member of the Class of 2025, along with many clubs here at LHS. In my spare time, you can find me on the stage,...