Two Years Since Initial COVID Shutdown: How Different Sports Leagues Have Reacted
Sports leagues across the globe have taken different precautions to keep their athletes safe throughout the COVID-19 pandemic. From creating a "bubble," to allowing players to opt-out, here is how three major sports leagues have battled the pandemic through 2022. 
The Olympics 
In 2020, The International Olympic Committee pulled an unprecedented move when it made the decision to postpone the 2020 Summer Games to 2021. Even after the postponement, there were still strict guidelines and procedures for all athletes and other personnel to follow. Unfortunately, these guidelines were not always strictly adhered to by athletes. Participants tested positive left and right, despite the Olympic Committee's promise that players would be perfectly safe. In 2022, with the Winter Games fast approaching, the Olympic Committee was not playing around. China was striving to be COVID-19 free, and the nation expected the Olympics to be no different. China planned on using its advancements in technology to keep the virus at bay by using things such as robotic service of foods. Authorities have created something called a "closed loop" for athletes and other participants. Inside this loop, there are amenities such as salons and cafes. The Chinese government and Olympic Committee planned to ensure COVID-19 does not get into the loop, and they want to make sure that if it is in the loop, it does not cause an outbreak among the public. 
The NBA 
The NBA has handled COVID-19 in one of the most interesting ways out of all sports leagues. When the pandemic first hit, the league immediately shut down. All games were stopped for months. Then, once the cases started to decline, the NBA started a "bubble" in Orlando. The restrictions in the bubble were tight, and while the league has loosened them with the return of most normal NBA procedures, there are still a decent number of rules and regulations. First off, in the cities of New York and San Francisco, players must be vaccinated to play in any venues in that area. These venues include Madison Square Garden, The Barclays Center, and Oracle Arena. This has sparked controversy amongst some players, including Nets superstar Kyrie Irving who has refused to get vaccinated. While he can technically play in every venue that is not located in New York City or San Francisco, the Nets point guard did not participate in any games until Jan. 5, about halfway into the season. With the injury of Kevin Durant keeping him sidelined for 4-6 weeks, there have been calls for Irving to get vaccinated to help the short-handed Nets, but Irving made it clear that he is standing by his beliefs and remaining unvaccinated. 
The NFL 
Since the pandemic started during the NFL's offseason, the league officials had time to plan how they wanted the 2020-2021 season to play out. They decided on holding games with no fans present and giving players the option to "opt-out" of playing that season if they did not feel comfortable. Players such as CJ Mosely on the Jets and Nate Solder on the Giants were among the 67 players who did not play in 2020 due to either voluntary opt-out or opt-out for medical reasons. During the 2021 season, fans have returned to stadiums, and players must submit to regular testing, whether they are vaccinated or not. If there is an outbreak amongst a team, and if most players on that team are unvaccinated, the team will risk forfeiting one or more games. 
Like many other leagues, there has been some conflict among players. Most notably, wide-receiver Antonio Brown, who is notorious for his diva-like personality and causing trouble, was one of many players who was caught using a fake vaccine card. Brown and two other players were suspended for one game. This generated positive feedback from fans being that the NFL was showing it was serious. 
Freshman Tyler Paige shared that the best thing the NFL did during the pandemic was "come down on players who lied about vaccines." Even towards the beginning of the pandemic, the NFL was known to punish players and organizations for not following COVID-19 guidelines. Teams such as the Patriots, Saints, and Raiders were fined and even forced to lose draft picks for not following health and safety protocols. 
How do the fans feel? 
Since the pandemic has been practically controlling the moves of all sports leagues for the past 23 months, many fans have had mixed emotions about the way different leagues have handled the outbreaks. Many fans had lots to say about the regulations and mandates of the NFL. Sophomore and Jets' superfan Jake Schettini had mixed feelings about how the NFL handled its outbreaks. "One thing the NFL did right was the quarantining rules," he said. "If someone who was positive tests negative twice within a 24-hour period, he is allowed to play again. I think this is a good rule because it allows for the players to play knowing they are safe and not having to quarantine if they already got over the virus." 
Schettini mentioned that players should feel safe in their work environment, like any other profession, and he felt that the testing regulations were a good way of making sure that all players felt safe. However, he did have criticism for Commissioner Roger Goodell and the league officials.
"One way the NFL could have handled it better was changing the protocols if you are unvaccinated," Schettini said. "For example, unvaccinated players had to get tested every time before they entered the facility while vaxxed players did not." Schettini felt that these rules did not make sense and that the Green Bay Packers were a prime example of this. 
Freshman and Steelers superfan Brady Rogan also had mixed feelings about the NFL's approach to COVID-19. He was impressed by its use of modern technology such as the Proximity Recording Devices, which he felt made an impact on limiting outbreaks. However, he was not very fond of the NFL letting teams play shorthanded. 
"When you're letting teams play with their fourth-string quarterback, it's not really fair," Rogan said. "I think they should have tried to reschedule more games and make the season more fair… the Steelers got hit with COVID-19 multiple times. Many important players had to be quarantined, including Ben Roethlisberger. Fortunately, he only missed one game, but other players weren't so lucky." 
Schettini also addressed this issue, being that COVID-19 outbreaks also occurred among staff members of organizations. "There were some players on the Jets that got COVID-19 and had to be quarantined. Also, the Jets head coach Robert Saleh had COVID-19 and had to miss a game. But surprisingly, they still won." 
People often use sports as an escape from drama or problems that have been occurring in the world. Today, what was once an escape from the stress and problems going on in the world has become part of the problem. The way sports leagues have been attempting to keep COVID-19 at bay has been similar to a chess match, and with COVID-19 more under control than it was a year ago, it will be interesting to watch how league officials will change protocols and how players will react to these changes. 
About the Contributor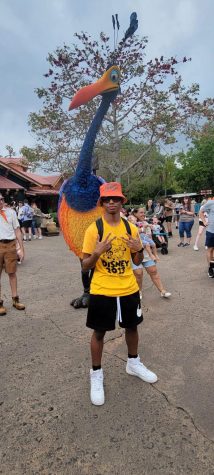 Justin Williams, Managing Editor
Hello there! I'm a member of the Class of 2025 and sports editor for Horizon. I love playing, watching, and writing about all things sports. My favorite...