Most-Anticipated Albums of 2022
Long-awaited albums have begun their releases as 2022 has arrived. Fans are excited to see what is in store for the new year and looking forward to finally listening to their favorite artists' new music. The year has started off strong in the music industry with The Weeknd's release of his new album: Dawn FM. The singer-songwriter and record producer announced Dawn FM last fall as a follow-up to his previous album After-Hours. After-Hours was an incredibly successful album, featuring some of the top songs of 2020. This eagerly awaited album was released on Jan. 7, featuring top artists such as Tyler the Creator and Lil Wayne. Aside from Dawn FM, it is likely that many other long-awaited albums will be released, and many familiar faces will return in 2022. These are eight of the most anticipated albums to be released in 2022:
Kendrick Lamar, TBD
Ever since rapper, songwriter, and record producer Kendrick Lamar spoke about his next record in late August 2021, fans have been hoping for its release. His latest album, released in 2017 and named Damn, was a Grammy and Pulitzer-prize winner. Since then, he has been featured in many songs with artists such as Nipsey Hussle, Rich the Kid, Jay Rock, Frank Ocean, Pharrell, and U2. On Feb. 13, Lamar will be appearing in the Super Bowl halftime show alongside Dr. Dre, Eminem, Snoop Dog, and Mary J. Blige. Fans are expecting his album to be released sometime after this performance. 
"I am extremely excited for both the release of Kendrick Lamar's new album and his halftime performance," said freshman Jack Ceglie. "He is so talented, and I cannot wait to finally listen to his new music!" 
The upcoming album will reportedly be Lamar's final with Top Dog Entertainment (TDE). 
Camilla Cabello,

Familia
Fans were excited to hear about Cabello's upcoming album, Familia. The former Fifth Harmony singer recently starred in her first movie, Amazon's Cinderella, and has already released a single from the album, "Don't Go Yet." While there is not yet a specific release date, Cabello recently announced that the full album will be coming sometime in 2022.
Charli XCX,

Crash
English singer-songwriter Charli XCX is releasing her album Crash as a follow-up album to How I'm Feeling Now, which was released in 2020. Crash will drop on Mar. 18, and according to the AV Club website (avclub.com), it will feature many producers and collaborators such as A.G. Cook, Rina Sawayama, and Ariel Rechtshaid. So far, Charli XCX has released a lead single for the upcoming album called "Good Ones," and she has admitted that this album will be more "radio friendly" than her previous one.
Taylor Swift,

Reputation/1989
In 2019, singer-songwriter Taylor Swift's ex-manager Scooter Braun bought her music in a sneaky contract, leaving Swift without possession of years of her life's work. After the incident, Swift made a promise to herself and her fans that she would re-record and re-release her first six albums that were taken from her. In early 2021, she began to release the new and improved albums and titled them all "Taylor's Version," beginning with Fearless (Taylor's Version) and ending the year with Red (Taylor's Version). Both albums jumped straight to the number-one spot on the Billboard 200 list, according to Billboard magazine (billboard.com). 
According to Forbes magazine (forbes.com), it is likely that in 2022, Swift will release two more "Taylor's Version" albums, and fans speculate that they will be 1989, her fifth album, or Reputation, her sixth album. 
Freshman Dylan Hincken-Kossow said, "I hope to see another release of Taylor Swift's past albums in her name. I also hope to see another short film released since I absolutely loved the All Too Well one!"
Jonas Brothers, TBD 
It has been almost three years since the boy band regrouped and released their tremendously successful album, Happiness Begins. Since then, The Jonas Brothers have dropped eight singles, and many of them were featured on the top-40 hits on the Billboard Hot 100 list. Fans speculate that a new album will be coming this year. 
Harry Styles, TBD
In the past three years, singer, songwriter, and actor Harry Styles has gained tremendous fame and has become one of the most popular artists in the country. In 2019, he released his latest album, Fine Line, and since then has filmed two movies, Don't Worry Darling and My Policeman, as well as a post credit scene for Marvel's Eternals. Styles has also completed his 42-show tour, Love on Tour. According to Contract Music (contractmusic.com), Styles hinted to fans that he would be back "very soon."
"I am definitely expecting Styles to drop his third album, HS3, this year," said freshmen Bianca Lobosco. "He has been working on it for a while supposedly, and I know it will be amazing!" she added. Styles has been working on the upcoming album since early 2020 before the pandemic, and fans are convinced that it will be released in 2022.
Arctic Monkeys,

Pretty Much
Arctic Monkeys is an English rock band that has previously released six albums, including its latest one, Tranquility Base Hotel, in 2020. The band gained fame in the U.S. with their popular song "Dance Monkeys." Their new album, Pretty Much, is a follow-up to this 2020 album, and they began recording it in January of 2021. Fans are excited to see what they have in store with their upcoming release.
Cardi B, TBD 
Rapper and songwriter Cardi B is planning to release the follow-up album to her Grammy-winning debut Invasion of Privacy later this year. She began recording the album in April of 2021 but put a pause on it because of the pandemic. Cardi B announced over Instagram that her album will be released in 2022, and she revealed to also be working on a film, Assisted Living. Fans cannot wait to see what Cardi B has in store after her rush of fame over the last years. 
About the Contributor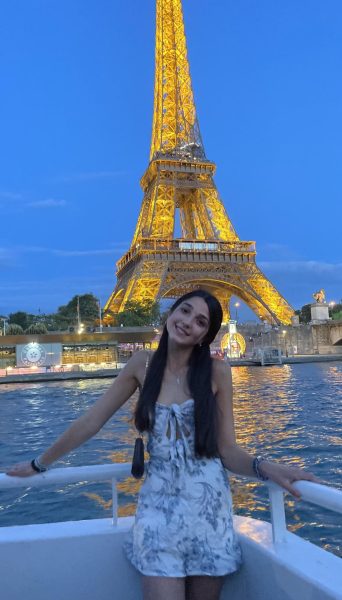 Emily Franklin, Managing Editor
My name is Emily Franklin, and I am a member of the Class of 2025 and an editor for Horizon. I am part of the Key Club, Birthday Wishes Club, and Mathletes....