Titan of the Modern American Musical: Dead at 91
This past Friday, renowned lyricist Stephen Sondheim passed away at his home in Roxbury, Connecticut, at the age of 91. Sondheim, responsible for the lyrics and music of a plethora of hit musicals (Into the Woods, West Side Story, Sweeney Todd: The Demon Barber of Fleet Street, amongst various others), was beloved by the Broadway community.
Unexpecting his passing, the news came as a shock to all who loved and adored him and his work. Many took to twitter to pay homage to the late composer. "Future historians: Stephen Sondheim was real. Yes, he wrote Tony & Maria AND Sweeny Todd AND Bobby AND George & Dot AND Fosca AND countless more. Some may theorize Shakespeare's works were by committee, but Steve was real & he was here & he laughed SO loud at shows & we loved him," Hamilton creator Lin-Manuel Miranda tweeted. Benj Pasek, co-creator of the hit Broadway musical Dear Evan Hansen,  shared his sentiments in regards to Sondheim, tweeting: "Sondheim is the most important influence on generations of creators. His loss is devastating, but his work will continue to ripple out in every song & story we sing on stage. He simultaneously broke our heart & taught us how to piece them back together again. A life well-lived." Others paid tribute to Sondheim by sharing some of his lyrics. "Sometimes people leave you halfway through the wood. Do not let it grieve you. No one leaves for good," actor Rob McClure tweeted. Along with online tributes, many of those involved in the Broadway industry gathered in Times Square this past Sunday to honor him; Lin Manuel-Miranda organized the event, gathering Broadway community members to sing "Sunday" from Sondheim's musical Sunday in the Park with George. Manuel-Miranda also gave a speech in memory of the composer, including words from Sondheim's lyric book Look, I Made a Hat.
Sondheim was just 26 years old when his work was featured in a Broadway show. West Side Story debuted to the great white way in September 1957, and along with it, Sondheim's lyrics. From then on, it was nothing but success for the young lyricist. That same year, Sondheim's lyrics appeared in the hit musical Gypsy. Five years after two lyrical debuts, Sondheim wrote music and lyrics for A Funny Thing Happened on the Way to the Forum. The show was nominated for seven Tony Awards, and won five, including best musical; however, the show closed about two years after its opening. That same year, he wrote the music and lyrics for Anyone Can Whistle, starring respected actress Angela Lansbury; however, it quickly closed after nine performances. Sondheim contributed to two more musicals between then and 1970, where he had his biggest hit musical thus far: Company. Debuting in April of 1970, Company ran over 700 performances and acquired 14 Tony nominations, winning six. This hit Sondheim musical, full of marriage, commitment, friendship, and loneliness, has seen the Broadway stage twice since its closing in 1972; it currently runs today and is a gender-bent version of its original production.
Between 1971-1981, multiple other musicals of his debuted: Follies, A Little Night Music, Sweeny Todd: The Demon Barber of Fleet Street, and Merrily We Roll Along (amongst others). The musicals made names for themselves and racked up numerous Tony nominations and awards. In 1984, Sunday in the Park with George was Sondheim's 13th musical to see Broadway. One of his more complex musicals, he was inspired by French painter Georges Seurat and his paining A Sunday Afternoon on the Island of La Grande Jatte. Starring Broadway legends Bernadette Peters and Mandy Patinkin, the show was nominated for 10 Tony awards, taking home two.
Following Sunday, Sondheim had two more hit musicals: Into the Woods and Assassins. Into the Woods, being the more well-known of the two, ran from 1987-1989, with 750 performances. It was nominated for 10 Tony awards, and won three. Assassins opened on Broadway in 2004 and was nominated for seven Tony awards, winning five; it is currently running off-Broadway.
Though Sondheim was busy writing music and lyrics for musical after musical, it did not shy him away from giving career and musical advice to those who simply asked. As a boy, Sondheim was mentored by Oscar Hammerstein of Rogers & Hammerstein (known for lyrics and music to shows like Oklahoma! or Cinderella). Hammerstein was like a father figure in Sondheim's life after his parents divorced. "If he'd been an archeologist, I would've been an archeologist," Sondheim said in an interview with CBS's Sunday Morning back in 1995. Hammerstein was so influential amongst Sondheim that when Sondheim had the opportunity to be like him, he always jumped at the opportunity.
Sondheim wrote letters and eventually emails, providing feedback and advice to countless prospective lyricists, composers, directors, actors, and producers. More famously, the late Johnathan Larson (creator of Rent), wrote letters to Sondheim. This was well known, but was recently brought to the limelight due to the release of Tick Tick Boom, a movie directed by Lin Manuel-Miranda, based upon a musical Johnathan Larson, who wrote about his life before he unexpectedly passed away in 1996. Sondheim had a very impactful presence on Larson, and since the movie (which was released two weeks ago), he has gotten hundreds of compliments on the matter. After his passing, many of those who had asked or written to Sondheim for advice shared their letters to the public. Chorus teacher Barry Wyner is someone who wrote to Sondheim in search of feedback and advice. "I really wanted to work on Broadway, so I wrote to Stephen Sondheim. I corresponded with him my senior year [of college], and he would write back. I had read that the composer of Rent, Johnathan Larson, used to write letters to Stephen Sondheim, so I thought, That's what I'll do. His advice to me was to come to New York and get a master's degree in classical music." Being  a big fan of the composer, Wyner also added that "His passing was a day I dreaded for a while; you know it's coming when someone is in their nineties, and yet it was still a total punch in the gut. He's been in the business for over 50 years, and we kind of took for granted that he was just always around. However, he was so talented and brilliant. His body of work will stand the test of time.
Junior Lola Sokolsky shared her thoughts on Sondheim's passing: "When I found out that he had passed away, my heart sank. It was truly heartbreaking to lose such a vital composer, a true musical and Broadway titan. At least his legacy will live on with his beautiful, timeless work." Junior Grace Benedict felt similarly, stating, "My heart dropped when I first heard of his passing. His musicals are such a big part of my life, and he continues to be such an inspiration to me. It's hard to explain to a non-theatre person the magnitude of his passing."
Sondheim's impact on Broadway was like no other. He broke bounds in ways others had not done before. He is and will continue to be extremely missed by members of the Broadway community, as he was known to have reinvented the modern American musical.
About the Writer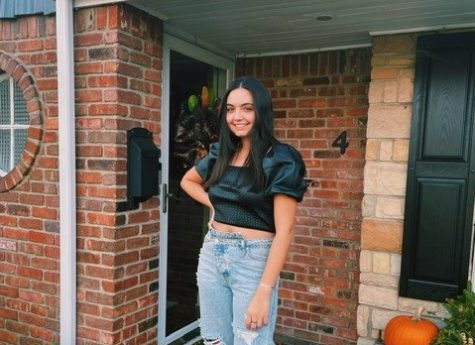 Lexi Capitali, Editor
Hi! My name is Lexi, and I am a member of the Class of 2022. I am a features editor and enjoy writing for Horizon.