The Origin and Evolution of Christmas Caroling
The tradition of caroling during the winter holidays has an extensive history, dating back to the very beginning of the English language. Today, caroling in the U.S. has seen a decrease in popularity due to the increase of media technology and the lack of communal unity in certain areas. Can caroling solve these issues by bringing some yuletide cheer to one's doorstep? 
The first evidence of caroling dates back to winter and summer solstice celebrations in Europe by the Pagans. According to the Historic Mysteries website (historicmysteries.com), the carols of these times involved more dancing than singing, and were celebrated year-round by Pagans rather than just in the wintertime. As time passed, however, spoken carols of religious nature became more common in Europe. Geoffrey Chaucer, called "The Father of English Literature," even alluded to an early religious carol about the Virgin Mary called "Angelus ad Virginem" in his most famous work The Canterbury Tales, written during the Middle Ages. 
In an article from the University College London website (ucl.ac.uk), an archeologist who studied Christmas carols and their evolution discovered that the specific carol "Angelus ad Virginem" had no melody to go along with it; therefore, she concluded that it could have been recited through "plainchant," a type of music that does not contain any specific rhythm.
One major problem existed with spoken carols similar to the one aforementioned: it was written in Latin. Most of Eastern Europe after the fall of Rome did not understand or speak Latin; consequently, the usage and popularity of carols declined until the 1400s, when carols were introduced by English poets and priests. Eventually, small groups of people chosen by prominent officials would go out into the streets and chant to the delight of many townspeople, who would usually offer them money if they enjoyed the performance. 
Unfortunately, Catholicism was banned in the UK for almost two hundred years, and in that time caroling itself was outlawed by the rule of Oliver Cromwell, a radical Puritan who took charge of the English Commonwealth. However, many Christmas carols survived this period, paving the way for the creation of other carols in the coming centuries. "The Twelve Days of Christmas" for example, was created during the anti-Catholic period of England, and is speculated to having been used by Catholics to teach their children about Catholic ways through the symbolism of each of the twelve gifts. 
Christmas caroling in the U.S. is heavily responsible for a revival of this seasonal tradition. Americans in the Victorian era preferred the idea of "a merry old Christmas, or an English Christmas." This, in turn, sparked the resurgence of wassailing and street performers going door to door singing Christmas carols.
 A main difference between the American and European wassailing, or caroling, is that most American groups did not look for a monetary incentive. Many go caroling in the United States today because they want to experience a sense of community, which can come in a variety of forms. 
Chorus teacher Timothy Waldvogel has gone Christmas caroling in the past with his church, traveling to local houses; he described it as "a very fulfilling experience, and it's nice cheering people up." 
In a world where digital media has taken entertainment to a whole other level, carolers are still trying to strengthen and restore unity within neighborhoods. "I hope that Christmas caroling remains popular," remarked Waldvogel, "because without it, Christmas may become less about bringing joy to others and would be a more self-focused holiday." 
Now that the winter holidays are here, caroling is an asset to the joy the holidays brings to families and communities alike. Although not an avid caroller, junior Makayla DiGiacomo's favorite Christmas carol is "Joy to the World." "It makes me so happy and excited for the holidays whenever I hear it," DiGiacomo said.
Freshman Miranda Mangru is particularly fond of "Silent Night." "I think it's so peaceful and soothing, and it keeps us in good spirits during the holidays," she said.
 The pandemic put a hold on in-person musical performances, so carolers have even more reason this Christmas season to get outdoors and give the gift of song and cheer to those who need it most.
About the Contributor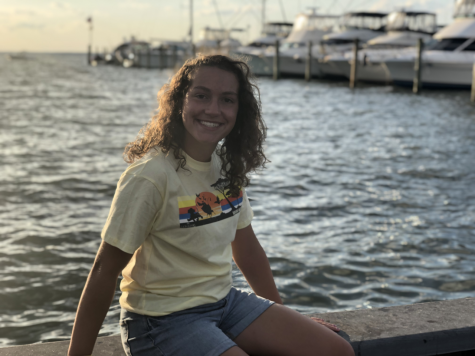 Alyssa Inserra, Managing Editor
I am a member of the Class of 2023 and the managing editor of Driftstone and assistant editor of Sports for the print edition. I enjoy singing, reading,...