The Best Way to Spread Holiday Cheer? Singing Loud for All to Hear!
After last year's isolating holiday season due to the COVID-19 pandemic, many agree that old-fashioned holiday celebrations are a welcome opportunity to bring a little joy into everyone's hearts. For the first time in two years, LHS members of the National Tri-M Music Honor Society were able to do just that, putting on a live performance for Lynbrook residents at the town's annual tree lighting on Dec. 5. 
     Crowds started gathering on Stauderman Ave. in the parking lot behind Miller's Hardware. The scene was set with lights on every tree and lamp post, a giant menorah, and Santa Claus, himself. Tri-M President and senior Rachel Edelstein described  the mood as being "celebratory, merry, jolly, and jubilant." Sophomore Kerry Cullen said she enjoyed "the festive décor that was very inclusive to other holidays, not just Christmas." 
     The night started with a blessing of the creche and well-wishes from the town of Lynbrook. After performances from the West End Elementary School chorus and local dance schools, Tri-M members took the stage. They first performed the holiday classic "Jingle Bells," followed by "It's Beginning to Look a Lot Like Christmas," which featured solos from juniors Lola Sokolskiy and Grace Benedict. The night was wrapped up with a performance of "Joy to the World," and a warm round of applause from the crowd.
     Tri-M members said they were ecstatic to be able to partake in the holiday festivities and spread joy throughout the town. Senior Alessia Scala was "so happy [she] was able to be a part of it," and she described the night as "a very lovely experience." Edelstein agreed, stating that the event was able to bring Lynbrook residents of all ages together. "Small moments of joy like these are what every community needs," Edelstein said. Sokolskiy especially enjoyed watching members of the West End choir perform: "They were adorable and performed very well." 
     In addition to being able to spread holiday cheer, the tree lighting provided the Tri-M members with an opportunity to perform in front of a live audience – something now coveted after over a year of being confined to virtual performances. Cullen, who has only performed a few times with a live audience since March of 2020, described the tree lighting as "a refreshing and fun thing to do again." She looks forward to future in-person performances. 
"I have missed performing, especially with my extremely talented classmates," Edelstein said. "I'm so glad that the first performance of the year was a success and am excited for the rest of the Tri-M and Lynbrook music events to come."
About the Contributor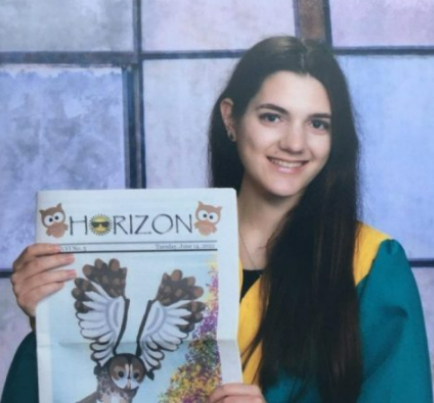 Kate Chiulli, Print Editor-in-Chief
I am a member of the Class of 2023 as well as one of the editors-in-chief of the print edition of Horizon. I enjoy reading, playing the violin, and using...