What's on Your Wish List?
The holiday season has arrived, and many excited celebrators are handing out their wish lists to family and friends. There have been many trends and most-wanted items on social media that shoppers are going crazy for this year. Here are the six most popular items being found on wish lists in 2021:
The iPhone 13
Apple has released quite a few new phones this year, the most recent being the iPhone 13. The new phone's latest features include a more advanced dual-camera system, a faster chip, longer battery life, water resistance, and durability around the edges, in front of, and behind the screen. The phone also comes in new color and style varieties. 
2. Sneakers
Shoes are a popular item on wish lists this year. Many people have picked out a particular Nike, Adidas, Jordan, or Sketchers pair. 
Freshman Cassandra Levinson has her eyes set on the new Converse Run Star Hike shoes. "I like the shoes because of their variety, as they come in different colors and types," Levison said. "Also, I really like how dynamic and artistic they are. I have never seen a Converse shoe like these ones before, and it seems like a lot of thought was put into the design of this edition."
3. The PS5
The PS5 was released around November, and many gamers are already obsessed with it. It comes with many more features than its predecessor, the PS4. Freshman Justin Williams said, "The PS5 displays videos at a much better and higher quality; there are better graphics of the games, and everything processes much faster."
4. Vinyl Records
Recently, vinyl has been making a comeback in the music industry. More locations are selling vinyl, and today's generations are becoming increasingly interested in these retro records. "I know vinyls are really popular now, especially because of the Needle & Groove store near the school," Levison said. "Also, many artists have been releasing their albums on vinyl records like Olivia Rodrigo, Harry Styles, and Adele." 
Olivia Rodrigo's SOUR album sold 76,000 vinyl copies in only seven days. Vinyl is gaining popularity by the second. 
5. Skincare & Makeup Products
Skincare and makeup products are shared all over the world through social media. Beauty influencers try out new trends that their viewers go crazy for. The most recent popular makeup products include the Clinique lip color in the universal shade "Black Honey" and the Charlotte Tilbury lipstick in "Pillow Talk"; both products are made for all skin tones. Other popular skincare items include cleansing oils, makeup meltaway balms, and toner sticks. Brands including Rare Beauty, founded by Selena Gomez; R.E.M. Beauty, founded by Ariana Grande; Tatcha; Fenty, founded by Rihanna; and, Kylie Cosmetics, founded by Kylie Jenner, may be found in many shopping carts this holiday season.
6. Chunky Boots
Recently, many teens and young adults have been pairing chunky boots with their everyday outfits. These boots are sported by many anime lovers and e-girls who are into the unique shoes. Brands like Demonia and Dr. Martens will draw many shoppers to stores this holiday season. 
The latest trends and newest products always catch the eyes of viewers on the internet and social media. "People always want to buy the trendiest things because they see other people have it, and they think it's cool," said junior Makayla DiGiacomo. From clothing to electronics and beyond, social media can lead to certain items appearing on many wish lists this year.
About the Contributor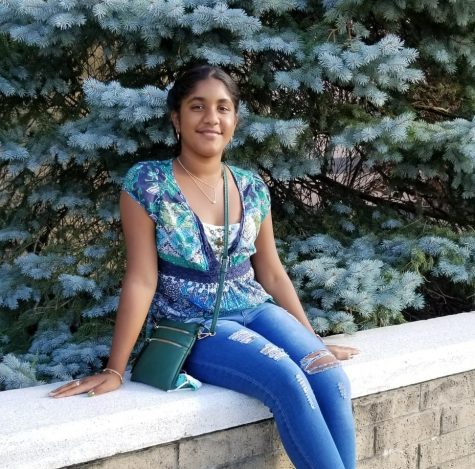 Miranda Mangru, Online Editor-in-Chief
Hi! My name is Miranda N. Mangru. I am a member of the Class of 2025 and an assistant editor for the Horizon newspaper. I take pleasure in listening to...