Mr. Luzzi Named 2021 Teacher of the Year
Whether it be in the classroom, surfing, snowboarding, biking, or playing beach volleyball, Spanish teacher William Luzzi knows how to energize every place he steps into. LHS students and staff can attest to his friendly and outgoing personality, and he is not just admired around the halls of LHS. Luzzi was recently selected for the 2021 Lynbrook Chamber of Commerce Teacher of the Year Award for his exceptional work in the foreign language department. 
The Chamber of Commerce is an organization of Lynbrook businesses and community members with the primary aim of promoting the interests of the business community. Annually, the Chamber of Commerce hosts an "Evening of Excellence" to recognize work in the Lynbrook community. Luzzi will be presented his award, alongside other community members, at a black-tie gala on Jan. 15.
"Not only is Mr. Luzzi an expert Spanish teacher, but he also leads professional development and puts himself out there," said Principal Joseph Rainis. "Mr. Luzzi exemplifies what it means to be an educator, as he is so invested in helping young people succeed."
Luzzi is originally from Valley Stream where he played football and lacrosse; he further continued his lacrosse career at Hartwick College. While in college, Luzzi and his family traveled to Cozumel, Mexico, and the experience gave Luzzi a new outlook on life. "Cozumel is the place where I realized my passion for the Spanish language and culture," Luzzi said. When he returned home, he changed his college major to Spanish and began an excursion around the globe to immerse himself in the Spanish language and culture. 
When Luzzi discovered this passion, he said he found further purpose in the art of teaching. "I enjoy teaching students how to communicate in a new language and appreciation for diverse cultures and points of view around the world," Luzzi explained. Recently, during Hispanic Heritage month, Luzzi's 11th grade students shared their knowledge of Spanish culture with students at the Kindergarten Center. 
Luzzi said that he loves teaching and coaching the Lynbrook varsity boys' lacrosse team because of his students. "I love forming relationships with each of my students, joking around, and getting to know each one on a personal level," he said. "Lynbrook students are the best!"
When it was announced that Luzzi would be named Lynbrook Teacher of the Year, he said he was overwhelmed with support from the LHS staff. "Of his myriad talents, his ability to connect to students is what makes him a deserving recipient of the Teacher of the Year Award," said English teacher Roseanne Mitchell. "His vivacious, caring personality creates an atmosphere in his classroom where all students feel included – that's his gift."
Mr. Luzzi has left an indelible mark on his students, current and past. "It's obvious that Mr. Luzzi cares so much about his students," said senior Julia Swerdin. "He encourages all of us to be the absolute best we can be, and he is so supportive in everything we do."
About the Contributor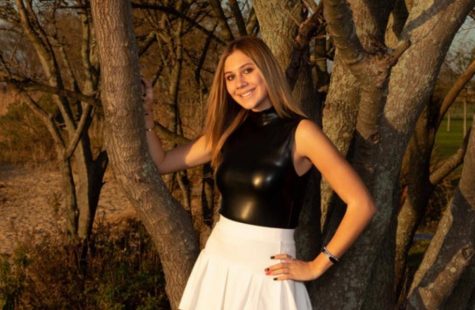 Alexis Raynor, Editor
Hi! My name is Alexis Raynor, and I am a member of the Class of 2024 and an assistant editor for Horizon. I love to dance and hang out with my friends....