Getting on Board with a Covid-19 Vaccine Mandate
As the new school year is underway, the effects of the COVID-19 pandemic still remain but at a lesser intensity than last year. This is due to the vaccine, which has been available as of May for those over the age of 12. Recently, the vaccine was approved by the Food and Drug Administration (FDA), surpassing the emergency use authorization enacted by the Trump Administration for vaccine approval. Debate over the vaccine's safety and efficacy is at an all-time high. However, it is clear that vaccines should be mandated in public high schools for the next calendar year in order to keep students and teachers safe.
Now, throughout the nation, school districts are determining the fate of students' vaccine status. The Los Angeles Unified School District, second largest to New York City public schools, stated that all eligible students must be vaccinated for COVID-19 entering the new year; those participating in face-to-face activities such as sports must be fully vaccinated by Nov. 1. Other districts such as Hoboken, New Jersey, and more across California have adopted similar policies. These policies are being adopted as "interest of student health" to provide safety and protection to students, pushing the edge closer and closer to normal life.
It is not only fair but also precedent for school districts to require vaccinations, as these policies have been in place for decades. Lynbrook Public School District currently requires seven vaccinations, including polio; hepatitis B; and measles, mumps, and rubella  (MMR).
In 2019, former New York Governor Andrew Cuomo enacted new legislation that stops non-medical vaccine exemptions from occurring within New York State public schools. This information can be found on the Lynbrook district website under health and safety. Vaccinations have always been mandated in public high schools for the health and safety of other faculty and students, so why should the COVID-19 vaccine be any different?
"The truth is it's not different," said Northwell Health Pharmacist S. Oommen. "The Covid vaccines are possibly the most monitored vaccines in recent history, and the recent FDA approval shows its safety and efficiencies at preventing hospitalization due to COVID-19." Oomen believes that a national vaccine mandate is inevitable. 
Johns Hopkins University — a highly-accredited medical research institute — has done the most vaccine research in the U.S. for COVID-19. "All three vaccines authorized or approved by the FDA have been thoroughly tested and found to be safe and effective in preventing severe COVID-19," said Lisa Margakis, physician and senior director of infection prevention at Johns Hopkins, according to an article published by the university. She added, "They continue to undergo continuous and intense safety monitoring."
It comes down to simple actions and consequences. Many hope to venture back to normalcy after almost two years of living through a world-wide pandemic. However, normalcy is contingent on achieving herd-immunity through vaccinations. People have the right to make their own health choices for themselves and their children. There is no debate about that. But, choices come with consequences. 
New York City school districts mandated vaccinations for all high-risk contact sports. Senior and varsity volleyball player Kate Dooling agrees with this policy: "To participate in high-risk sports, you should be vaccinated to protect the safety of the other players. It isn't fair to those safely vaccinated to be put at a higher risk than they already are."
For the safety of all faculty and staff, many urge a vaccine mandate in some capacity at public high schools. With the research showing the safety of the vaccine and other school districts pushing for a full vaccine mandate, more districts will follow suit, pushing the school systems one step closer to normalcy.
About the Writer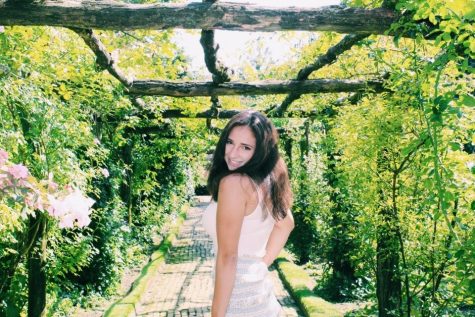 Elizabeth DiFiore, Managing Editor
I am a part of the Class of 2022. I am a news online editor and a managing print editor for the features section of Horizon. I am an avid reader and writer.