"Instagram Kids": A Dangerous New Threat
Social media is undoubtedly one of the largest aspects of teens' lives. Especially during the pandemic, it has provided a way for one to stay up to date with friends, family members, and even celebrities. One of the most popular social media platforms among high schoolers is Instagram, which plans to create a new app for children under the age of 13. Instagram is a place where one can share photos and stories, browse suggested posts from users across the globe, and chat with friends. It is also a place where one can become obsessed with likes and followers, be bullied by or bully others, and be contacted by predators. For these reasons, Instagram absolutely should not continue its creation of a children's app, which would destroy the innocence of millions of kids worldwide.
     First of all, why is this new app being created? As of now, Instagram only permits people aged 13 or over to create their own accounts, a mandate of the Children's Online Privacy Protection Act. Although this has never stopped younger children from lying about their age and making an account, Instagram plans to create its new app as a legal alternative for those younger than 13. Though specific information has not been provided about the product, Instagram's Vice President of Product Vishal Shah said in message to his employees that the new platform will "focus on two things: (a) accelerating [its] integrity and privacy work to ensure the safest possible experience for teens and (b) building a version of Instagram that allows people under the age of 13 to safely use Instagram for the first time."
     Apps like these, however, have proven unable to protect kids' privacy in the past. One prominent example of a similar app is Messenger Kids, which, along with Instagram, is owned by Facebook. It was released in 2017 as a safer alternative to the main Facebook platform, allowing children to message only those approved by their parents. However, in 2019, the app faced serious backlash after thousands of children were left in chats with strangers due to a design flaw. Facebook's failure to ensure the safety of children on the Internet in this instance indicates that it may face similar problems with Instagram Kids.
     Apart from inevitable weaknesses in design, Instagram's new app will undoubtedly expose young children to the horrors of cyberbullying and harassment. According to a 2017 bullying survey conducted by Ditch the Label, 78% of the teens interviewed used Instagram, and 42% of them experienced some form of cyberbullying on the app; this was the highest percentage out of all of the other social media platforms. This is an alarmingly high number, and even though Instagram claims it is "committed to protecting you from bullying," it has done little to address this major issue. 
     Now, consider the physical and emotional damage inflicted upon millions of teens each year. Imagine what would happen if that were to be brought upon young children, only six or seven years old. How would you feel if your beloved younger sibling or precious baby cousin was being harassed each day, unable to defend himself? The majority of people in the United States voice the same concern; according to the New York Times, attorney generals from 44 states have asked Facebook to stop its plans for the new app. 
     "Without a doubt, this is a dangerous idea that risks the safety of our children and puts them directly in harm's way," Letitia James, New York's attorney general, stated in a letter to Facebook CEO Mark Zuckerberg. "There are too many concerns to let Facebook move forward with this ill-conceived idea," she added. According to Ronald Iannotti of the National Institute of Child Health and Human Development, some of these concerns arise from the fact that "being bullied interferes with scholastic achievement, development of social skills, and general feelings of well being." With such a large number of teens being affected by cyberbullying, it is more important than ever to protect younger children from these horrors. 
     Lastly, another one of these concerns is that Instagram, which is centered around likes and followers, will damage childrens' self esteem. Sophomore Grace Benedict agreed: "Instagram makes people care too much about things that don't matter and sets an unrealistic standard for their own lives, when in reality, the pictures that they're looking at aren't real."
     The facts say it all: exposing young kids to the dangers of social media is a bad idea. Instagram's lack of protection is already responsible for alarmingly high amounts of bullying among teens and adults. Its faults have already plagued one generation. So, we must do everything we can to shield more vulnerable children from the new Instagram Kids app.
About the Writer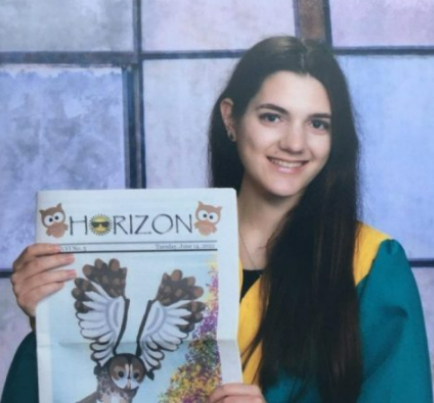 Kate Chiulli, Print Editor-in-Chief
I am a member of the Class of 2023 as well as one of the editors-in-chief of the print edition of Horizon. I enjoy reading, playing the violin, and using...