What Will This Summer Look Like? Restrictions Lift as Vaccinations Increase
As more people in New York get the Covid-19 vaccine, the summer months look more and more promising. The CDC announced recently that those who are fully vaccinated are no longer required to wear masks and are free to return to their "normal" lives. At last, the long-awaited end of the pandemic is in sight.
     New York City and the rest of the state had a full-scale reopening on May 18. This means that businesses, restaurants, and even bars are allowed to operate at 100% capacity, and those who are fully vaccinated are no longer required to wear masks in public places and at gatherings. The exceptions to these rules are at hospitals and on modes of public transportation. However, private businesses are allowed to decide whether or not to follow the new guidelines, and some still require customers, even those who are vaccinated, to wear masks.
     As for summer camps, many children are looking forward to escaping the school year and spending time with their friends far away from the challenges they have been facing. Camps are opening back up for the 2021 season, but they will not look the same as before. According to the CDC, many overnight camps are encouraged to mimic an "NBA-bubble" situation: campers and staffers will be required to get tested weekly and wear masks during indoor activities. 
     Unfortunately, day camps will not be able to apply the same techniques to curb the ongoing pandemic. The CDC is requiring all camps to require campers and staff to wear masks at all times, except for when campers and staff are eating and swimming. 
     Junior Kiera Gaughran is a camp counselor at Rolling River Day Camp. She shared her thoughts on working at camp this summer: "I'm fully vaccinated and feel comfortable with the guidelines the camp has set up. Everyone will be required to wear masks and encourage those who can get vaccinated." Yet, with the increasing number of vaccinations, new guidelines could be sent out at a moment's notice.
     A question has been posed whether or not online learning opportunities will be offered this summer. Junior Kate Dooling has applied for multiple science research opportunities for the summer: "The majority of the programs I've looked into are online," she said. "It's super frustrating when you're hoping to gain hands-on experience and that has a very slim possibility."
     Despite the remaining obstacles to be faced this summer, many believe, and hope, that the worst of the Covid-19 pandemic is behind us. "I feel very different about this summer than I did about last summer," said junior Emmie Paladino. "Last summer, pretty much everything was closed, and the pandemic was still very much at the forefront of everyone's mind. This summer, I feel like life is almost back to normal. I'm fully vaccinated and feel as though the people I surround myself with are safe."
     People are planning for and looking forward to this summer, hoping Covid-19 restrictions will continue to be lifted.  
About the Writer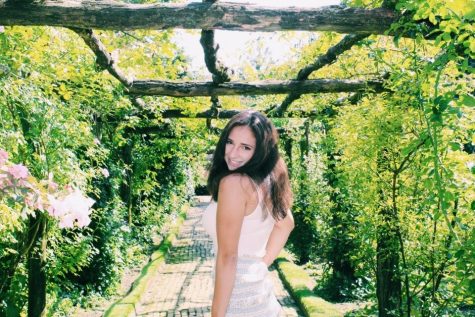 Elizabeth DiFiore, Managing Editor
I am a part of the Class of 2022. I am a news online editor and a managing print editor for the features section of Horizon. I am an avid reader and writer.