The Search for, and Discovery of, Gabby Petito
The disappearance of Gabby Petito in late August has circulated news outlets and conversations around the nation. After months of cross-country travelling with her boyfriend, Brian Laundrie, 22-year-old Petito was reported missing by her parents on Sept. 11. Her remains were found in Wyoming's Grand Teton National Park on Sept. 19. Authorities continue to search for Laundrie, who disappeared shortly after returning home from the trip without Petito.
Originally from Blue Point, Long Island, Petito recently moved in with Laundrie and his parents in North Port, Florida. She became a travel influencer and documented the trips she and her boyfriend took together. They gained a following on Instagram, Youtube, and Tiktok. On July 2, the couple began their cross-country road trip from Long Island to the West Coast, where they were seen posting content with the hashtag #van life. The trip was intended to last four months, but it only lasted a fraction of that time. Petito's last Instagram post was made on Aug. 25.
Petito's disappearance was not the first red flag to arise, though. On Aug. 12, the couple was brought to the attention of The Moab City Utah police. According to ABC News (abcnews.com), The sheriff's office received a 911 call from a witness claiming that Laundrie slapped Petito. In the recording, the caller claimed he saw the domestic dispute unfold in Moab, Utah, between a young couple driving a white van with a Florida license plate. The Moab Police Department responded to the call, located the van, and pulled it over. The couple was confirmed to be Petito and Laundrie, and they confirmed getting physical in an argument. Throughout the body-cam footage, Petito was emotional and crying, and Laundrie had visible scratches on his body. Both claimed that they were in love and did not want to press any charges. The couple agreed to spend the night apart, and Laundrie was put in a hotel room.
A few weeks later, on Aug. 24, Petito was spotted checking out of a hotel in Salt Lake City, Utah. Police claim that this was the last time Petito was seen alive. Petito's mother, Nicole Schmidt, said she last spoke to her daughter on Aug. 25. Petito told her mother that she and Laundrie were leaving Utah and heading to Grand Teton and Yellowstone National Parks in Wyoming. Schmidt told ABC News (abcnews.com) that Petito sounded "good and excited to continue her trip and excited to start her Youtube channel." Petito's family had always maintained regular contact, and this abruptly stopped. Schmidt said that she had received messages from Petito's phone after Aug. 25, but there was no confirmation of who was sending them. Her family described the messages as "not normal behavior," and they became worried.
According to ABC News (abcnews.com), investigators believe that Petito disappeared near the Spread Creek Dispersed Camping area in Wyoming. An Instagram post from another witness claims she saw Laundrie and Petito having an explosive argument at a restaurant in Wyoming on Aug. 27, two days after Petito's last known sighting. Two days later, a couple stepped forward and claimed that Laundrie was hitchhiking in Colter Bay, Wyoming, and that they gave him a ride to Jackson, Wyoming. According to the couple, Laundrie claimed he was camping alone for the past few days, while Petito was in the van working on social media posts. Another Wyoming visitor told CNN (cnn.com) that later that day, she had picked up Laundrie from Jackson and gave him a ride to the Spread Creek camping area, which is the camping area that investigators believed Petito disappeared at.
On Aug. 30, Petito's family allegedly received a message from Petito reporting that she was in Yosemite and that she had no cell service. Whether this message was sent by Petito herself is unknown. Sophomore Grace Loiselle commented, "My theory is that these strange messages were not sent by Petito herself. Her last sighting was on Aug. 25, and since then her parents had been receiving strange messages. This does not add up, especially if the two people that knew Petito best report that this behavior was unlike her. A number of people could have been sending the messages, but definitely not Petito herself."
On Sept. 1, Laundrie returned to the home that he shared with Petito in North Port, Florida. Petito's family had not received any more messages from her, and on Sept. 11, they officially reported her missing to the Suffolk County police. According to CNN (cnn.com), Petito's family reached out to the Laundrie family for help in the investigation. The Laundrie family refused to answer and were not cooperating with the police. Laundrie was named a person of interest in the case of Petito's disappearance, and now he was a missing person as well.
"This was the most surprising aspect of the whole case," said sophomore Stephanie Neri. "Laundrie arrives home in the van that he and Petito previously shared, and now he is a missing person. I think that if he or his family had any intention of finding Petito, they would cooperate with the police. Something is not right, and I have a bad feeling about the way that Laundrie's family is responding."
The search for Laundrie began on Sept. 18 at the Carlton Reserve in Sarasota, Florida. A body was discovered at Grand Teton National Park in Wyoming on Sept. 19. On Sept. 20, the FBI questioned Laundrie's parents at their home, and they searched the home for any evidence that a felony had been committed. On Sept. 21, an autopsy confirmed that the body found in Wyoming was Petito. The confirmed cause of death was a homicide, and the manhunt for Laundrie continued.
Senior Lexi Capitali said, "I was so disappointed by this outcome. Even with all the evidence, there was still some hope left in me that Petito would be found alive. I hope that her killer is found and Petito receives the justice that she deserves."
An arrest warrant was issued for Laundrie on Sept. 23. He is suspected of using a debit card and PIN number for accounts that did not match the ones that belonged to him, and is said to have spent more than $1,000. As the search for Laundrie continues, a $30,000 reward is offered to anyone who provides law enforcement officers with information on his location.
There have been many events to memorialize and remember the life of Gabby Petito. Her memorial service was held on Sept. 26 in Holbrook, Long Island. Long Island residents gathered and tied teal ribbons to trees. Prayers were made in Petito's honor in Wyoming, where Petito's body was found.
Laundrie has not been located. Many believe he is on the run, but authorities will not stop searching until the truth of Petito's death is uncovered.
About the Writer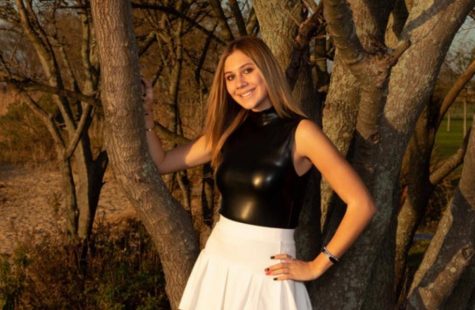 Alexis Raynor, Editor
Hi! My name is Alexis Raynor, and I am a member of the Class of 2024 and an assistant editor for Horizon. I love to dance and hang out with my friends....