Needle and Grove: Not Your Ordinary Record Shop
Out of the many stores and eateries along Atlantic Avenue, Needle and Groove is one Lynbrook residents should surely check out. Located on 73 Atlantic Ave., just across Sunrise Highway, this spot is great for shopping after a long day at school. With its chill vibes and wide selection of vinyl records, both old and new, Needle and Groove is the perfect place for any record enthusiast who is eager to find his favorite music on vinyl. 
Now, what exactly makes Needle and Groove so special? The most evident aspect is the atmosphere, which is energetic and gentle. It makes sure to put customers in a good mood, while setting their minds at ease. Upon walking in, a mellifluous serenade of music fills one's ears, taking him away into another world while shopping. Needle and Groove's owner, Joe Macchia, can strike up a conversation with anyone, about any type of music. His vast knowledge of music is practically never-ending. 
Needle and Groove offers a wide selection of records, from all different genres and eras of music. If one walks in looking for a specific record, chances are he will happily leave the store with his record of choice in hand. In addition to vinyl records, Needle and Groove has CDs, record cleaning kits, stickers, pins, tote bags, and shirts in stock.
If one is new to collecting vinyl, Needle and Groove's friendly employees are always there to help out. One employee was able to speak about Needle and Groove, why it is so special, and the pristine quality of its products. "The store is a little over two years old, and it was started by a long-time collector named Joe Macchia," said Dylan Rodriguez, an employee of the shop. "The products are in mainly near-mint condition," he added. Needle and Groove's variety and versatility of musical genres is another key feature that sets it apart from other record stores. "We sell anything from original American pressings to foreign pressings," Dylan said.
In terms of trends going back in time, students are into trading in their streaming services for a nice vinyl record. Grace Loiselle, a freshman, says that she would definitely be open to going to the store if she had a record player. "Yeah, I definitely would [go]! I don't own any records or a record player, but if I ever needed something, I would go to them first for sure." Olivia Lanterni, a freshman, shared the same sentiment: "I love the idea of having a record store close to the high school for students to shop at! However, I don't think I myself would go to the store as I don't have a record player."
Needle and Groove is a wonderful place where music lovers of all kinds can go to bond over their favorite artists. It stands as a comforting, fun place where one can leave behind the mundane and monotonous worries of life. Music by itself is a very powerful thing, and Needle and Groove is harnessing the power of music to make Lynbrook a better place. 
About the Contributor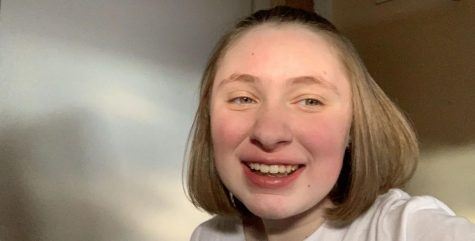 Kerry Cullen, Managing Editor
I am a member of the Class of 2024 as well as a managing editor for Horizon. I like to write, read, sing, and act. One fun fact about me is that I love...