The Met Gala's Best and Worst Dressed
The "Hollywood elite" gathered together for the annual Met Gala on Sept. 13 at the Metropolitan Museum of Art. This charity event was organized by Vogue magazine's Anna Wintour for the unveiling of the Met's Fashion exhibit, and it is considered the most exclusive and highly anticipated celebrity event of the year.
Each year, there is a specific dressing theme for celebrities attending the Gala, and this year's was "In America: A Lexicon of Fashion." Attendees partner up with name-brand designers and create a look fitting the theme to the best of their abilities. Here are comprehensive lists of the best and worst dressed A-List celebrities:
Best Dressed:
Emma Chamberlin, Keke Palmer, Anna Wintour, Timothee Chalamet, Brooklyn Beckham & Nicola Peltz, Amanda Gorman, Billie Eilish, Saweetie, Jennifer Hudson, Kaia Gerber, Yara Shahidi, Megan Thee Stallion, Iman, Pete Davidson, Donatella Versace, Chloe & Halle, Lorde, Frank Ocean, Justin & Hailey Bieber, Kendall Jenner, Lili Reinhart, Zoe Kravitz, Rita Ora, Normani, Emily Blunt, Alicia Keys, Lourds Leon, Kid Cudi, Stephan & Ayesha Curry.
Social media star Emma Chamberlin, who co-hosted the event, stunned in a gorgeous Louis Vuitton dress. Though not necessarily on theme, her outfit was simple and elegant. This was her first Met Gala, and her look was highly anticipated. She did not disappoint.
Actress Lili Reinhart was one attendee who was commended very highly for her execution of this year's theme. Her dress was pink and floral, but what made her look special was the use of flowers from all 50 states, as they were delicately sewn onto her dress. Senior Lorelei Dillon said, "I thought that a lot of the looks from the Gala did not incorporate the theme very well, but there were a select few that I think had a great interpretation of the theme. I thought Lili Reinhard's was very interesting, despite a lot of other people's opinions."
Overall, my favorite looks of the night were easily Kendall Jenner's and Kaia Gerber's. I could not choose between the two. Jenner wore Givenchy, and Gerber wore Dior. Both of their looks were stunning, and both girls had "American sweetheart"-themed looks. Both were on theme and so very elegant, so it was hard to not make them both the winners.
Worst Dressed:
Dan Levy, Maisie Williams, Lil Nas X, Serena Williams, Naomi Osaka, Kim Petras, Madison Beer, Addison Rae, Kris Jenner, Megan Fox, Ciara, Olivia Rodrigo, Jennifer Lopez, Kim Kardashian, Gigi Hadid, Shawn Mendes & Camila Cabello, Hallie Steinfeld, Kacey Musgraves, Rhianna & ASAP Rocky, Dixie Damelio.
While her outfit choices often impress, singer Olivia Rodrigo's Met Gala outfit did not live up to expectations. Rodrigo wore a lacy, sheer bodysuit with heavy feather details at the top. She had her eyebrows feathered, and she added extremely large and dangly earrings to complete the look. While her makeup looked great, the rest of her look did not fit the theme. Junior Hannah Seideman agreed, saying, "I didn't really love this look. I feel like Olivia could have done so much better."
While many people praised Kim Kardashian for her take on her ex-husband's "Donda" façade, I feel that it was unnecessary. Her look had nothing to do with the theme, and it really was not anything special, as she was just wearing black fabric head-to-toe. While this is typical for Balenciaga — the designer she wore — Kardashian has worn better outfits at previous Met Galas, and this year, she lacked. Senior Emma Leighley shared her thoughts stating, "I did not love Kim's look for the met gala. I was excited to see her look, but I was really disappointed at what she wore."
About the Contributor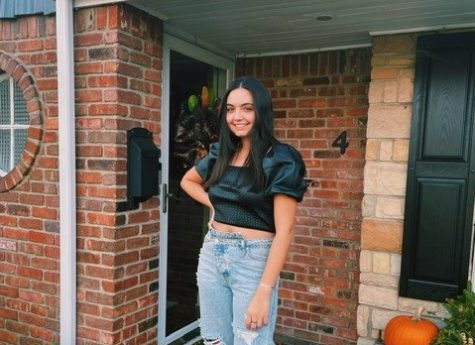 Lexi Capitali, Editor
Hi! My name is Lexi, and I am a member of the Class of 2022. I am a features editor and enjoy writing for Horizon.