Key Club Hosts Blood Drive
Now more than ever before, there is a chronic blood deficit between what is needed by hospitals and what is collected at blood donation centers. "We always received flyers saying that blood supply was low," said four-year LHS Key Club advisor and Virtual Enterprise teacher Benedict Tieniber, "but now it's really low, at a critical level. A major source of donations is high school blood drives, but no schools are holding them this year. We are one of the few organizations that was able to think outside of the box."
To combat the crisis, the LHS Key Club teamed up with the New York Blood Center to hold its annual blood drive, despite obstacles posed by the pandemic. It took place on Saturday, Dec. 19 at the Lynbrook Knights of Columbus located at 78 Hempstead Ave. From 8 a.m. to 2 p.m., more than 65 students, staff, alumni, and community members dropped by to donate, and more than 80 pints of blood were collected, saving around 240 lives. 
Dr. Andria Chizner, an outpatient pediatrician for New York Presybyterian hospital and a Lynbrook resident, said that the recent decrease in donations can be greatly attributed to fear. "People are worried that they will be exposed or contract the virus, so they choose to stay home when they would typically be going out to donate."
She explained, however, that this fear should not stop people from donating. "Thankfully, we know that going to a blood drive is safe because the proper precautions are being taken, such as spacing out appointment times, wearing masks, and social distancing at the site," she said. "Blood transfusions are life-saving treatments for millions of people in this country, and it is an amazing, selfless act to donate, especially in times like these."
The Key Club typically holds its blood drive at the school. This year, however, it took place at an outside venue. One major difference between this year and previous years, in addition to location, was the greater emphasis on sign-ups, rather than walk-ins. The club advertised for the drive primarily through its Instagram account, and the link to sign up to donate was "maxed out" within days, said Tieniber. 
"We normally get around 100 donations when the drive is held during school hours and in the school gym, but this year we definitely got a larger crowd of outside guests, like parents and community members," Tieniber added. "What was more important than anything else was that we were able to have one at all. The fact that we got over 80 pints off-campus is absolutely incredible. It says a lot about the character of our students, that they would take time out of their Saturday to donate."
LHS Secretary Valerie Russo, Spanish Teacher William Luzzi, and Permanent Substitute Brian Donaldson were among the staff members who contributed to the cause. Key Club's Division 7 Lieutenant Governor Matthew Friedman, whose jurisdiction spans Lynbrook, Valley Stream, Hewlett, Long Beach, Lawrence, East Rockaway, and Oceanside, also made a special appearance to donate.
Co-presidents of the Key Club, seniors Carly Tucker and Marti Candel, were very pleased with how the event turned out. Tucker said, "Even though this year is not what we planned, we're still so thankful that so many people came and donated. We love our Key Club family!" Candel added, "We look forward to our next drive in April and continuing all of our work throughout the year [in order] to do what we can during these difficult times."
Carol Bald has been a New York Blood Center volunteer for the past 18 years. "I just love helping, and I love the people I get to work with," she said. Her job is to provide aid for donors who have a negative reaction to the process, such as feeling faint or unwell. She said that she definitely noticed a difference in this year's drive; she laughed that the cookies, offered to donors to help rejuvenate their blood-sugar levels, are now prepackaged instead of laid out on tables like they used to be.
The blood drive was the 177-member Key Club's first in-person event of the year. Its previous events included a virtual popcorn fundraiser, a food drive, and teaching kindergarten students about Halloween safety. It also ran a toy drive from Dec. 1 to Dec. 18, which partnered with the Kiwanis International service club to donate to Toys for Tots.
This year's blood drive, albeit different from years passed, was a sure success. "It was absolutely incredible," smiled Tieniber. "It is really evident that even in crazy times like these, nothing will stop the LHS students from doing what they can to give back, help people, and, most importantly, save lives."
About the Contributor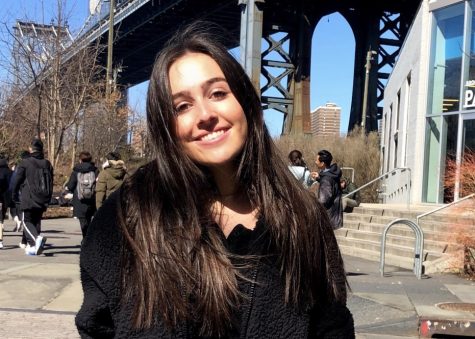 Julia Swerdin, Print Editor-in-Chief
I am the editor-in-chief of the Horizon print edition and the managing editor of our online features section. I'm a member of the Class of 2022, and I...