Halloween During a Pandemic: "Creeping" It Real
To the delight of many, fall is in the air: the leaves have started to turn wondrous shades of red, orange, and gold; apple and pumpkin picking seasons are already in full swing; temperatures have dropped significantly, and sweaters have been brought out from the depths of closets and drawers to replace t-shirts. Fall is here, and thankfully, there is nothing Covid-19 can do to stop it. However, with autumn comes the cherished holiday of Halloween, which will undoubtedly be affected by the pandemic.
Unfortunately, many traditional spooky-season activities have been deemed unsafe by the Center for Disease Control (CDC), such as trick-or-treating. This activity is beloved by young children and teenagers alike, as it provides both a way to hang out with friends and collect some candy along the way, but his year's version may look a little different. According to the CDC (www.cdc.gov), traditional trick-or-treating is a high-risk activity, meaning that those who participate in it without taking any precautionary measures are putting themselves at a high risk of contracting Covid-19. 
On a typical Halloween afternoon, children dressed in costumes ring someone's doorbell, say "trick or treat," and receive their candy. Touching a doorbell, which has likely been exposed to many sticky, little hands, is unsafe for both the children and the resident of the house. Additionally, adults must touch Halloween candy in order to drop it into children's candy bags. So, when a trick-or-treater wants to eat a piece of candy, he/she will touch the possibly infected wrapper and then touch the candy, which will be put into his/her mouth. This is unsafe and may lead to the spread of Covid-19. 
Yet another popular way to celebrate Halloween, especially among teenagers, is to attend a party. Halloween parties usually involve large crowds of people and spooky foods and drinks brought by guests, both of which make them dangerous to attend. First, it is not safe to be around more than a handful of people that are not part of your immediate family, especially if they are not wearing masks (costume masks excluded) and the party is indoors. Second, unless it can be guaranteed that the food and snack served at the party was prepared by someone who was wearing a mask and gloves, the food cannot be deemed 100% safe to eat. 
Although traditional trick-or-treating and large Halloween parties may not be an option this year, there are still plenty of other ways to enjoy the Halloween season. According to the CDC, small, outdoor gatherings only present a moderate risk of contracting Covid-19 if the attendees wear masks and socially-distance. So, if one plans to throw a Halloween party this year, he/she should limit the number of people coming and ensure there is an outdoor space that allows for social distancing. Robert Glatter, an emergency-room physician at Lenox Hill Hospital, told The New York Times (www.nyt.com) that outdoor parties should be limited to ten people and that "it's the time spent together that increases risk of transmission," so get-togethers should be fairly brief. 
Trick-or-treating may also not be completely off the table. If one wishes to go this year, he/she must take the proper steps to reduce the risk of getting sick. In an interview with The New York Times, Colorado's former chief medical officer, Tista Ghosh, stated, "There are ways to participate in Halloween that minimize risks." She recommends that trick-or-treaters wear gloves and carry hand sanitizer, and she suggests that adults leave baskets of candy outside their houses rather than handing sweets out at the door. Although it is not necessary to disinfect individual candy wrappers, Ghosh says it is important that children wash their hands before consuming the treats. 
Stephanie Anselmo, a Lynbrook mother of two, stated, "We will be going trick-or-treating this year. This year will be different because we will not be in a large group as in prior years, just with our family unit. My children will not be ringing doorbells or taking candy directly from people. We all will be practicing social distancing and sanitizing frequently."
Another way to celebrate Halloween this year is to have a virtual movie night. Friends and family can watch a movie together with zero risk of contracting Covid-19 by using some form of video-chatting in combination with the browser extension Teleparty, which is compatible with streaming services such as Netflix, Disney Plus, Hulu, and HBO. There are hundreds of spooky movies at one's disposal, some of which can even be found for free on YouTube. Classic Halloween films with minimal fear factor include Disney's The Nightmare Before Christmas and Hocus Pocus. Those that opt for horror movies might want to consider Friday the 13th or Halloween. 
Finally, one classic way to celebrate Halloween is by going to the famous Spooky Fest at Tanglewood Preserve in Rockville Centre. According to the Center for Science Teaching and Learning (www.cstl.org), this year's Spooky Fest will meet all CDC safety guidelines to ensure guests can enjoy a spooky night while staying safe. The event will occur every Friday to Sunday in October, starting on the 16 and running from 6:30 to 9:30 pm. Attractions include a not-so-spooky walk through the preserve for younger children, a scary walk, and Halloween-themed arts and crafts. 
Although Halloween may look a little different this year, there are still plenty of ways to enjoy the holiday while staying safe. Small, socially distanced gatherings, trick-or-treating with precautionary measures, virtual movie nights, and Spooky Fest are just a few options. Covid-19 may be able to put a plug on traditional celebrations this year, but it will never be able to take away the lighthearted, spooky essence of the beloved holiday. 
Anselmo concluded, "Halloween can and should happen as long as it's done in a safe and fun way."
About the Contributor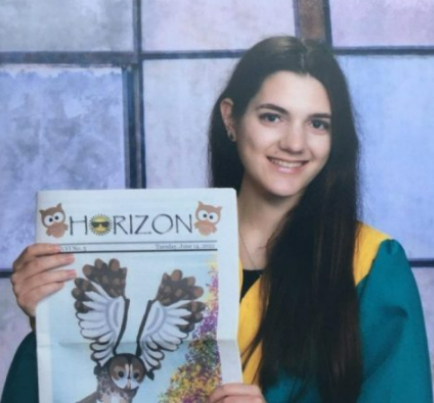 Kate Chiulli, Print Editor-in-Chief
I am a member of the Class of 2023 as well as one of the editors-in-chief of the print edition of Horizon. I enjoy reading, playing the violin, and using...