LHS Key Club Raises $35,000 in A-maize-ing Popcorn Fundraiser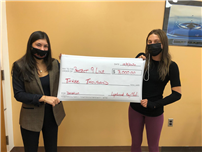 The LHS Key Club raised over $36,000 during their annual Double Good Popcorn fundraiser. Half of the funds from this event will benefit five different organizations and scholarships – the Dr. Barbarino Scholarship, the Rose Brucia Foundation, the Long Island Coalition for the Homeless, Kiwanis Children's Fund, and Project 9 Line.
The fundraiser launched on September 23 and was Key Club's first ever all-virtual event. Club members individually made "Pop-Up" stores on the Double Good app to sell a variety of popcorn flavors. With 125 LHS "Pop-Up" shops total, the fundraiser soon spread way beyond the walls of LHS. Each club member had a goal of raising $500 to start with, and the minimum goal was achieved within the first day of the fundraiser. Students shared the link with their friends, family, and the community as a whole to continue to grow the fundraiser to a greater and greater audience than ever before imagined.
"The virtual fundraiser was so much fun this year!" exclaimed Junior and Key Club Member Isabella Sferrazza. "It was a lot easier to create an online shop and advertise on social media. Obviously, the fundraiser did incredibly well this year, and it brought together the students in the Key Club. We all competed on the leaderboard to 'out-raise' each other, which made it exciting as well as charitable."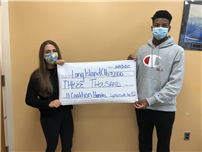 Key Club Treasurer Emma Ward shared her excitement about the fundraiser and the opportunities the fundraiser presents: "The entire executive board is extremely excited about the outcome of this fundraiser," she shared. "It is a great way to start off the year and is making us all excited about future fundraisers. I joined Key Club in order to help raise money for others, and this fundraiser was an amazing way to help others. By simply selling popcorn, we were able to help five charities and exceed our donation goals!"
The fundraiser's profits will go to organizations who specialize in helping others. The Long Island Coalition for the Homeless is dedicated to reducing the number of people that experience homelessness and improving the life of those who face extreme hardship on Long Island. The Rose Brucia Educational Foundation's goal is to lower the number of child abductions in the U.S. by educating and empowering young minds with the knowledge necessary to avoid abduction. Kiwanis Children's Fund provides young students with grants, youth programs, and scholarships. Project 9 Line is an organization that supports veterans by offering networking, programs, workshops, and opportunities. The Dr. Barbarino Scholarship provides LHS seniors with well-deserved scholarship money to aid in furthering their academic careers in college. 
Freshman Dea Pulatani came in first on the leaderboard, personally raising $3,000 dollars for the fundraiser.
Dr. Tieniber, known to students as "Dr. T", is the advisor of Key Club. He shared that after just four days, the profits from the Double Good Popcorn fundraiser totaled up to $18,500, an unbelievable amount.
"I am honored to be their advisor," Tieniber said. "The students raised a large profit aiding these organizations. I am incredibly proud of each and every member of Key Club. This was a team effort. Thank you to everyone who supported the cause."
Key Club Co-President Carly Tucker expressed her excitement and gratitude for the success of the fundraiser: "We did not know how this event was going to turn out since it was the first fundraiser of the year, and it was completely virtual. I am glad to say it surpassed our expectations, and we raised more than we ever could have imagined. I am beyond proud to be part of this club and to be co-president! It is so important to me to see how motivated our members were to participate in this fundraiser, and I am so excited to donate the money to these amazing organizations. Keep it up Key Club!"
About the Contributor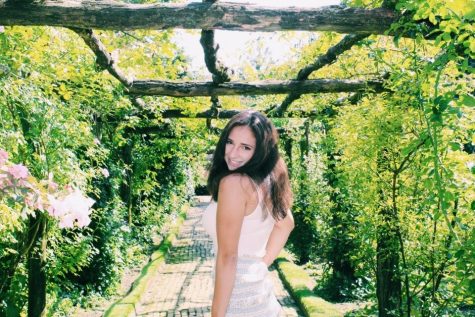 Elizabeth DiFiore, Managing Editor
I am a part of the Class of 2022. I am a news online editor and a managing print editor for the features section of Horizon. I am an avid reader and writer.