The Verdict of a Hollywood Nightmare
On a day long awaited by countless victims, colleagues, and the media, a jury finally convicted Harvey Weinstein of several counts of felony sex crime and rape in a Manhattan court on Monday, Feb. 24.
In 2017, the world was awakened to the harsh realities of abuse in the film and television industry, the Weinstein scandals being a door to thousands of other victims' stories being told. What has now become the watershed trial for the #MeToo movement has received a slight appeasement for all the damage inflicted upon victims: a verdict.
Weinstein, a long-reigning and highly influential producer in Hollywood, was found guilty on two accounts of felony sex crimes. However, Weinstein was acquitted of two other serious charges regarding predatory sexual assault.
Since 2017, dozens of women have come forward with allegations against Weinstein, flooding the media with the truth about the producer. "It was really difficult to watch as so many women came forward with such horrible stories about what had happened. It's crazy to watch a world just flip upside down, especially the world of Hollywood," said freshman Chloe Milukas. This trial, which took place in New York City, was a crucial test for the industry; it was a test of whether or not powerful men would be held accountable for sexual harassment in any workplace.
According to a New York Times article entitled "Full Coverage: Harvey Weinstein Is Found Guilty of Rape," the trial, lasting well over a month, was finally put to a close on Feb. 24. The jury found Weinstein guilty on two counts: criminal sexual assault in the first degree and rape in the third degree. He faces a possible sentence of five to twenty-five years. As the court recalls before the reading of the verdict, Weinstein told his lawyers again and again, "But I'm innocent."
"It is truly sickening to think that a man capable of so much could deny his fate after what he has done. His choices have affected his victims for the rest of his life. The word innocent should never touch his lips," stated sophomore Emmie Paladino. Weinstein left the court in an ambulance. After the verdict was read, Weinstein was to be taken immediately to prison, but he refused to move from the courtroom. He was taken to the Riker's Island Infirmary for severe chest pains and high blood pressure.
Women who accused Weinstein celebrated this guilty verdict as a victory. The actress Ashley Judd praised the verdict on social media. Judd was the first woman to go on record regarding Weinstein's misconduct towards her. "For the women who testified in this case, and walked through traumatic hell, you did a public service to girls and women everywhere, thank you," said Judd on Twitter. Others praised the court as well, thanking them for bringing a sense of peace and closure to their minds.
Regardless of the guilty verdicts bestowed upon him in New York, Weinstein still faces further charges in another case in Los Angeles. Whether or not the convicted rapist will be further charged will be determined by fate. But, for now, the victims celebrate their first victory: a small reward for the long, hard journey they have gone through to make sure such disturbing crimes will not happen again at the hands of a convicted rapist.
Update: On March 11, 2020, Harvey Weinstein was sentenced to 23 years in prison for two felony charges. 
About the Contributor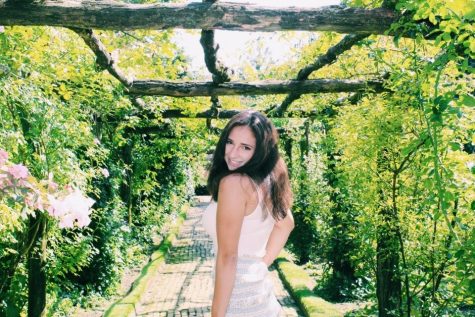 Elizabeth DiFiore, Managing Editor
I am a part of the Class of 2022. I am a news online editor and a managing print editor for the features section of Horizon. I am an avid reader and writer.