You: A Netflix Thriller You Won't Want to Miss
What would you do for love? The relatively new Netflix original series You will make you question your trust in those you love and push your fears to the limit in an attempt to answer this question. It will scare you into fearing the wildest social media nightmare: hearing the words, "I'm watching you."
This new show highlights the demon within each love story. When an intelligent bookstore manager named Joe Goldberg, played by Penn Badgley, crosses paths with an aspiring young writer, Guinevere Beck, who is portrayed by Elizabeth Dean Lail, a crush becomes something much more sinister when Beck becomes Joe's latest obsession. Using social media and the Internet, Joe uses every tool at his disposal to get closer to her, learning everything and anything about her. He goes farther than the average lover, and his actions cannot be suspected from the outside by observing how he portrays himself. While watching, many viewers find themselves on the edge of their seat and wondering how far Joe will go to make sure nothing stands between him and Beck. 
When first released on Sep. 9, 2018, the show was instantly a hit. Many young adults became obsessed with the first season. Viewers instantly fell in love with Joe because of his charm and good looks, but they soon found themselves questioning everything about his morals. This psychological thriller became so popular that it was renewed for a second season.
This second season, which was released on Dec. 26 2019, focuses on Joe and his new life in Los Angeles after the events of the first season. The "City of Angels" has just unknowingly welcomed a cloaked demon into its walls. Joe falls for a new object of lust, a woman by the name of Love, played by Victoria Pedretti. Again, Joe is seen doing anything and everything to be with Love, which forces him to face the demons of his past. This season's twists and turns truly out do the first season, enticing viewers who cannot wait to watch more. 
The show is widely popular among teenagers. "I just love it. It makes me so nervous. I yell at my TV when I watch it. I love the fact that I never know what is going to happen," said sophomore Kate Dooling. Often, Joe tends to leave viewers with conflicting opinions. "He is such a nice guy it seems. I wouldn't think twice about him, but what he shows through his actions! It's so scary," Dooling added. Joe is portrayed as your average New York City bookworm with an old soul and a love for life. Yet, in reality, he is a cold-blooded killer, willing to do anything and everything for the ones he loves. 
"The craziest part about the show is that everything that happens could actually come true. Social media is a scary, unprecedented place. You never know who could be looking at you," commented sophomore Emmie Paladino. The show exposes some very important issues in modern society, shining light on the vulnerability social media truly bestows on us. The show highlights the dangers of social media and how people can use it to indulge themselves into their victims' lives, slowly suffocating them. 
"I'm absolutely obsessed with this show, pun intended. The show freaks me out in the best way possible. It is so intriguing. I can't wait to see what happens next," said sophomore Bella Sferrazza. 
You has just been renewed for a third season, which will premiere on Apr. 9, 2021. Many viewers are anticipating season three and anxiously await to see what happens next.
About the Contributor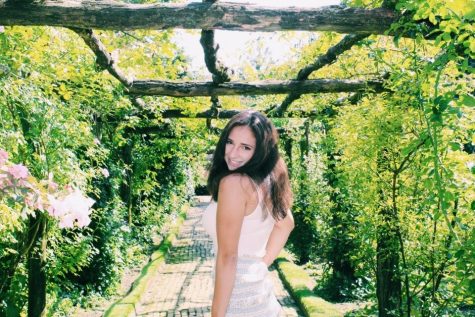 Elizabeth DiFiore, Managing Editor
I am a part of the Class of 2022. I am a news online editor and a managing print editor for the features section of Horizon. I am an avid reader and writer.