Farewell, Mr. Pipia and Ms. Mahon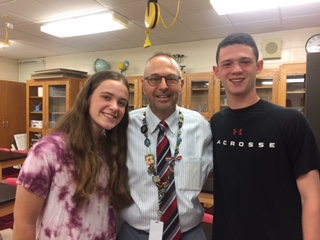 The conclusion of this year will force LHS to say goodbye to two members of the staff who have impacted the school for years. Chris Pipia and Irene Mahon will both be retiring at the conclusion of the 2019 school year. As Principal Joe Rainis explained, "Any retirement for me feels like the family is taking a hit. And with Mrs. Mahon and Mr. Pipia we have two very special people stepping away from what has been their home and there are no words I can express that will do justice to the gratitude that I feel for all they have given to the students."
Pipia, who teaches Earth Science and biology, will be retiring after 20 years at LHS. Mahon, who is the senior library clerk, has been at LHS for 11 years.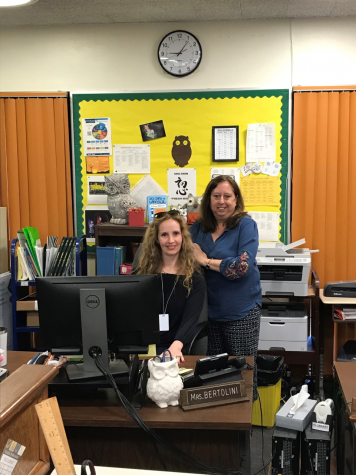 Mahon started working at Lynbrook part time while also working in Levittown. Her love for her job was something that brought her to Lynbrook in the first place. "I was working part time in Levittown, my home school district, and I loved working in the library with books and children, so I came here for full-time position," commented Mahon. Mahon's time at Lynbrook allowed her to meet Library and Media Specialist Maureen Bertolini. "On my first day, Ms. Mahon's welcoming smile made me feel at home right away," commented Bertolini. "[I am going to miss] everything. She is able to anticipate everything in order to maintain a library that is able to cater to all students who need to accomplish their academic goals." ​Mahon's time at LHS was filled with memories with students and colleagues. "I will miss coming in every morning and seeing Ms. Bertolini and all the students," commented Mahon. After this year, Mahon is moving to South Carolina with her husband. "I look forward to traveling to see my daughters. It is bittersweet. I am going on to a new chapter in my life, moving down South, but I am taking with me many great memories with students and staff. If I've made a difference in at least one student's life, I've accomplished my goal," said Mahon.
Pipia, who is a favorite among students because of his teaching, humor, and positive attitude, will be ending his teaching career after 20 memorable years at LHS. His teaching has left a mark on his students both past and present. "[I am going to miss] his personality," commented freshman Daniel Paolino. "He is a very funny teacher who makes the class very fun," added Paolino. Junior Brad Greissman agrees, stating, "I am going to miss Mr. Pipia's optimism and kindness the most. In ninth grade science, I was struggling in his class, and he encouraged me to keep working. I showed up to extra help virtually every day, and he made learning fun, and I ended up passing the class." As greatly as the students love Pipia, he loves them just as much. "[I am going to miss] the students. The students make this job wonderful," said Pipia. Pipia is also known for his funny remarks in class, which have stuck with students over the years. Junior Michael Paolino states, "[I am going to miss] his fun personality and quotes like '93 and above please' and 'good schmoggles.'"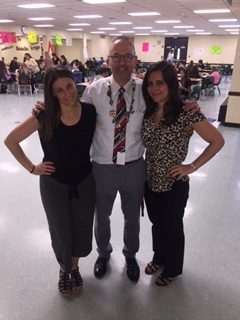 After his retirement, Pipia and his husband of nine years, Chuck Caputo, will be moving up to Saratoga Springs. The two tied the knot when same-sex marriage was made legal in Connecticut and have been happily married ever since. About the wedding, Pipia said, "It blew my mind that we could finally get married. It was a very emotional thing." On their one-year anniversary, Pipia and his husband found out that laws in New York State prohibiting same-sex-marriage had been overturned;"[Learning this news] was a very powerful experience because, for the first time, I didn't feel like a second-class citizen," Pipia explained. Pipia hopes his story might help students in the same way students have helped him. Pipia wants students to remember to "be kind to one another and remember that we can make the world a better place." Pipia reminds his students to "imagine an even better world." Even after his departure, Pipia's legacy will certainly live on.
Along with the science skills Pipia taught in the classroom, he was always an advocate for kindness. Science Department Chair Carol-Ann Winans is going to miss Pipia's attitude. "Mr. Pipia is an energetic, caring, dedicated member of the science department. He is a model educator whose humor, work-ethic, attention to detail, and kind heart allow for a safe place for his science students to love learning and appreciate planet earth," commented Winans. "Mr. Pipia is a bright light who had a positive energy that can make even your worst day turn out to be your best," she added.
The careers of Pipia and Mahon will be remembered for years to come. "To me, Lynbrook is such a special place. The students make it so wonderful for me, and it's a wonderful community. I am blessed to have been able to work here. It's going to be an emotional time for me to leave, but I'm on to a new adventure. Education was a career change for me, and I so appreciate the time that I was here, the time being a part of the education system, and most importantly, my time at Lynbrook," added Pipia.
About the Writer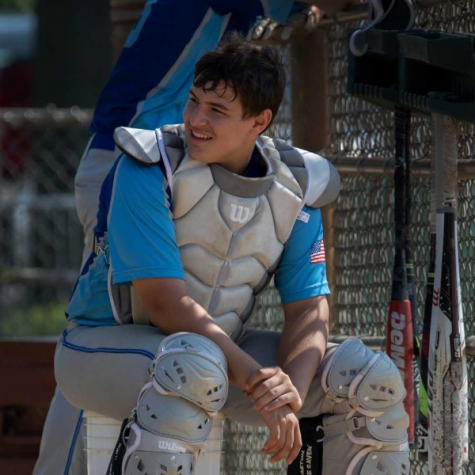 Dylan Burfield, Managing Editor
I am a student in the class of 2020. I have been writing for Horizon, both online and print, since my freshman year. I am now a managing editor on the...