Owls Baseball Seeks Postseason Success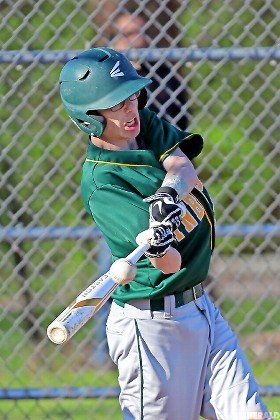 The Lynbrook Owls baseball team heads into this season trying to improve after failing to qualify for the playoffs last spring. Standing in their way is a daunting conference full of some of the best teams in the county–and possibly the island.
The Owls lost some key pieces from last year's squad but retain a good part of the rotation and lineup. The team looks young on paper, but as Coach Al Marrazzo puts it, "We are virtually a young team starting many juniors, but many of those juniors received a lot of playing time last year, so they are battle-tested in a way. But, are they ready to face the competition they are about to face? I guess we will see. They have been working hard, and I am impressed with the effort they have been putting out." This year's group of juniors includes players like Anthony Ulrich, Nick Focarazzo, Danny Dalrymple, and Phil Piro who all played significant roles on the varsity team last year.
However, the Owls' leadership comes from its senior class. "So far, senior leadership has been excellent. Colin Kelly has been named team captain because of his hard work and effort. He is the guy who we look to to get things going for us. He is our mental leader, spiritual leader, and has done everything a captain should thus far. Other seniors such as Andrew Abrams, Jason Holquist, and Kyle Schneider have also been instrumental in leading a young team, so we rely on them very much," said Marazzo. Those seniors' leadership on the field and off is one thing that can immensely help the Owls succeed. Kelly, the team's captain, leads with a mix of fun and accountability: "I try and stay loose and make sure everyone's having fun, but I also make sure everyone's focused and ready to work. I think the key to success is not to get in our own heads too much. If we just play our game and play smart, we can go far this year."
For the Owls to succeed in their conference, they will have to pitch, which is seen as the team's biggest strength. The rotation is especially talented this year, compromised of seniors Jason Holquist and Andrew Abrams as well as juniors Phil Piro and Danny Dalrymple. It is imperative for the Owls' starting rotation to get deep into games and not allow innings to get away from them. "Pitching is essential to our success," says Dalrymple, "For us to compete in our conference, we are going to have to limit runs." Marrazzo is bullish on the team's rotation: "I think a strength of ours will be our pitching. We have some juniors who can really throw it. Piro and Dalrymple will headline the rotation. Holquist and other seniors also threw the ball very well in pre-season." Some early season pitching highlights include Piro's 11 strikeout complete game shutout against Floral Park, Abrams' 6 innings of one run ball in a win against Hewlett, and Dalrymple's 5 innings pitched with one run allowed in a victory over Valley Stream South.
When the Owls are on offense, they will have to keep the opposing defense active according to Dalrymple: "For our lineup to consistently produce runs, we will have to put the ball in play and keep the defense on their feet." The key bats for the Owls include Dalrymple, Anthony Ulrich, Dylan Burfield, Jordan Caceres, Colin Kelly, and Kyle Schneider. Early in the season, juniors Ulrich and Burfield have impressed with the bat, the former hitting a three-run homerun against Valley Stream South, and the latter with multiple multi-hit games during the young season.
Although the competition will only get steeper for the Owls, the team has shown a lot of promise early on. Throughout the season, Coach Marrazzo expects to rely on his pitching and especially his coaching staff: "A strength of ours will be our coaching staff. I think we have one of the best coaching staffs in Nassau County." As far as expectations, Marrazzo has one: "I think the one expectation that I have for this year's squad is to go out and compete every day to leave it all on the field. I think if we compete as hard as we can, we will be able to keep up with some of these good teams and steal some wins. That's the only thing I expect them to do is go out and work hard and compete every day. If we do, good things will happen for us."
About the Writer
Charlie Ben-Ami, contributor
I am a sophomore at Lynbrook High School, and a contributor to Horizon. I enjoy watching and playing sports with friends.