The Spotlight: Katie Bamman
In the final season of her Lynbrook basketball career, senior captain Katie Bamman helped lead the Lady Owls, who finished the season 11-10, to a playoff berth. On top of that, she was named a senior scholar athlete, an honor that recognizes athletes who excel on and off the court, with admirable academic achievement as well as athletic ability. Bamman's leadership and work ethic were essential to a team that only featured three seniors on the roster.
Bamman's leadership caught the eye of her head coach, Steve LoCicero: "[Katie] is a great person and brings tremendous leadership and experience to the team. She plays outstanding defense and brings an unmatched energy to the team both in practice and games:" Freshman Kyla Nembach added, "[Katie] works hard every day at practice and puts a smile on everyone's face."
Bamman brings a good balance of competitive drive and fun to the team, as junior Sara Bahri explains, "Katie always cracked jokes and lightened the mood with her personality while still encouraging the team to work hard." Bamman's ability to keep practices for the team fun, while working hard is something she embraces, commenting, "The most important thing I could do as a leader on this team was to keep the whole season as fun as possible, while also keeping the mindset and work ethic to make it to the postseason. My ultimate goal as a team player was, of course, to be successful on the court and make it to the postseason but to also be a role model to the team and to be a positive force that keeps games and practices enjoyable."
Additionally, Bamman's skill level provided a major boost for the Lady Owls, as having her on the court proved to be crucial down the stretch. One moment that especially caught LoCicero's eye was in the Owls' first playoff game: "Having her on the floor as a senior makes us all better. In our first playoff game, she played great defense and broke [up a] press with some behind-the-back dribbling." Nembach added, "I look up to her and her gameplay." Bamman's overall consistency and leadership was enough to get the Lady Owls into the postseason, something that she was striving for in her final season.
Despite an unfortunate ending for the Owls at the hands of Floral Park, Bamman still had plenty to take away from her final season: "The whole atmosphere of the team helped me grow because there was no judgement. I felt that I could make mistakes in practice to get better for games, which was key for myself and the team's success as a whole." Bamman's ability to make the players around her better on and off the court was noticeable all season long, especially by her coach, as LoCicero was beyond impressed with Bamman, not only with her ability on the court, but her attitude off the court as well. He proudly shares, "She is one of the best young people I have had the opportunity to coach in my almost 30 years [of coaching]."
About the Writer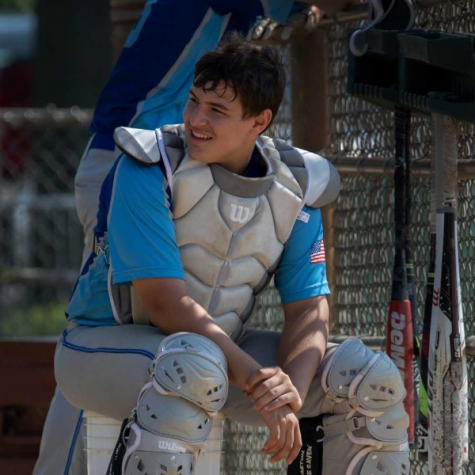 Dylan Burfield, Managing Editor
I am a student in the class of 2020. I have been writing for Horizon, both online and print, since my freshman year. I am now a managing editor on the...