American Soccer Star Christian Pulisic Signs Record Deal
Popular English Premier League team Chelsea F.C. recently inked American phenom Christian Pulisic. The well-renowned club spent $73 million to win over Pulisic's former club, Borussia Dortmund of Germany's Bundesliga. At only 20-years-old, the youngster has already become America's most expensive player in history. The deal is monumental in US soccer history and will most likely stand as a record for some time. Pulisic was confident in his decision; he pushed off other bonified clubs such as Liverpool F.C. and F.C. Barcelona.
Pulisic is an experienced player, despite his deceiving age. The American made his move to Europe at the age of 16. He began his career with Borussia Dortmund, his current club. At only 17, Pulisic made his international debut for the United States and first-team debut for his club. In April 2016, the young, rising star scored his first club goal. This historic goal made Pulisic the youngest non-German (17 years and 212 days) to score in the Bundesliga. In September 2016, he scored 2 goals for his country in a World Cup Qualifier. This put him down in the record books as the youngest American to net two goals in a qualifier. Sophomore Alyssa Campos, a highly competitive soccer player, stated, "I already see Pulisic as a role model for how I should play." In such a short amount of time, the young American has made his mark and proved his worth.
Pulisic's potential in professional soccer is undeniable. According to Sky Sports, former English soccer player and NBC Soccer analyst Joe Prince-Wright stated, "There is no doubt he is the most gifted player to ever be produced in the US."
"
There is no doubt he is the most gifted player to ever be produced in the US."
— Joe Prince-Wright
Prince-Wright continued about the potential of Pulisic. Further, his willingness to learn has highly contributed to the development into the player he is today. Throughout his spell with Borussia Dortmund he has played alongside German veteran Marco Reus. As per talkSPORT radio station, Pulisic said, "I've learned so much from Marco… he plays a similar style to me, so I'm learning a lot from [him]." Reus's influence on the play of Pulisic has reflected in his game.
The American's improvement was, unfortunately, delayed by injury; he was sidelined for an extended time. His playing time diminished due to the rise of fellow youngster Jadon Sancho while he was injured. The friendly competition between the two has motivated improvement in Pulisic. Pulisic told Goal, "It is normal, it took me a while as well [to get starts]. My first impressions of him are he is a young guy with a lot of talent. He is being a bigger part of the team now and doing a great job with that." The two players have mutual respect for each other. Many believed that Pulisic's lack of playing time had influenced his acceptance of a transfer to Chelsea F.C.. In an interview with Goal, US National Team boss Gregg Berhalter assured that this was not the case. "Again, speaking to him and knowing his attitude, it's a fantastic attitude based on 'what can I improve to get on the field more?' That's the way he's looking at it," said Berhalter. Pulisic's transfer is just a sign of the times, as he has stated on several occasions that it has been his career-long dream to play in the English Premier League.
Not only is this transfer the greatest sum for a transfer in US soccer history, but it is over three times greater than the previous sum. The previous record was held by John Brooks in his transfer to VfLWolfsburg in 2017. Brooks transfer cost the German club $22 million dollars. Pulisic's transfer fee ($73 million) shatters the previous record. In addition, Pulisic's transfer to Chelsea F.C. will last 5 ½ years, unless he revises his contract or is bought out by another club. Although the deal is an immediate transfer, Pulisic has opted to accept a loan offer back to Borussia Dortmund, in order to finish out the season with his former club. Once he makes his move to his new club, he will join fellow American players in the English Premier League. These players include the likes of Geoff Cameron (Stoke City), Emerson Hyndman (Bournemouth), Tim Ream (Fulham), and DeAndre Yedlin (Newcastle United). Pulisic's transfer, being the first high-profile American transfer to the English Premier League in quite a while, is huge for US soccer. Not only has the transfer brought attention to Pulisic himself, but it also will bring attention to fellow US players. He will receive much more opportunity to be on worldwide television, as well as playing alongside world-class players such as Eden Hazard and N'Golo Kanté. Overall, the transfer is monumental in US soccer history. Provisionally, Pulisic will build a solid reputation for future American players looking to transfer overseas
Pulisic's move to the English Premier League is a record-breaking feature for the young American. Chelsea F.C. is thrilled with their purchase despite the astronomical sum spent to convince Borussia Dortmund. According to ESPN, Chelsea director Marino Granovskaia stated, "At just 20, we believe he has the potential to become an important Chelsea player for many years to come." Hopefully, Pulisic lives up to his hype following his barrier-breaking transfer to his new club.
About the Writer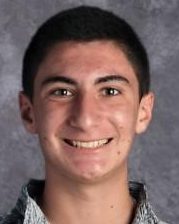 Joseph Giovinco, Editor
I am a member of the class of 2021. I play football, lacrosse, and run track. I am in Key Club and student government.