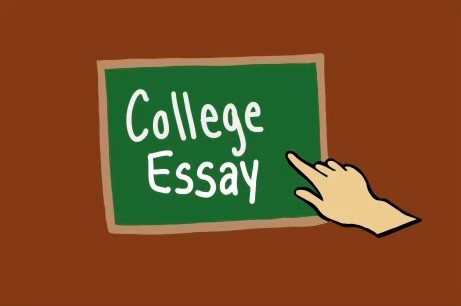 Picture this: it is senior year of high school. Excitement and nerves are already running through your body as you prepare to apply to colleges when you then come across the personal essay prompts. Some of these prompts are confusing and open-ended. You stare at them, not knowing how best to answer. This is not a reality anyone wants. College essays, while basic and open-ended, are still complex problems to solve. It is essential that students learn the basics to approaching and crafting the college essay.
Guided lessons on and practice for the college essay are readily available to students over the course of their four years at LHS. Starting with a student's Writing Workshop class during freshman year, students learn how to write a personal narrative, a type of response very similar to the college essay. Then, depending on their level of English class, during junior and senior years, students have the opportunity to work on and correct their college essays, as well as to receive feedback from an English teacher. Teachers even volunteer their free periods when needed to further guide students into crafting a well-written response. The English department does a great deal to ensure that students are prepared for writing the often-dreaded college essay.
College essays act as a personal statement, and they are extremely important in a complete college application. Colleges want to look at potential applicants and see something unique. Constructing an application with good grades, extracurricular involvement, and additional achievements, while important and often impressive, does not necessarily make a student stand out, especially if these accomplishments are similar to those of other applicants. The point of the college essay is to display to colleges what an applicant is like beyond these accomplishments; however, that is much easier said than done.
A college essay can be whatever one wants it to be. Students can choose from a list of loosely written prompts, provided by the Common Application, or they can write about a topic of their choosing. Basically, there are no guidelines. It is difficult to think of a topic when the guidelines are so loose, especially after writing assigned papers for years that included rubrics and rules. What does one write about to prove to colleges that he/she is the right type of person to attend the school? It is a daunting task. 
 "I believe that college essays should definitely be written at school. College essays can be a challenge for students to write independently, and it can be especially difficult for a student to dig deep and discover what makes them stand out," said senior David Jerzak. "School is a great place for a student to be able to speak to others around them and get a sense of who they are. Along with this, students and teachers can help spark creative, new ways and ideas on how to tell your story. Finally, school can allow for others to read and evaluate how a particular story or essay is written, allowing for an overall better final product." 
Even outside of a competitive academic landscape, society has fallen into the trap of being unique. Lots of times in day-to-day life, people are trying to outdo or one-up one another to seem different or unique. People see this on social media, in job settings, and, most relevantly, in college applications. Nowadays, many teenagers share their college essays on social media sites, such as Tiktok, where it is easier than ever to compare and attempt to one-up one another. The college essay can be written about something as simple as a student's room, or something as complex as a struggle that taught a meaningful lesson. Except, that is not really it. College essays do not need to be deep for them to be memorable. More often than not, what topic a person starts with is not what he/she ends with. For example, a student writing about his/her room can take readers on a journey about self-realization, and the struggle to stop conforming to society when all he/she wants to do is fit in. The student writing about struggles in life can, in turn, fall flat, and–as cruel as it may seem–he/she may thus be perceived by colleges as unoriginal. In short, the concept is what students make of it, which makes knowing where to start even more complicated. 
"I believe it should be taught in schools because if I had not learned how to write a college essay in my English class, I would have no clue how to do it now," said senior Gabriella Ramsammy.
Another daunting task of the college essay is that it must all be done within a 650-word constraint. Students can be easily confused over what is considered college-worthy information. Since the prompts generally lead students towards stories of self-improvement, lots of essays tend to sound overly personal. This is, very often, what colleges want. They want to hear stories of self-perseverance, personal growth, or triumph. What they do not want to hear, however, is something a person could very easily also tell to his/her therapist. For lack of a better phrase, "trauma dumping" is easily misconstrued as college-worthy information. This essay trend, most likely popularized by Abigal Mack's now-viral college essay "I Hate The Letter 'S'," has been becoming more and more popular in college essays of today. While very well written, Mack's essay was about a sensitive and personal topic in her life, but the key difference between this personal essay is that Mack's has a key goal. Her essay demonstrates her growth, rather than illustrating her struggles. This is a fine line to walk, and it can be done extremely well if done with care. 
 "I think that having the college essay introduced in English classes is enough. The lessons should equip the students with the tools they need to write a good essay, such as by informing them on how to structure it and how to make the small details just a little bit better," explained senior Olivia Lanteri. "However, the essay shouldn't be guided by these lessons entirely, for there are fantastic college essays written without much framework. This opens the door for brand-new, creative essays that will make the applicant look all the more appealing," she added. While Lanteri believes college essays should continue to be addressed in school, she thinks that students should also have the ability to create and stimulate their own, unique ideas. 
Navigating the world of college applications is difficult. Something seemingly as basic as the college essay is so much more complicated when actually in the process of writing one. This is why being instructed on the essay is so important. Knowing the basics on how to approach the essay can set one up on the right path for college. LHS students are fortunate to have guidance and extra help given when navigating this process.