Few students at LHS are as committed to the subject of music as senior Zach Buxton. A student of all three music classes, Buxton is a cellist, trombone player, and singer. He is also an active member of LHS's musical productions. Buxton's talent has recently been recognized on a state-wide level, being accepted to the 2023 New York State School Music Association (NYSSMA) All-State Conference, a testament to his hard work and dedication to his craft. However, his strong connection to music runs deeper than any sort of recognition; to Buxton, music is an "escape from reality" as well as his saving grace and passion. "There is nothing I love more than singing a song or playing a tune, whether that be in the shower or for others," Buxton described. "Not only that, but it makes others happy as well. Music is a special gift that we take for granted every day, so I try my best to appreciate it to the fullest extent," he added.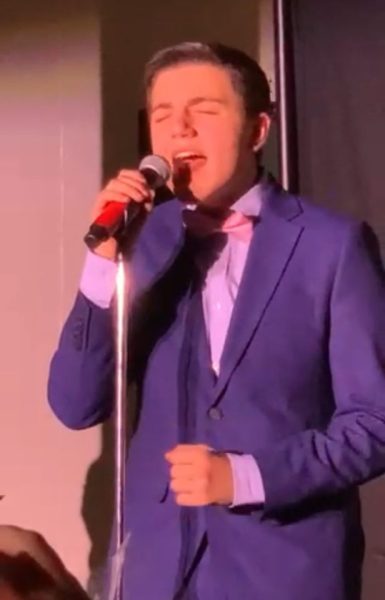 Music runs in Buxton's family; it was his entry point into the art form. "I first got into music because of my mom," he said. "She has always encouraged me to try as much as possible in the world in music, and she encouraged me to pick up the trombone, cello, and, of course, my voice." Her encouragement helped Buxton realize his love for instruments, leading him to pursue band, orchestra, and chorus. While he expressed joy for all three musical forms, Buxton shared his enthusiasm for Concert Choir: "Mr. Wyner makes the class extremely fun and engaging, while still getting the work done in class." Buxton added, "The people in Concert Choir are the best part, though. Everyone is extremely supportive and kind, which I think is what makes the class so special."
There is something special about each musical form that stands out to Buxton. For chorus, it is the opportunity to stand out as a soloist. "Singing a solo is exhilarating and extremely fun, and you appreciate the music in a different way from before," he explained. "For band, it's the many styles of music you play, anything from jazz and hard rock to classical and pop. As for orchestra, there really is nothing like that 'full orchestra' sound. Full orchestra is when members of the band join in with the orchestra for a piece or two every concert. This combined sound creates an experience that you have to be there to truly appreciate," said Buxton.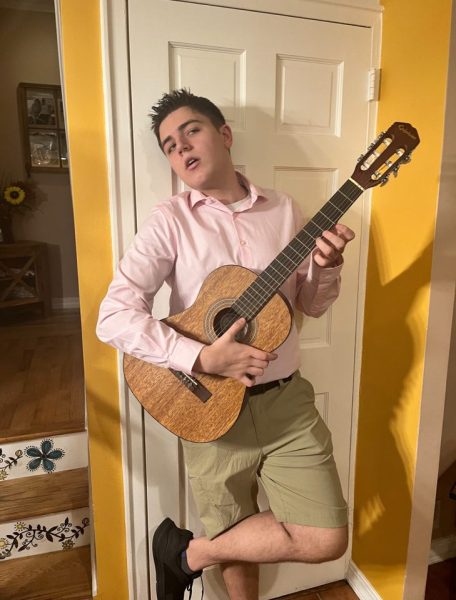 Despite his talent and passion for his subjects, Buxton too is still a high schooler. Alas, there is only so much time in a day. While admitting to experiencing a few sleepless nights, Buxton claims the final products and performances make it worth it. He appreciates everyone in the music department for making these outcomes a reality: "We all have a fun time while creating and putting on shows for the audiences!" 
Buxton's friend and musical peer Joaquin Vergara, a senior, appreciates Buxton. Recalling when he first got to know Buxton (in LHS' production of  Les Misérables), Vergara mentioned their playful banter: "He [would point] out how I had a snarky remark on everything during rehearsal, and he would add his own humor to my remarks." Vergara also admires Buxton's skill. He thinks some of his best skills include Buxton's ability to perform and then analyze his own performance, perfecting what most people would have viewed as great anyway. "Zach is never done improving, and in every song sung or instrument played, he is constantly raising the roof in terms of skill and in how much he can move an audience. He can truly capture an emotion in only a few notes," Vergara explained. Vergara also notes Buxton's sense of emotion when he is singing: "Good art should be able to make someone feel an emotion; whether it's joy, fear, or sadness, it moves someone, and that's exactly what Zach is able to achieve."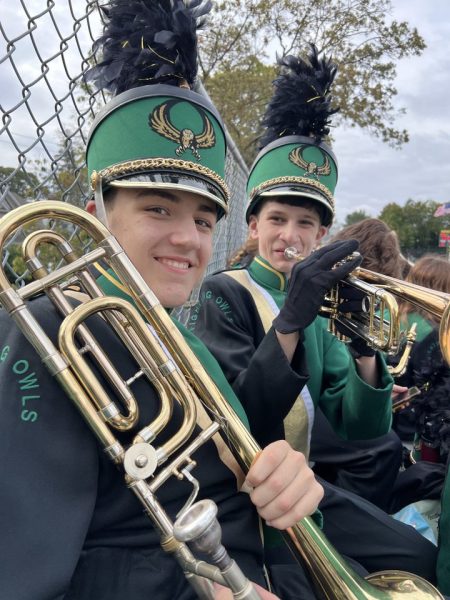 Orchestra teacher Veronica Underhill loves the attitude and work ethic Buxton brings to her lessons and rehearsals. "He is able at once to keep a running tab of inside jokes to throw at me at any given time and also is an excellent musician who responds well to every bit of feedback to improve his playing," she said. Calling him a "triple threat," Underhill praises Buxton for his incredible ear and memory. "Often in lessons, if we are in between pieces, he'll start playing any song he can think of by ear or play a bit of last year's concert music for fun. As the teacher in the room, I enjoy that he challenges himself to figure out those melodies and keep them in his fingers because it keeps me on my toes too—I always need to be ready for a spontaneous 'name that tune' moment," Underhill commented.
Band teacher Brian White praises Buxton for being "head-to-toe musical." "Things come to him very quickly, and [he] has made unbelievable progress on his instruments since he was a ninth grader," White said. "[In ninth grade] he had all the progress of a great trombonist…[but once we took] that raw talent and polished it, he has just become better and better." White notes Buxton's "beautiful tone" on the trombone and his ability to play with both large and small sounds. He also admires Buxton's improvised solos in Jazz Ensemble. "He is the type of student that with the right drive and focus, he can do anything he wants…[music is] something he can definitely take to college and continue playing [with] at an extremely high level for the rest of his life."