The Krazy Karl Lagerfeld: 2023's Met Gala
Cameras flashing, phones recording, and hundreds of interviewers trying to get their big break will always be central to every Met Gala. Admittedly, the true reason someone turns on their TV on the first Monday of May is to see the styles present at the Met Gala. Fashion can range anywhere from something as extreme as a cat costume to something simple as a plain, black dress (though they can cost more than a car). Famous actor Jared Leto stole the show this year with his head-to-toe cat costume, which made many celebrities do a double take. 
The Met Gala is an elite event where one must be known by the highly revered Anna Wintour, Vogue magazine's editor-in-chief since 1988, to be invited. Wintour named this year's theme "Karl Lagerfeld: A Line of Beauty." Karl Lagerfeld was a fashion designer who was most recognizable as the creative director for Chanel. This year's theme was controversial since Lagerfeld was also known to have made fatphobic, misogynistic, and racist comments, and he appeared to be  unashamed of the damage he caused on people as a result. However, some people feel as though this  matter is not problematic. Lagerfeld's past history made multiple celebrities and other event attendees uncomfortable. Junior Olivia Romanowski expressed, "In the past years, no one has said anything about the comments made, and it was only until it was brought to people's attention that they now care about it." That being said, in The Los Angeles Times (latimes.com) article "Jameela Jamil Slams Met Gala for Karl Lagerfeld Theme" by Christi Carras, famous actress Jameela Jamil spoke on the matter, arguing that "[i]t's about showing how selective the cancel culture is within liberal policies." In addition to Jamil's remarks, model Sara Ziff and several other prominent figures in the art world protested this year's Met Gala theme by not attending. Ziff was quoted in the same article, mentioning that she had modeled for Lagerfeld numerous times in the past and how he had a "problematic attitude towards women who didn't fit his outdated standards."
Though some celebrities protested the event, others proudly walked the red carpet alongside their friends and co-workers. Luxury brands like Chanel and Fendi represented the majority of the fashion that night. Some celebrities decided to take a different approach to honoring Lagerfeld, dressing as cats in order to honor  Lagerfeld's beloved cat, Choupette. Leto's attire made many jaws drop in astonishment. Sophomore Zia Baluyot was stunned by Leto's outfit and said, "It was smart of him, but it felt like he should have read the room." As surprising as some outfits were, it seemed like the celebrities wearing them had no shame or regret in their decisions. Sophomore Emma Mancuso ruefully remarked, "The cat costumes at the Met Gala will haunt me." Jared Leto, Doja Cat, and Lil Nas X all wore cat costumes and were the true winners of the night; they were able to have a good time while others struggled in uncomfortable heels and dresses. 
Undoubtedly, the history behind the Met Gala events is information anyone interested in fashion should know about. Apart from  this year's problematic theme, the Met Gala's beginnings can be traced back decades to 1948. The event was organized by world-famous fashion publicist Eleanor Lambert, and it was originally only fifty dollars for a ticket. Only dinner was served; it was nothing like the outrageous and extravagant fashion event that is known as today. The Met Gala was initially created as a charity event to give back and raise funds for the Costume Institute, which Lambert was a part of. This is in great contrast to the current host, Anna Wintour, whose main focus is on fashion.
About the Contributor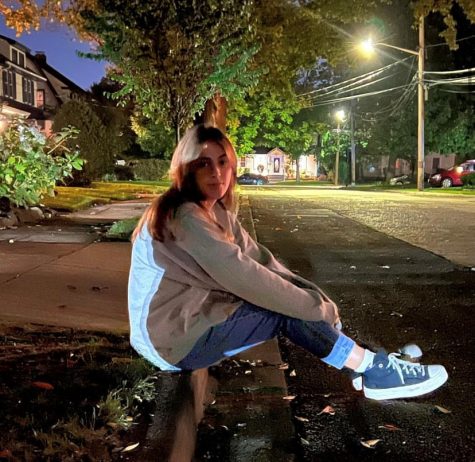 Dylan Hincken-Kossow, Assistant Editor
Hi! My name is Dylan Hincken-Kossow, and I'm a member of the Class of 2025. I am also part of the Speech & Debate Club, GirlUp, Key Club and the...