Musician Spotlight: Alex Spector
Senior Alexandra Spector is not involved in one musical group, nor two, or three. In her four years at LHS, Spector has actually played or sang in 10 of the musical groups offered. From the chorus, band, and orchestra rooms, the auditorium, and the gym risers, Spector's musical presence has become ubiquitous in the walls of LHS. 
Although Spector stands at a whopping 5' 2", the larger instruments have always appealed to her: "Throughout the years, I have picked up multiple instruments such as the cello, baritone, trombone, tuba, bass, and I even got to play bass trombone in jazz band this year!" Her love for these instruments began as a second grader at West End. "I originally wanted to play the bass because it was the biggest instrument, but my best friend at the time wanted me to play the cello with her. On the spot of choosing an instrument, I changed my decision to the cello and have played ever since," Spector shared. 
Similarly to her cello experience, Spector confessed to band teacher Brian White her initial request to play tuba in elementary school. "I wish I knew that earlier because if you haven't noticed, she's really good. If she had just told me that right at the beginning [of freshman year], she could have been auditioning for All-State for tuba. She has a total natural ability for it," White said. Upon his learning of this, Spector began playing tuba late last school year and continues to play tuba now. 
Spector's brass skills extend into her roles in the brass ensemble, jazz ensemble, and pit orchestra. Although White was impressed with her performance in "Curtain Call," one of brass ensemble's most difficult tunes this year, he was most proud of her solo that she volunteered for in jazz ensemble this year; Spector had her very first solo in "Easy to Love" as a senior. 
Orchestra teacher Veronica Underhill also noted Spector's willingness to take on new challenges in the brass department. "This year, for pit, there was no tuba part, so at our first rehearsal, she picked up a bass trombone for the first time ever and began learning it on the spot. I think that's incredible given how rigorous pit is for any instrument, let alone one you never played before. She's a low brass queen!" Underhill exclaimed. 
The LHS music department has given Spector two valuable things: her newfound confidence and her best friends. Spector never thought she would have the confidence to sing in one of concert choir's Performance Fridays, yet, this year, she did. "I don't think it was easy for her to get up there and stand in front of the class and show us her vocal instrument. I think that's a very brave thing to do, and I never take that for granted," noted chorus teacher Barry Wyner. 
Spector also had a positive reflection on her friendships: "Being in Lynbrook music has taught me that the best friendships are made in doing what you love." In addition to her musical friend group, Spector's most prominent supporter is her mom. "She would always carry around my instruments, which were the heaviest things around, and she drove me everywhere I needed to be," Spector recounted. 
Juggling ten groups is no easy task, so how does Spector do it? "There were days, especially [in March], where I got to school at 7 am and didn't leave until 9:30 pm because of all my activities. Even though I am a senior, I filled my schedule up to the max and only have 6th off, and usually I am in one of the music rooms, either for a lesson or to practice whatever needs to get done," Spector shared. Despite the stress and busyness, Spector never hesitates to ask for help and persevere. 
Spector continued to strive for musical greatness outside of her in-school groups by participating in the New York State School Music Association's (NYSSMA) All-County and All-State auditions. Considering the difficulty of the pieces she performed, Spector spent a great deal of time practicing. Although those auditions are significant, Spector spends most of her practice time with the brass ensemble music. "I actually will play the notes on my piano because that's where I can hear what it is supposed to sound like and then try to match it on my instrument," Spector shared. 
After graduation, Spector plans on working to become a doctor but will still continue to pursue music at Stony Brook University. "One of the main factors when choosing a college was if they had a marching band. I plan on playing the tuba in both marching band and pep band and plan on minoring in music," Spector said. Spector's parting advice to younger music students is short and sweet: "Always look on the bright side, and truly enjoy every moment." 
About the Contributors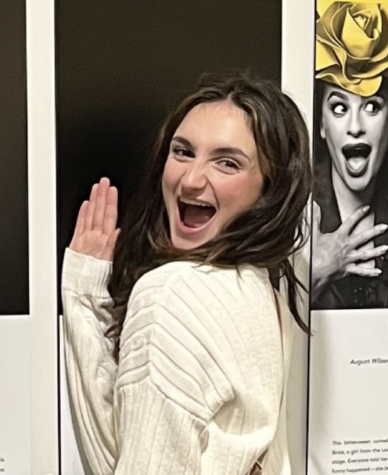 Gianna Longo, Editor
Hey there! My name's Gianna, and I'm a member of the Class of 2025, along with many clubs here at LHS. In my spare time, you can find me on the stage,...