First, Self-Driving Cars. Now, Self-Driving Strollers!
Artificial intelligence (AI) technology has taken the world by storm. So many databases, gadgets, machines, and more have found innovative ways to incorporate AI programming into their code. One of the most popular machines that utilize AI technology are self-driving cars–popularized and produced by electric car companies like Tesla and NIO as well as by gas-powered car companies like Ford and Nissan. Now, a new apparatus that is making its way into everyday life, especially those of new parents: self-driving strollers. 
Earlier this year, the annual International Consumer Electronics Show (CES) took place in Las Vegas. Numerous brands and innovators gathered at this influential event to present what could potentially be the newest and trendiest technologies of the year. Products introduced included the TCL RayNeo X2, "the world's first binocular full-color Micro-LED optical waveguide AR [augmented reality] glasses" (www.tcl.com), the LG Signature OLED M, the first ever wireless OLED television, and the most peculiar: Ella by Glüxkind, the world's first AI stroller. 
Named an Innovation Awards Honoree at the 2023 CES, this stroller was designed by a Canadian startup company, Glüxkind. Part of this company's mission is to "buil[d] around the idea that every parent should be able to have a great child rearing experience, that the tools we use should aid us in our care of our little bundles of joy. To that end, we are reimagining one of the most important devices in every parent's life: The Baby Stroller" (www.glüxkind.com). Thus, they introduced Ella, a $3,300 self-driving stroller. 
The idea of the stroller came about in the minds of Anne Hunger and Kevin Huang, the first-time parents who founded Glüxkind in 2020. Ella contains many riveting features that would make the life of a new parent relatively easier. Powered by a dual motor system, this stroller has functions that enable the stroller to go uphill and an automatic brake assist function for going downhill. The stroller also contains many sensors throughout its makeup, so it can quickly alert parents if it detects any unsafe obscurities within close range. 
Utilizing hands-free technology, the stroller has a feature in which the parent can set it to drive itself so that the mom or dad could hold or walk their youngster. Ella implements an even more impressive baby-friendly feature–the "rock-my-baby" mode, a setting in which the stroller will begin to rock the baby and play white noise when it is not in motion. 
As this invention has been deemed progressive in the forefront of AI, there are still many flaws and uncertainties with the product just like there is with any new creation. Specifically with this stroller, it would be the price and potential malfunctions that worry consumers. Sophomore Stacey Krivitsky said, "I think the stroller is way too expensive. Understandably, it has a lot of complex technology involved, but it is not affordable for many people." Senior Alyssa Inserra agreed and said, "Although the motor and sensors to help navigate and move the strollers are great, the fact that you can have your baby in a stroller controlled by artificial intelligence rather than you as the parent scares me." Both students concluded they would not buy this stroller. 
Technology teacher Jeff Bernhardt also disagrees with the idea of an AI stroller: "Just because it can be done doesn't mean it should." He noted the positive aspect of such a stroller– "It rolls by itself"–with the negative aspects: "Price, weight, having to remember to charge every day, potential repairs/breakage, cost of battery replacement, and etc." Bernhardt ended his thought with "sometimes simpler is better." 
While there are valid negative reasons to not want Ella, the user-friendly touch of the stroller would be a main reason it attracts buyers. On the Glüxkind website (www.Glüxkind.com), Monique, a new mom, said, "With push assist, I wouldn't have to take a detour to avoid walking up and down the huge hill we live on! I'm too exhausted for the uphill and too anxious to walk downhill."
Ella is a new innovation in the field of AI, and it is only one of the many future gadgets to come and integrate its way into the everyday lives of the human race. An influx of pre-orders for the stroller are currently taking place; preparation to deliver Ella in the hands of parents is expected by April, according to Business Insider (www.businessinsider.com). By then, a concrete opinion could be formed on these self-driving machines. 
About the Contributor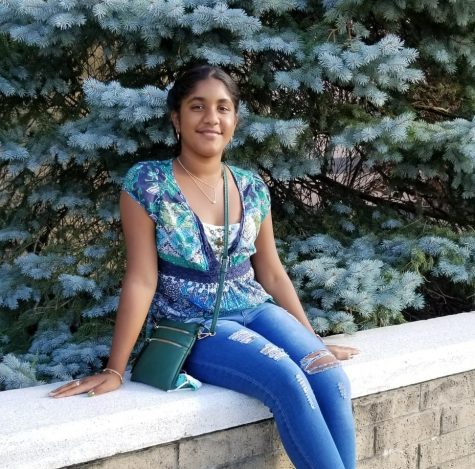 Miranda Mangru, Assistant Editor
Hi! My name is Miranda N. Mangru. I am a member of the Class of 2025 and an assistant editor for the Horizon newspaper. I take pleasure in listening to...