Kate Chiulli and Nick Condoleo Announced as Valedictorian and Salutatorian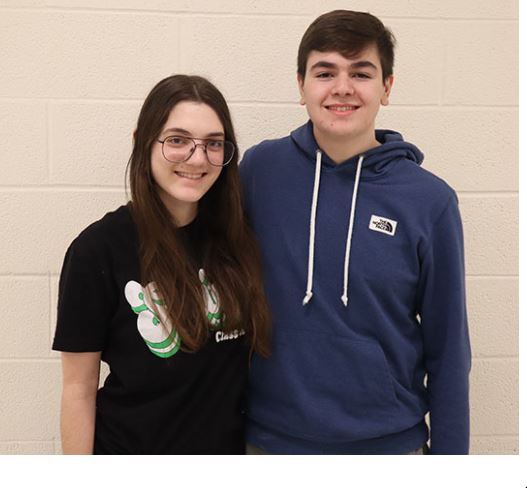 Recently, Kate Chiulli and Nick Condoleo were announced as the valedictorian and salutatorian of the LHS Class of 2023, respectively. Both students have amassed numerous achievements throughout their high school careers, in addition to gaining valuable life lessons and memorable experiences along the way. Both Chiulli and Condoleo have earned the respect of the school community through their admirable work ethics. "Both Kate and Nicholas are bright and determined," Principal Matthew Sarosy said.
Although Valedictorian Kate Chiulli has developed a variety of skills in order to obtain her title, the most helpful for her has been persistence. "Sometimes you feel like giving up, but you really have to keep going and working at it, even if it sometimes gets hard," she shared. "You will eventually get it."
While Chiulli excels in all subjects, her focus has primarily been devoted to science and math, as that is what will help her the most after high school in her intended field of study. "I plan to be a large animal veterinarian," she explained. She is looking at some Southern schools, but Pennsylvania State University is at the top of her list. Chiulli's academic excellence has also been recognized with her being a National Merit Scholarship Commended Student for her PSAT score, as well as an AP Scholar with Distinction.
Chiulli's academic interests stem far beyond STEM classes, with a great deal of her time being spent on writing and English. This is showcased with Chiulli being one of Horizon's very own print editors-in-chief. Along with allowing her to achieve numerous awards and recognitions, such as sitting on the panel of Adelphi Press Day, Chiulli's four years on Horizon have allowed her to grow as both a writer and a person. Chiulli recounted her lack of self-confidence from her freshman year: "I was really shy, and I didn't want to talk to anyone. In the beginning of the year, especially, I didn't want to participate in any of my classes." Horizon allowed her to come out of her shell, considering the countless interviews she has done with people she may have never spoken to before. "I started to gain more confidence in myself," Chiulli said.
Chiulli's leadership roles span far beyond her editor-in-chief status, including her position as president of the Tri-M Music Honor Society. Music is a major part of Chiulli's life. "I've been playing the violin since second grade," Chiulli shared. Her inspiration stemmed from her older mentors, whether that meant older orchestra students, orchestra teachers, or her private teacher, Shaun Lazar. "They really encouraged me to continue playing violin and to share my love for it. Now, I get to share my love with other people," Chiulli beamed. Lazar commented, "Over the last seven years, she has broken out of her shyness, out of her shell, out of her quiet violin playing, into a confident young woman and a wonderful violinist!" Now, Chiulli is the concertmaster of the LHS String Orchestra, and she also held this title in the pit orchestra of the fall production of Anything Goes!
Chiulli has been consistently surrounded by a support system that has aided her in achieving success. "From the day I entered the school system, my parents have always encouraged me to perform the best I could academically. I remember my mom would always help me study for vocab tests in elementary school," she chuckled. She also greatly appreciates the support from her friends, teachers, and her fellow Horizon staff members.
Chiulli recalled that during her freshman year, hearing the valedictorian and salutatorian being announced on the loudspeaker made that same possibility seem far away for her. She made that possibility a reality this year, even if that meant sometimes prioritizing school over other activities or putting in extra work after hours. "It is possible. If you want it, work really hard," she said. She did note a mistake she made along the way: not taking time for herself. "Don't sacrifice your health or anything else for valedictorian." Lazar added, "The advice I would give young musicians who aspire to be like Kate: work hard, set high goals for yourself, commit yourself to whatever your passion in life is. Find what you love to do, and do it well!"
A student who is enrolled in advanced courses and also partakes in many extracurriculars may find it difficult to maintain a strong academic standing. Salutatorian Nick Condoleo, however, organizes and maps out his tasks with the help of a to-do list. "If you split stuff up, it's a lot easier than trying to do everything at once," he said. "It makes it a lot less stressful."
Similarly to Chiulli, Condoleo's main focuses are math and science. He specifically plans on pursuing biomedical engineering in his future, stemming from a lifelong love for biology. "I've been looking at Cornell, Johns Hopkins, Northeastern, just kind of waiting to see where I get in," he said.
Condoleo's interest in science is a major factor in his participation in the Science Research program, of which he has been with since his freshman year. "This summer, I did a research internship at Hofstra where I conducted bioengineering research to work on making a potential treatment for damaged hair," Condoleo recalled. His involvement in the program has also included him entering countless competitions throughout the last four years. "I placed second at the JSHS Symposium this past week in chemistry, and I'll be competing next week in the regional finals," Condoleo said when discussing recent senior year competitions. To continually pursue his interests, Condoleo stays an active member of the Mathletes, Science Olympiad, and Science Bowl teams.
The salutatorian also holds leadership roles in many of the school's different honor societies. "I'm the president of the Science Honor Society, vice president of Math Honor Society, and I'm treasurer of NHS," Condoleo said. He smiled when talking about NHS' most recent Quiz Bowl they hosted and organized. "We help with a lot of fundraisers, too, like raising money for student scholarships at the end of the year," he shared.
Condoleo's recognition did not come easily. Although the support he received from his parents has been invaluable, there was difficulty in that neither of his parents went to college. "I kind of had to work for it myself," he said. Condoleo also thanked his teachers and friends for the support and help he received from them along the way.
His parting advice to younger students was to continue their own passions without other people getting in the way. "Don't let people discourage you from achieving your goals," he said.
Sarosy fondly recalled announcing their titles: "We had their parents waiting for them in the main office when we called them over the PA," he said. Chiulli and Condoleo celebrated with each other and with their families. "What a proud moment!" he exclaimed. 
About the Contributor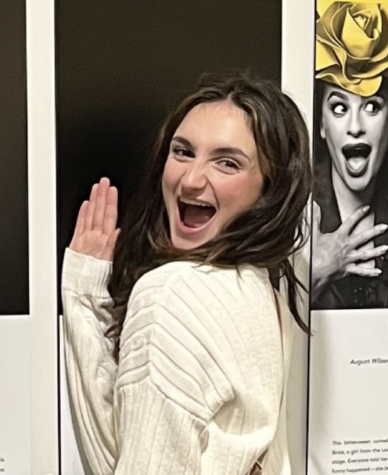 Gianna Longo, Managing Editor
Hey there! My name's Gianna, and I'm a member of the Class of 2025, along with many clubs here at LHS. In my spare time, you can find me on the stage,...