Celebrating Hispanic Heritage Month
National Hispanic Heritage Month was originally Hispanic Heritage Week, created in 1968 under President Lyndon Johnson. It remained only a week until 1988, when President Ronald Reagan expanded the period to last a full month, from September 15 to October 15, and it was enacted into law. 
Hispanic Heritage Month begins in mid-September to honor the anniversary of independence for multiple Latin American countries, as well as Mexico's and Chile's independence days on September 16 and 18, respectively. It is celebrated across the United States as well as in Latin American countries through festivals, art shows, conferences, gatherings, and an overall appreciation of Latin and Hispanic culture. This month gives the opportunity for all to celebrate and recognize the contributions made by the Hispanic and Latino communities and their ancestors. 
The month is also recognized at LHS by multiple clubs and students. Karen Smith, advisor of the Culture Club, explained, "Every year, the Culture Club creates a display for the case in the cafeteria to honor Hispanic Heritage Month and El Día de Los Muertos. The students bring in authentic memorabilia and cultural items from their home countries." 
There are countless Hispanic figures that have been influential in America that the month can honor. "I think it's not only important but also quite simple to recognize Hispanic Heritage Month in LHS. All classes can easily highlight famous Hispanics from different professions – renowned scientists, mathematicians, writers, and artists. The list is inexhaustible!" Smith said. She added that, since so many students and teachers come from Hispanic backgrounds, it is important to acknowledge and appreciate the students and their families. 
Outside of the classroom, many students have traditions that they celebrate with their families at home. Junior Victoria Martinez said, "My whole family comes together for dinner, and my mom makes different Spanish dishes like empanadas, rice, and beans. It is special to me because my family and I get to spend quality time together and celebrate our culture." Martinez's family celebrates annually, and it is something that she and her siblings look forward to. 
Others incorporate different methods of celebrating the month. President of the Culture Club Litza Potosme Hernandez related, "I personally go to a parade, but many Hispanics celebrate with parties at home with different types of food and music." She continued, "It is important to celebrate so that we can share and spread our cultures and diversity and the extensive histories of Latin Americans."
About the Contributor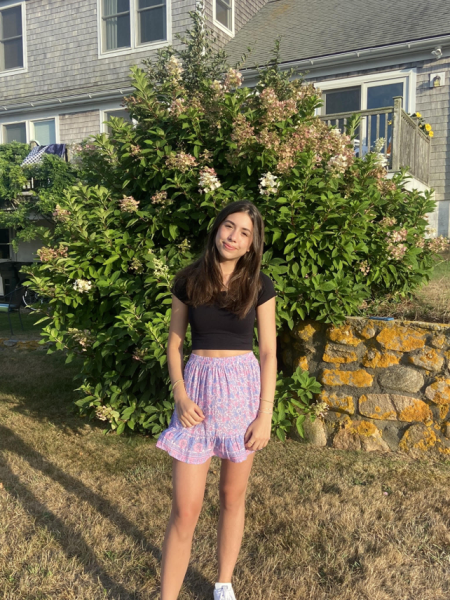 Eliza Fucci, Editor
Hi, my name is Eliza Fucci, and I'm a member of the Class of 2024. I am also a part of GirlUp, S.T.A.R.T., S.K.I.P., and NHD club. In my free time, I...