Athlete Spotlight: Eli Sherman-Murphy
The 2022-23 basketball season has just begun, and senior Eli Sherman-Murphy is ready to bring his A-game and leave it all on the court. 
Sherman-Murphy began his basketball career at the age of three after his mom introduced him to the sport. He has played ever since, and basketball has become a huge part of his life. When not playing basketball, Sherman-Murphy spends most of his time in the gym working out and training. He has made countless memories playing Lynbrook basketball, including being undefeated in his sophomore year and winning the conference championship in his junior year. He especially enjoys spending time and getting food with his teammates after practices and games. He has had many supporters throughout his life and basketball career, but when asked who his biggest supporter has been, he answered, "Definitely my mom. She gave me my first ball and has never missed any of my games."
After playing JV during his freshman year, Sherman-Murphy was pulled up to varsity for his sophomore year and has been on the team ever since. According to his coaches and teammates, he has proven to be a true asset to the team. "Eli is a tremendous asset to the Lynbrook basketball program," varsity basketball coach Jamie Adams explained. "Not only is he an extremely talented player, but he is also a well-rounded and well-respected member of the team who sets a notable example for the rest of the program and the community." Senior basketball player Max Cordes expressed, "Oh, he is just a great leader–a leader who leads by example by making the right play as often as possible. He is a big player who makes big-time plays in big-time moments." Cordes continued, "Eli is a great teammate who sets up his teammates phenomenally. The overall team would not be the same without him; the energy and effort he brings to the table are unparalleled."
The Lynbrook Athletics Department has always emphasized that all athletes must possess good character and demonstrate sportsmanship-like qualities. All athletes must follow the Code of Conduct in all aspects of life and demonstrate the qualities of a leader in order to represent Lynbrook in the best way possible. By Sherman-Murphy's definition, a team player is "someone who must always want to win, even if it means clashing heads with your teammates, and someone who always keeps a positive attitude, even in bad situations." According to his coaches and teammates, Sherman-Murphy has proven to be a role model in the athletics program. "Eli is the very definition of a team player!" Adams exclaimed. "He will do anything and everything that it takes to give our team its best chance to be successful. He is truly a pleasure to coach." Junior basketball player Zuhair Khan agreed: "Not only does he know how to win, but he also always holds everyone around him accountable whether it be on or off the court."
With the start of his senior season, Sherman-Murphy is striving to make it one to remember. "I hope to go undefeated this season and plan to go deep into the playoffs," he said. "I could not be more excited for my last season."
About the Contributor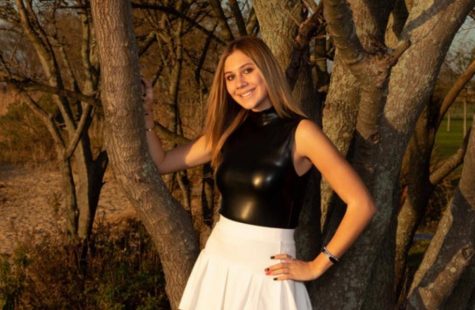 Alexis Raynor, Managing Editor
Hi! My name is Alexis Raynor, and I am a member of the Class of 2024 and a managing editor for Horizon. I love to dance and hang out with my friends. I...