Musician Spotlight: Lola Sokolskiy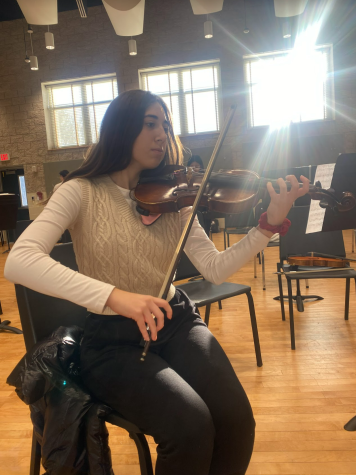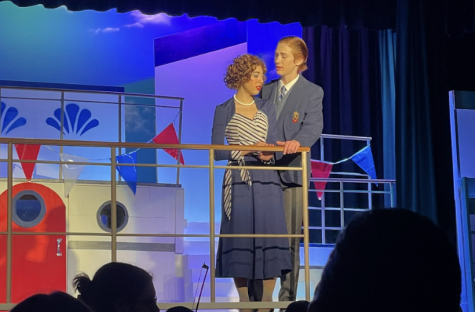 Senior Lola Sokolskiy can be found all throughout the LHS music wing. With an effervescent passion for both orchestral music and vocals, she has a strong artistic nature. Her musical career can be traced all the way back to elementary school; Sokolskiy has been playing the violin since the second grade and joined band and chorus shortly after in the third grade. She also began to take her first vocal lessons in January of 2014. "I always wanted to do everything, and my parents supported whatever I wanted to do," she explained. 
For Sokolskiy, inspiration holds a deep resonance in her craft. She especially looks up to the actress Sierra Boggess, who has been featured in numerous Broadway sensations such as The Phantom of the Opera. "She has always played the characters I wanted to play—and maybe one day I will or already have—and I only wish to act and sing as she does. Not only that, she is just so kind and funny," Sokolskiy commented. 
As a violinist, Sokolskiy looks up to Eddy Chen and Brett Yang of TwoSet Violin, the famed Australian violin duo that provides encouragement–and humor–to musicians on YouTube. "They always make me feel guilty when I don't practice, and they make me enjoy the instrument so much," she said. In terms of musical tastes, Sokolskiy expressed that she has quite an "eclectic" selection of styles (though, she says, consistent ones), such as neo-folk, Broadway, pop, and classical music. "I feel as if I have gotten out of the classical opera phase from middle school because of my dear friend, NYSSMA." NYSSMA, otherwise known as the New York State School Music Association, is an organization that evaluates the aptitude of student musicians all over New York State.
Sokolskiy practices her instruments with fluidity. After taking voice lessons for eight years, she now practices a myriad of different vocal exercises and never forgets to warm up her voice during concert choir. She also sings whenever given the opportunity to. "I have developed a solid, consistent C5 belt (the vocal range of a soprano for female singers) recently, which I'm proud of, even though my opera voice is still my best friend, and it pains me greatly when my body forbids me from using it," Sokolskiy said. With reference to the violin, Sokolskiy often sits and practices in the orchestra room, ardently trying to perfect measures that prove to be more tedious. 
Many other art forms influence Sokolskiy's musical practice. She loves to draw and design and explained that her time spent listening to or playing music helps her create artistic narratives and stories. She often ends up drawing the characters that she envisions. "Art is always a part of me, even when I don't have the time to partake in it," she said. She holds her musical performances close to her heart, as well. "One of my most memorable performances was playing Alice in The Addams Family! Unfortunately, I got sick—resulting in me [to] sing everything down the octave—but it was one of my favorite roles to this day! Another favorite of mine was doing Les Misérables twice, once as Cosette at Lynbrook and once as Fantine at Plaza Performing Arts Academy," Sokolskiy commented. Plaza is an outside theater group in Lynbrook that provides young actors and actresses with an opportunity to explore the performing arts. 
Many people have been highly encouraging for Sokolskiy as a musician. "Definitely my family and friends, who have supported me from day zero! The Lynbrook Music Department—Ms. Pasqua, Mr. Melecio, Mr. Wyner, Mrs. White, Mrs. Schaefer, and Mrs. Underhill—have all brought some form of support and inspiration that I'm forever grateful for," Sokolskiy expressed. One of Sokolskiy's teachers and mentors, orchestra teacher Veronica Underhill, feels the same in return: "Lola is a highly skilled vocalist and violinist who is strongly dedicated to her craft in both areas." Underhill added, "She puts in the time to prepare all of her music, most recently as one of the main characters in this year's musical, Anything Goes. Her strong performances add a lot to the LHS music department." 
For Sokolskiy, music is a central passion, supplying her with artistic ardor. "When I cannot sing or play, it makes me feel as if I lack my drive. I don't know how to describe it, except that it makes me feel almost empty. Music is what gives me the energy to wake up in the morning, and it will always be a part of me."