G'Day, Lynbrook! An Exchange Student's Reflections on his Senior Year at LHS
Apparently, all it takes is a flight across the globe, eight months, and a little community by the name of Lynbrook to make a lasting mark on someone's life. At least, this was the case for Guy Harrison who was an exchange student from Australia at LHS in the 1989-90 school year. His time in Lynbrook, though brief, was nothing short of incredible, and the friends and memories he made here are ones to last a lifetime. 
Harrison, along with the rest of his class in Australia, completed his exams and earned his High School Certificate (HSC) in October of 1989. Hailing from a town called Freshwater, Harrison was raised just 20 minutes outside of the bustling city of Sydney; he spent his adolescent days surfing the famous Manly Beach, with waves up to 10 or 15 feet in height during swells. He was a star baseball player, though he dabbled in a little rugby here and there, and coming to America was his chance to become an even stronger athlete.  
After graduating, Harrison connected with an organization called the Education Foundation (EF) that specializes in sending students around the world through an exchange program. Typically, with this sort of program, the exchange goes both ways: Student A comes to live with Student B, and then Student B goes to live with Student A. However, because Harrison had already finished high school, he was getting a once-in-a-lifetime opportunity to travel to America for his second senior year of high school, with no strings attached. The EF offered him two potential homes: one in a small, rural town in Kansas, with a family of three brothers and year-round baseball thanks to the consistently warm climate; or, a home in Lynbrook, NY, with no siblings to spend time with and only a two month baseball season. Despite the lack of siblings and less-than-perfect weather, Harrison chose to come to New York, "the center of the world," as he called it.  
In early December of 1989, Harrison landed at his temporary home at 570 Broadway. With just the bags on his back – no cell phone, no computer, no way to communicate with his mother back home other than through a once-weekly letter – Harrison began his new life here in Lynbrook.  
Harrison's introduction to the Lynbrook schools was certainly one to remember: a 24-hour dance marathon organized by the LHS Leadership class to raise money for Muscular Dystrophy Association. After this funky start, Harrison began his first day of school with a personal welcome from Principal Santo Barbarino (who went on to become superintendent), guidance chairperson Mimi Butler, and the LHS athletic captains. Among those who comprised the group were boys' varsity basketball captain David Mascia, girls' varsity volleyball and basketball captain Caroline Kaufman, cheerleading captain Laurie Gudowitz, and football captain – and current LHS Assistant Principal – Salvatore Brescia. 
"They gravitated toward me and understood I was a shark out of water," Harrison said. "They took me under their wing and made me one of them." 
As Brescia recalled, the entire student body was filled with excited anticipation to meet the new Australian exchange student. For many LHS students, it was their first time meeting someone from outside of America and all they knew of Australia was what they had seen in the film Crocodile Dundee; naturally, many assumed Harrison was coming from the Outback, not a central tourist hub outside of a major city.  
Nonetheless, LHS students were desperate to know more about the exciting addition to the school, whether they were asking him to pronounce words in his Australian accent, tell them more about his homeland, bring Vegemite to school, or use him as a party trick at weekend gatherings. "Sal [Brescia] would go up to his friends, point to me, and say, 'Come and meet my Aussie!' It was awesome," Harrison said with a laugh.  
Many girls, Brescia laughed, "went wild" over Harrison's accent and worldly persona, so he became a popular name around the halls of LHS. And, while this novelty may have projected Harrison's popularity, Brescia said he quickly became "just one of the guys." 
Harrison's first class at LHS was health with teacher Don Roth, who would become his baseball coach in the spring and one of his greatest influences throughout his time in Lynbrook. Later in the day, he had US History with classmate Mary Gianotti, who went on to become Mary Kirby, current LHS English teacher and department chairperson.  
When the baseball season began in April of 1990 and Harrison was named starting shortstop, members of the team who had been playing since their freshman year were angry about the new kid coming in to take one of their positions. Over time, though, as the LHS Baseball Team began a winning streak, and eventually made it to the county championships, the players could not help but accept Harrison as one of their own, an asset to their team.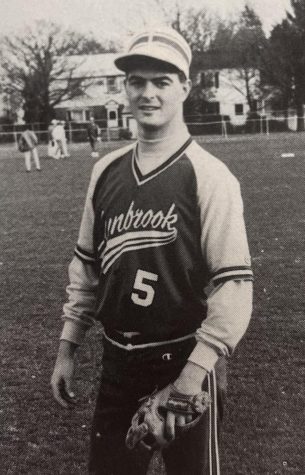 Soon, Harrison became more than just a teammate – he became a part of the LHS family. LHS catcher Brian Ciampi took Harrison around New York City, right fielder Mike Caponi invited him over for family dinner, friend Steve Bertolini showed him the town, his guidance counselor took him shopping at Green Acres Mall, and even the cashiers at the Lynbrook Deli welcomed him in with a "G'day mate!". People around the community showed an outpouring of support for Harrison, in school and "out in the big bad world," as Harrison said. 
Harrison explained that he would often reflect on the distinct contrast between the baseball in Australia that he had grown up playing versus the baseball in America that he had learned at LHS. For one, it is not common for Australian high schools to have school sport teams, so Harrison had to play for a travel team. This meant journeying over an hour away for weekly training, whereas in Lynbrook, all it took was a 10 minute walk from LHS to Marion Street Elementary. In Australia, teams only play one game a week, but in America, they play multiple. Lastly, and most impactful on Harrison, were the strategies he was taught by Coach Roth.  
"The coaching, the way they play the game, the chess game, the statistics side," Harrison said, "it all progressed me so much further. Don Roth was just amazing."  
So amazing, Harrison explained, that when he returned to Australia the following year, he was bored with the less tactical version of baseball. "I only played for one more year after returning from New York because the coaching is so good over there that I came back and didn't enjoy it anymore in Australia," Harrison said. 
Baseball was not the only sport Harrison played while at LHS, though. He also had fun joining the basketball team, despite spending most of his time on the bench, "The only way I could go on the court was when the team was leading by more than 20 points, so star player David Masci would try to help me out by scoring a bunch of baskets," Harrison said.  
He also played box lacrosse with Brescia, and even joined the LHS choir. "I never sang in concert," Harrison said with a laugh, "because this Aussie accent doesn't come across too well in song."  
Harrison's final day in Lynbrook was perhaps the most meaningful to him. As the sun rose over the LHS parking lot, Barbarino conducted Harrison's very own graduation ceremony, even though the official graduation had not yet taken place. He presented Harrison with his American diploma and a graduation cap with a little number '90 hanging on the bottom of the tassel. Harrison's friends came bearing gifts, as well. Kirby gave Harrison a volleyball jacket, and Brescia gave Harrison his football jersey, a memento that Harrison cherished until this year, when he returned it to Brescia as a 50th birthday gift.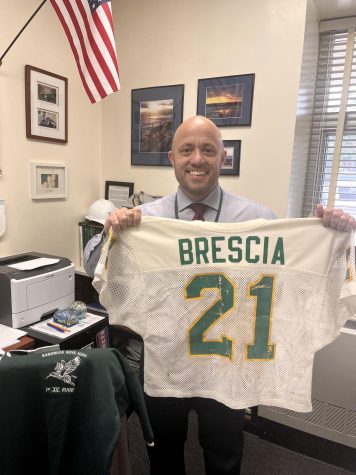 With tears streaking down his face, Harrison recalled this day, his graduation day. "We were such a family," he said. "How good the people were in Lynbrook, and how welcome they made me feel, was unbelievable. I am still in disbelief at how lucky I was to meet them. 
"I'm sitting here today going back 32 years, and I can vividly remember my whole time in Lynbrook," he continued. "If you want some really good stories, I've got 'em, but if there's anything you take away from this, it's me saying 'thank you, Lynbrook.'" 
About the Contributor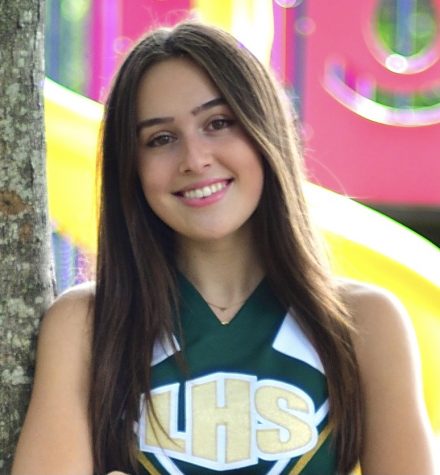 Julia Swerdin, Editor-in-Chief
I am the editor-in-chief of the Horizon newspaper and a member of the Class of 2022. I am also the captain of the LHS Speech, Debate, and Model Congress...