Athlete Spotlight: Patrick LaBarbera and Michael Guggino
Over his three years on the LHS Challenger Basketball team, senior Patrick Labarbera has proven himself a strong leader, both on and off the court. Labarbera is known around the halls of LHS as the 2021 Homecoming King, the voice of the morning announcements, and an overall friendly classmate. 
Labarbera loves to spend his time playing sports, whether it be in physical education class, with the Challenger basketball team, or on his hockey team, the Long Island Blues. Though he said hockey is his favorite sport, Labarbera is a natural on the basketball court given an envious advantage due to his height, coming in at six feet. 
His athletic ability is not the only quality that makes Labarbera a fantastic basketball player – it is also his incredible sportsmanship. As noted by social worker and Challenger basketball team coach Roseanne Bogard, "Patrick is such an amazing leader on the team. He makes sure he passes the ball to everyone throughout the game, he sets them up for success, and always gives his teammates ideas for how to score."
Labarbera said his favorite part of being on the team is making new friends: "I get to show new people on the team how to play basketball, which is really fun." Labarbera feels he has changed over his three years on the team because he has not only improved his athletic skill, but more notably, he has become a mentor to the younger players. 
"I've always been scoring a lot, but ever since the people from the middle schools came on our team, I wanted to be their mentor and help them become star players," Labarbera said.
In addition to playing at the Challenger games, Labarbera leads the Pledge of Allegiance for the entire crowd, and he always makes sure to end the Pledge with some joyous words of encouragement like, "Let's play basketball!" or "It's game time!"
Senior Michael Guggino also holds an impressive three-year record on the Challenger basketball team and is known as one of the team's biggest assets. With his can-do attitude and athletic prowess, there is no stopping Guggino on the basketball court. He is also an avid fan of baseball and enjoys watching NBA basketball on television.
Bogard shared that she has proudly watched Guggino step out of his shell over his time on the team, and as a senior, he has truly come into his own as a player. "Michael used to get nervous at times, but, now, nothing scares him," Bogard said. "He's just the best."
Senior and first-year assistant Challenger coach Jordan Glickman said that she believes Guggino's biggest strength is his resilience. "Michael never gives up," Glickman said. "If at first he does not succeed, he will try even harder the next time." 
Both Glickman and Bogard noted Guggino's team spirit, as he always goes out of his way to give his teammates an opportunity to score, always cheering them on when they do. And, Guggino is not the only one cheering. His family members, he said, are his biggest supports, and they are always rooting for him from the bleachers. Guggino's twin, Sam, is also an assistant coach on the team, and they have been by Guggino's side since day one.
"I've definitely seen a boost in confidence as well as selflessness from Michael over his years on the Challenger team," Sam said. "He goes out of his way to give his teammates as well as players on the other team the ball, so everyone gets their turn to have their 'time to shine'." Sam added, "I'd definitely encourage everyone to see at least one game next season. It's so exciting, and it means a lot to the team."
Guggino's best memory from his years on the Challenger basketball team is scoring the game-winning shot in his sophomore year in a game against Valley Stream. What makes Guggino happiest, however, is not scoring his own baskets but helping his teammates, and even his opponents, score their own.
"My favorite part of being on the team is letting my opponents get a chance to score," Guggino said.
Both Labarbera and Guggino agree that it is "bittersweet" to be graduating LHS this year and to leave behind the Challenger basketball team. However, both are grateful for the experiences and, most of all, the friends they have made throughout their time on the team. 
About the Contributor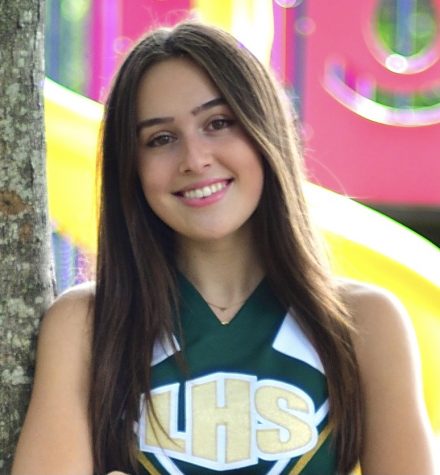 Julia Swerdin, Editor-in-Chief
I am the editor-in-chief of the Horizon newspaper and a member of the Class of 2022. I am also the captain of the LHS Speech, Debate, and Model Congress...