Artist Spotlight: Emely Peralta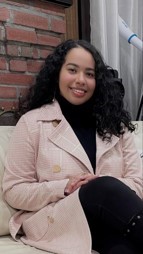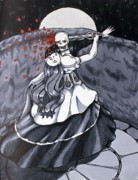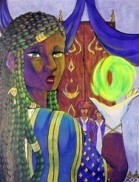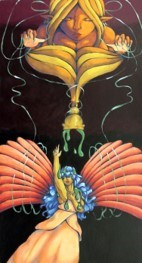 Senior Emely Peralta is a devoted and prolific artist. Peralta began her venture into the art world at the age of six, when she participated in a competition with her cousin. While watching a cartoon, they drew some fanart of it and had Peralta's mother choose which piece she preferred more. 
"She preferred my cousin's piece, and me being the six-year-old I was, I was determined to be better than her and impress my mom," Peralta said. "I have drawn almost every single day since then, and my cousin hasn't drawn in years, so I think I can say I accomplished a six-year-old me's goal," Peralta said with a laugh.
Peralta has always had an affinity for character design and wants to base her future career on it. She began with making fanart of the Zelda franchise – particularly The Legend of Zelda: Twilight Princess – because she loved the medieval, fantasy-esque designs and action scenes. She explained that these details are quite present in her pieces, and often resemble perhaps what one would find inside a comic book. 
"My style used to be very cartoony when I was young – big heads, big eyes, tiny bodies," remarked Peralta. She explained that though her art style may not be fully realistic now, that is perfectly okay with her. "I do my best to express different features a person has on their face, like their nose, eye shape, texture of their hair, and so on," she said. 
Currently, Peralta is not particularly influenced by music, but has developed an interest in The Witcher franchise, a fantastical Netflix show and book series that has many elements Peralta particularly likes, such as action, a medieval setting, and interesting character designs. 
"I have drawn quite a bit of art for it, and there are certainly elements in the designs of the characters that I will adapt into my own art," Peralta said.
Peralta has lately experimented with themes that are more eerie and ominous by altering the lighting of pieces, whether it is from a natural source or an artificial one. She also remarked that she would like to do more pieces with anatomy, taking inspiration from a piece she made in her AP art class that explored the structure of the face.
Peralta said her mother is one of the most encouraging people in her life. "She is the reason I got into art in the first place," Peralta said. "She always compliments how my art looks, even if I don't think it's the best. She also helps me choose references, even if she doesn't understand what I'm doing. I certainly would not be where I am today without her, and I owe everything to her."
Peralta has many goals for the future. She said she hopes to become more consistent in her artistic style, which is something she struggles with. Then, she wants to continue her work with compositions, angles, and coloring. Peralta explained that after being inspired by the books she has read and media she has watched, she would like to develop her own comic, complete with an original story and original characters. 
"It is easy to burn out in this career path, as I, myself, have gone through it," she said. "However, there has always been something or someone that draws me back in, that makes me feel inspired again."
She continued, "I make art because I like it, and sure, while I always work hard to improve my art, my main goal is to always enjoy it and to make what I want to make."