Emma Ward and Rachel Edelstein Named Valedictorian and Salutatorian
Emma Ward and Rachel Edelstein were recently announced as the valedictorian and salutatorian, respectively, of the LHS Class of 2022. Both are extremely diligent students who are highly respected by their peers and teachers. As they have pursued their interests and put their best efforts into their academic careers, both Ward and Edelstein have achieved a wide spectrum of exciting accomplishments, gaining valuable experiences and wisdom along the way.  
Valedictorian Emma Ward has developed important life skills and learned a lot about her interests as she has sought academic success. To complete the necessary tasks and activities on her plate, Ward remains organized with a daily to-do list. Through the challenges she has experienced, including having a loaded schedule and taking challenging classes, Ward has found ways to deal with her stressful days. 
"I have tried to put it into perspective and realize that it seems like a lot, but when you break it down and you plan it out, it's really not that overwhelming," Ward said.
     Ward's main academic interests lie in mathematics and science. "I like having a concrete problem to solve," she said. Even so, she appreciates all the subjects she has learned about. She added that learning more about her interests can help her prepare to look for a job or figure out a major in college next year. Additionally, Ward said that her academic experiences have taught her essential life skills, such as time management and effective studying habits. Ward is also a tennis player and likes to make time for exercise in her schedule. 
     Ward has achieved many accomplishments through her involvement in extracurricular activities. She and her twin sister, Sophie, are the co-presidents of the SCOPE (Summer Camp Opportunities Promote Education) club, which "raises money to send children from low-income homes to sleepaway camp," Ward said. Sophie and Emma have worked together to represent and support this program through various fundraisers and events. 
     Ward shared that some of her favorite memories have taken place at SCOPE activities, such as raising money at a Hofstra basketball game in 2020 and hosting a successful Paint Night at LHS in December of 2021. 
     "It's been really rewarding, especially because I know that summer camp has helped me grow," Ward said. Due to all of her work with the organization, Ward is receiving the 2022 SCOPE Leadership Award, along with a Jefferson Award. 
     Ward acts upon her hopes to aid underprivileged children in other activities, such as her volunteering at a Hebrew school for children with special needs. She is also vice president of the Student Government Association and co-president of Key Club, in which she has played a major role in organizing fundraisers and volunteer events. 
     Ward's positions in these organizations are especially meaningful to her: "As a younger student, I remember looking up to those students and wanting that for myself, and now that it's here, it's really as much fun as I imagined," Ward shared.  
     Following her high school graduation, Ward will be attending Washington University in St. Louis as a political science major. She aims to continue her involvement in various extracurricular activities, benefit others, and stay motivated as she experiences college to the fullest. 
     Describing Ward as "focused, thoughtful, caring, and driven," Principal Joseph Rainis said that she is "a most determined young lady who figures out how to get people to say 'yes.' WashU will be very grateful that they selected Emma Ward as a candidate for admission because when she hits their campus, good things will come of it," Rainis added.
     Salutatorian Rachel Edelstein has also grown a lot through her academic path, developing valuable life skills and increasing her appreciation for learning. Edelstein has certain habits that bring her success; for example, to avoid distraction, she makes sure her phone is not near her when doing homework. Like Ward, Edelstein sets daily goals, planning out her tasks and activities so that she will have time to spend relaxing with friends later or over the weekend. When facing difficulty, Edelstein has a positive mindset that allows her to remain optimistic; she maintains faith in herself and gives herself time to understand demanding topics.  
     Though Edelstein enjoys all subjects, her main interest lies in mathematics. "Since I was little, I've always loved numbers, and that has stayed consistent throughout my high school career," Edelstein said. Science is also a main point of interest for Edelstein. She said that the COVID-19 pandemic has increased her curiosity about pathogens and the immune system.   
     Edelstein's academic achievements span various fields. She is involved in the Women in STEM club; Mathletes, in which she was a Mathlete Champion and the Highest Individual Scorer for three consecutive years; and is the secretary of the National Honor Society. Edelstein is inspired to extend assistance and support to others as the student ambassador for the Special Education PTA (SEPTA), an organization that she feels meaningfully connected to. She hopes to continue advocacy work after high school. 
     Aside from academics, music is a central part of Edelstein's life. As a participant in various musical groups, including wind ensemble, jazz band, concert choir, and show choir, Edelstein has played a major role in the music department throughout her years of school. She has participated in NYSSMA and All-County Music Festivals, received the Tri-M Percussion Tutoring Award and the Arion Music Award, and is the president of the Tri-M National Music Honor Society at LHS. "Though I don't want to pursue music as a career, I want to continue it in my life, whether that be a minor or staying in multiple ensembles, because that's a huge part of who I am in a really cathartic way," Edelstein said. "I don't think that I would be in the place I am currently if I did not have music in my life." The time Edelstein has spent in her musical activities takes center stage for her favorite memories at LHS. "What's beautiful is now, as I'm thinking about my time at LHS ending, I get very emotional and retrospective about all of my experiences, especially in the music department," Edelstein said. "I'm so glad I had the ability to love something as much as I do the music department," she reflects. 
     Edelstein does not let obstacles get in her way. "I like to break stereotypes," Edelstein said. "I mean, I'm five feet tall, and I am drumline captain, which is a marvel in itself." At birth, Edelstein was diagnosed with gross motor developmental delay. With the help of occupational, vision, and physical therapies, she was able to overcome the challenges she faced. "I would sometimes have a hard time with bright lights or a lot of sound, and I ended up being a tap-dancing percussionist who lives on the stage," Edelstein said with a smile.  
     Edelstein's enthusiasm and dedication have not gone unnoticed. "Rachel's all heart," Rainis said. "If you ask Rachel to get something done, it gets done to the nth degree. She does it because she wants to enjoy the opportunity that something new brings, meeting people, experiencing new things. For her, it's all about the experience and about learning." 
     Along with being valedictorian and salutatorian, Ward and Edelstein also both have received recognition in the National Merit Scholarship Program, Ward as a semifinalist and Edelstein as a commended scholar. 
     Throughout their academic highs and lows, Edelstein and Ward both greatly appreciate the people that have helped them be successful. When taking a difficult class, Ward works with a partner or a small group to understand a concept or complete an assignment. She has also received guidance from her family, as her parents have supported her and she has been able to work alongside her twin sister, Sophie.
     Edelstein said that her parents, with their "undying love and support," as well as her friends, have provided encouragement and strength for her. "I am fortunate to be able to collaborate with many of my peers over the last few years, and I would not be where I am without that support system," Edelstein said. "From late night FaceTime calls and text conversations, I truly could not have done it without their help and support."  
     Edelstein and Ward also provided advice for rising students. Ward emphasized the importance of balance and preparation for assignments and exams. She encourages others to attend extra help, give challenging topics the time they need, and remember to set aside time for recreation. Edelstein recommends pursuing the fields that one has the most enthusiasm for. She also advises others to accept that they are not perfect and recognize that they are putting forth their best efforts.  
     "In terms of two representatives for the Class of 2022, you couldn't have two finer people," Rainis said. "Truly, Ward and Edelstein will be greatly missed as they move on in their ambitions, but though they may leave a hole in LHS as they graduate, they will each fulfill their positions in the world as they step into the future."
About the Contributor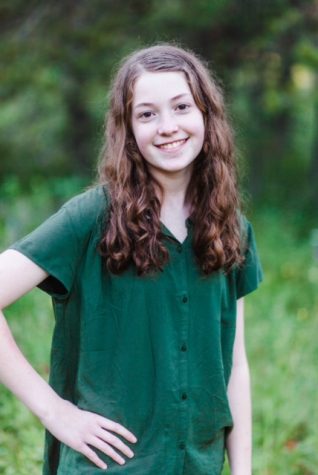 Madeleine Malinka, Editor
Madeleine enjoys reading, writing, and being artistic and creative. She has one dog and 11 siblings. She is a member of the Class of 2024 and is excited...