Fortnite's Wild Collaboration History
Street Fighter, Star Wars, Naruto: Shippuden, The Walking Dead. When these names are heard, many think that all these franchises stay in their own lane, never really crossing paths. Then, along comes Fortnite: Battle Royale, one of the most revolutionary and popular video games of its generation. Since its release in 2017, Fortnite has made numerous collaborations with a plethora of companies. Some collaborations have been larger than others. Some have been more popular than others. Others have resulted in backlash, and even lawsuits. What do players have to say about the collaborations? Are content creators happy with the crossovers? Which crossover was the community favorite?
Content creator and streamer DaCosta "Dcninja" Vaughan has been playing Fortnite since early 2018. He is extremely enthusiastic about most of the collaboration, that the game has made. When asked about his favorite Fortnite collaboration he had to think long and hard. After almost thirty seconds of thinking, he finally said, "I'm gonna go with Marvel. I am a very big fan of Marvel movies." Vaughan talked about how surreal it is to see the characters that he grew with in the game he loves so much. "Seeing all the skins [brought] into the game I enjoy playing was very enjoyable." He said that his favorite Marvel skin was "definitely Black Panther." He felt that these collaborations have had a positive overall effect on the game. "Yes, there have been some terrible ones, but a bunch of the collabs they've done have brought more people to the game," said Vaughan. Vaughan was also optimistic for Fortnite's future in collaborations. He had some collaboration ideas that he thought would be great for Epic Games to take into consideration: "gen:Lock on HBO Max…that would be really cool to see in the game" With the recent launch of Chapter 3, which introduced Dwayne "The Rock" Johnson as one of the main characters of Fortnite's storyline, there is no telling what collaborations may be made in the future.
Freshman Joseph McHale has been playing Fortnite since late 2018. He expressed his pleasure towards a collaboration that not many people remember. "I liked the soccer ones with Harry Kane and Marco Rues. It's one of the collaborations not many people talk about," said McHale. "Or the Marvel collaborations," he added. "I like the guns they made, especially the Tony Stark one." McHale was referring to the several Marvel-themed weapons and abilities players could obtain and use in game. A fan favorite was the "Stark Industries Energy Rifle." Because of its high damage output and ridiculous accuracy, this weapon was enjoyed by both casual and competitive players. McHale, however, expressed his dissatisfaction with a collaboration Fortnite made with one of his favorite shows: "[I didn't like] the Naruto one just because they made the skins look so bad." He felt that the skins did not resemble the characters from the popular anime. "They don't look like the characters. Naruto's head is bigger than everything else." He also addressed a problem with many of the collaboration items that most people overlook with the click of a button: Pricing. "They were expensive. But if you were a big Naruto fan, you wanted them," he said. McHale felt that if the skins were not likeable, then fans of the franchise should not have to pay a ridiculous amount of money to obtain them.
Of course, not all these collaborations have had a positive overall reaction from the public. Vaughan mentioned the "Fortnite x Balenciaga" crossover, which brought Balenciaga skins into Fortnite, and official Balenciaga clothing with Fortnite theming. Unfortunately, this crossover did not go over well with many fans. When asked about his least favorite crossover, Vaughan said without hesitation, "Balenciaga. There's no need to collaborate with that brand, and overall, it was just a trash collaboration." In an opinion article for The Diamondback (dbknews.com), journalist Darryl Perry said, "I don't know whether to be upset that humanity has reached this point or thoroughly impressed by Gvasalia for the pure lack of effort put into all of this, especially coming at a time where the brand is in hot water for cultural appropriation allegations." There has been recent controversy boiling over the Astroworld concert tragedy involving rapper Travis Scott. In 2020, Fortnite hosted a virtual concert for the rapper, adding several in-game cosmetics, including a Travis Scott skin. There have been calls for Epic Games to remove all the cosmetics from the game and give all players who spent money on them a refund. Epic has listened to this request; however, any player who would like to have any of the items linked to Travis Scott removed from his or her locker, would have to contact a member of the Epic Games support team.
Freshman Shane Irwin, who has been playing Fortnite for over three years, seemed to have mixed emotions about Fortnite's abundance of collaborations. Like McHale and Vaughan, Irwin took a liking to the Marvel crossover. However, Irwin was not a fan of the other superhero mega-brand, DC's collaborations, specifically the recent ones: "The Joker bundle stayed in the shop for, like, a year." Irwin was referring to the "Last Laugh Bundle," which consisted of skins for the popular DC villains Poison Ivy and Joker. The bundle was released on November 17, 2020. It did not leave the shop until October 26, 2021. Irwin is not the only player to express displeasure with its extended stay. Vaughan also said, "I think it was dumb. If the bundle isn't selling and it's been for over five or six months, they should have removed it. Instead, replace it with a newer or better bundle that will make Epic more money." Even though he owns many collaboration skins, Irwin felt that the collaborations were drawing too much attention to Fortnite, which has many other negative effects not just on the game, but on people. "These people are becoming wildly good at the game. They don't go to bed, they disobey their parents, they're 500 pounds, they don't go outside," said Irwin. He also pointed out the importance of having fun in the game, but also balancing a healthy and respectable lifestyle.
There have also been several lawsuits that have sparked from Epic's willingness to use popular culture in its game. Early in its history, Fortnite released an emote by the name of "Fresh," inspired by Carlton's dance on the popular show The Fresh Prince of Bel-Air. While this emote was a fan favorite, actor Alfonso Ribeiro, who played Carlson, attempted to file a lawsuit against Epic Games for using the iconic dance without permission. While Ribeiro ended up dropping the lawsuit, the emote has not been available for players to purchase in almost four years. Rapper Terrence "2 Milly" Ferguson also filed a lawsuit against Epic Games for unauthorized use of his signature dance, the Milly Rock. The emote "Swipe It" was part of the Season 5 Battle Pass, which players could purchase to receive different rewards by gaining XP as the season went on. Ferguson's case went all the way to the Supreme Court before he eventually decided to drop the lawsuit. Fortnite has avoided lawsuits over dances recently, with the introduction of the "Icon Series." Emotes that are part of this series contain the popular dances of today's generation, with the songs of the artists who made the dances so popular playing in the background. Artists such as Ayo & Teo have made a large cut from their Fortnite emotes, which have dance moves and music from their songs "Last Forever," "Rolex," "Lit Right Now," and "Fly N Ghetto."
So, what does it all mean? Was Marvel the greatest collaboration? Is Fortnite just reaching out to mega-brands, artists, and large corporations to regain popularity? Are the collaborations just attracting a younger, more toxic audience to the game? Will these collaborations propel Fortnite into a new direction, evolving the game into something greater? Only time will tell, but until then, players can continue to crank '90s as Rick from Rick and Morty and get "Victory Royales" as Chun-Li from Street Fighter.
About the Contributor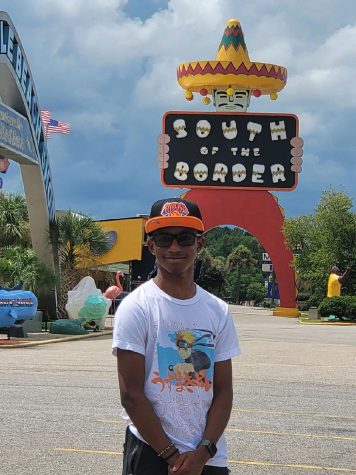 Justin Williams, Contributor
I am a member of the Class of 2025 and writer for Horizon. I love running cross country and playing basketball and baseball. I am also a member of the...