Rookies Rise to the Big Leagues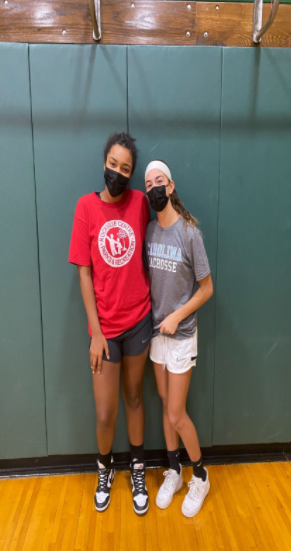 This sports season, freshmen Brooke Mazzei and Cate Jennings made the girls' varsity basketball team. "I was excited to try out for high school basketball," Mazzei said. "It's very different from middle school." 
The environment was not intimidating for the girls, as Mazzei explained that she had played with some of the team members during the fall sport season. However, as Jennings said, playing games and practices is very different from tryouts. "It's a lot of pressure being one of the youngest, but I hope to meet the expectations," she said.
The girls worked hard and attended practices to prepare for tryouts, which were held on Nov. 15. Though they were trying out for the JV team, they were brought up to varsity for their athletic talent. When asked how tryouts went, varsity head coach and history teacher Stephen LoCicero said, "It was awesome. The girls worked hard and were excited to play." 
     Mazzei plays the position of point guard, and Jennings is a forward. When asked their favorite part about the sport, both girls agreed: the energy. Mazzei also added that she cherishes "the memories and playing with the girls."
     Both Mazzei and Jennings have been playing basketball from a young age — six and seven, respectively — and fell in love with the sport immediately. Not only are they on the school team, but they play on an Amateur Athletic Union (AAU) team outside of school. "I thought basketball was for boys until I started playing and didn't want to stop," Jennings said. "I fell in love with it." 
While making varsity as a freshman is impressive, it is not the only thing on the girls' resumes. Jennings and Mazzei's AAU travel team made it to Nationals in Washington, D.C. They also played at the Basketball Hall of Fame and took home a winning title. 
Mazzei and Jennings have worked very hard to earn their spots on the varsity team. From a young age, their love of sports has positively affected their personalities and the people around them.  "I love how hard they work," LoCicero said. "Both Brooke and Cate are skilled players, and I look forward to their contributions to the team." 
The Lady Owls varsity basketball team started the season with a bang on Dec. 2, beating Island Trees by a score of 72-29. The season has only recently begun, but players and fans are hopeful that more wins for the team are soon to come.